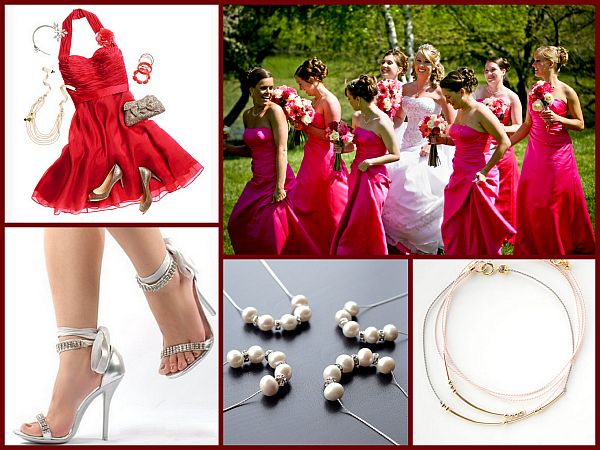 A bridesmaid deserves a little credit since she is always behind the bride helping her out with a lot more than one can imagine. The bridesmaids too need to be dressed properly. It is not that tough a task but yes it could be mind boggling. You would have to know what the brides are ready to wear though. Most brides await the day their clothes are given to them. Justice be it, they should be given something that would compliment your dress and make them happy. Do your best in providing what little they deserve and show them how you appreciate everything they did for you. Mentioned below are a few steps which are good enough to help you out.
1. Pick a hue
The coordinated look of the bridal party cannot be sacrificed for sure, then why not find a mid way. Select a fabric and the color and leave the rest on the bridesmaids, as they will be the best to decide what cut and style suits them the best. This way you can ensure that every bridesmaid looks her best and happy with her outfit, and still looks coordinated for your wedding. If you want to be remembered as the best bride ever choose black color for your bridesmaids.
Tip: This is the first thing, hence you must know that the dress must go well with the brides dress and also the theme of the wedding. Do not make them look out of place. Your brides would be waiting for their dresses, you should not disappoint them.
2. Make sure it is wearable
Letting the bridesmaid decide her own cut and pattern of the dress, increases the chances of the dress to be worn again. However, if you are not willing to do that, then put some more effort by giving a unique touch to it through ruffles, hemlines, embellishments, necklines, etc. The trend these days is to create the bridesmaid dresses as an evening gown or dress. At least there will be some chances for the dress to be worn again.
Tip: The dress should always be such that the brides would not feel embarrassed wearing them. They too would be standing at the altar behind so eyes would be on them too. The phrase what goes around comes around should be remembered. if you are made bridesmaid you could be publicly humiliated.
3. Go trendy in gold or silver
Be generous and allow your bridesmaids to wear golden or silver formal footwear rather than the matching footwear. Gold and silver is the latest trend and goes perfectly with the metallic accessories, which are the hot trends this season.
Tip: Luckily gold and silver go with everything. You could pair up the dresses with these colored shoes and also the jewelry. You could wear the opposite color of you do not want to be wearing the same thing as them. It is not necessary to blend in.
4. Mix and match accessories

We know how perfectly coordinated you would want your wedding to be, but don't just overload the bridesmaids with the jewelry bought by you for the occasion. Instead, suggest them the type of jewelry and let them wear their own. The bridesmaids will be more comfortable with their own jewelry and that will not have any effect on the wedding pictures as well, since the lenses would not capture the detailing of the jewelry of your bridesmaids.
Tip: Your bridesmaids need to be able top decide for them selves. When they know that they have that freedom they would be better in the styling. They would appreciate it too, they would be taking something they love and not taking something for the heck of it, even if they don't like it.
5. Coordinate the petals
Another trick is to let your bridesmaids hold bouquets in different colors representing your wedding theme color. Let the bouquets have various colors with one or two flowers from each of their bouquets to get the desired coordinated look.
Tip: The bouquets you all hold should and normally are the same. You could go for a slightly bigger one. The flowers you could decide as your bouquet needs to stands out. You could also have one flower in a standard color which would be white and the second flower used could be different.