Every woman in the world dreams everyday of their lives of a day that changes their lives forever, for the better or for worst. Every day of their lives until that day comes, they plan out the day in the mental crevices of their brain, bit by bit, every spick and every span, from the curtains to the dress to the cake. Everything is one big, elaborate plan from the minutest detail to the most significant error. Imagine a wedding and you get a mental image of the bride flowing in down the aisle, dressed immaculately in white all over, the flowers all around, the bridesmaid, the groom and every other individual in there, all making up a part of the big picture. In such a scenario, the bride would naturally want everything to be just perfect. And when it comes to the bride, what else will she be worried about, but her dress?? However, as simply as we can say the word dress, it isn't so easy bringing it up on stage, wherein lies the call for perfection.

In this pursuit of perfection, something every bride would want to have and do not get enough opinions about are shoes. Bridal shoes are a dime a dozen, so which one should one get?? In this list, the elaboration of five such shoes that have earned countless praises and thousands of awes has been attempted at.
Bridal shoes should be a mix of everything, it should boast of glitz and at the same time whisper comfort!! In such a case, you should get yourself an Alexander McQueen. The name itself is enough. Bringing it on with the right amount of bling-bling, this shoe is guaranteed to get you the correct amount of shine that you want.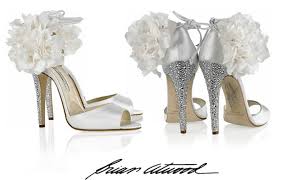 If not exactly satisfies with, you could get yourself a Gucci. Providing a wide range and a dynamic showroom to fill your desires, you could almost anything that you want. Sergio Rossi, for the dissenters is a good option. Coming in different shades of white, and the unique scalloped style, decked with gems, it is one of a kind.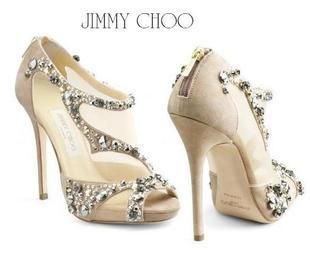 Jimmy Choo is again a very popular choice among people who tie the knot. It comes with a whole lot of crystal embellishments and glitter work, which is exactly what the bride wants to do on her day. The last place you could look at Brian Atwood, whose classic Maniac pump style is flaunted by people all around the world on the red carpet and on the white.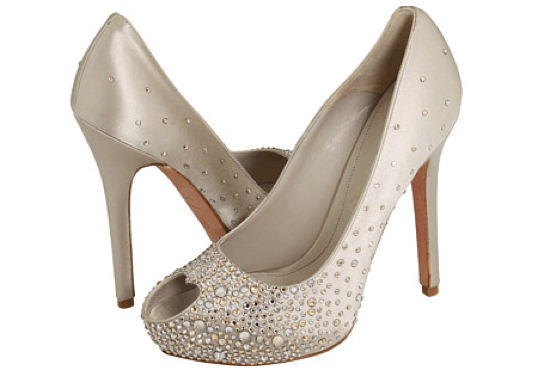 Do not be stingy on this day, indulge yourself, for this day is once in a lifetime.