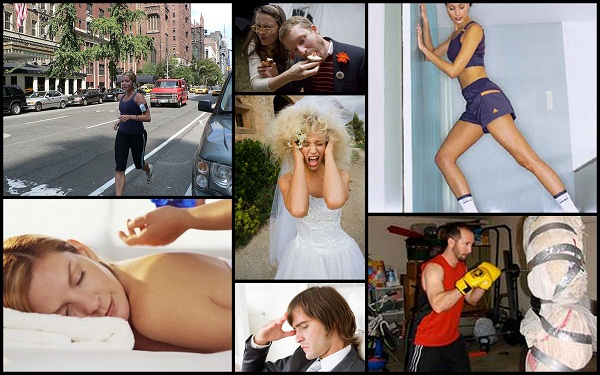 Wedding planning generally involves a lot of work and stress. Almost every about to be wedded person experiences a plethora of stress related to the wedding planning, clothing, future, etc. This stress can take a toll on your health and also makes you miss out on some great enjoyable pre-wedding moments. If you want to enjoy your wedding to the fullest it is essential that you fight the stress away. Being a bride or groom it is essential that you look great and feel great about your wedding. Stress however can affect both your looks as well as happiness. It is essential that you do not get perplexed by the work and miss out on some serious fun. Your wedding is your opportunity to have fun and get pampered. Take a breather from the wedding preparations and get rid of all the stress. We have, put together, 8 ways to help you fight pre wedding jitters.
1. Take a break from the wedding routine
Get back with your partner in a manner you were together before all the wedding thing happened. Take a break from the "about to be married" couple feeling and spend some quality time with each other. For a complete 48 hours stay away from any kind of wedding related planning. Have a good time with each other go for a short vacation to a nearby place or just hang around in your town with each other. The idea is to shy away from wedding planning and related stress.
2. Go for a night out
Take a break and have fun with your friends. You could go for a night out with some friends and have crazy fun time, or you could also opt for a chilled out night at your friend's place. Avoid discussing wedding or any wedding related thing for the night. Have a good time like you did before all the wedding plans. Have a night out thinking you are still single.
3. Go out for an extra ordinary date
Plan something new for yourself as a couple and have a good time together. Do not go for a typical movie date or a plain lunch. Do something new together like going to an amusement park or a club. Forget all your wedding related worries and simply have an awesome time. Use this time to further strengthen your bond as a couple. This will help you de-stress and feel good.
4. Go for a long drive
Head to the highways on a weekend evening and play your favorite music. Enjoy the scenic view but do not forget to keep your eyes on the road. You could also drive to some far off eating joint which you both love. Play road games on the way and talk about things that you never discussed before. Talking about wedding is strictly forbidden.
5. Watch movies
Grab DVDs of some of your favorite movies and watch them. This will help you to forget all the worries of the real world as you slip into the fantasy world of the movies. Indulge in munching your favorite chips, popcorn and drinks. Stay away from wedding related movies. Go for comedy movies which will change your mood instantly.
6. Indulge in gaming or exercise
Gaming is the best way to forget about your worries and have some serious fun time together. Challenge your partner for a game or two. This will help you relax and forget about all the wedding related worries. If you have a PlayStation or a Xbox you can up the high-tech gaming quotient. There are unlimited ways of reliving yourself from stress. You could go punch a punching bag, you could do regular exercises or even yoga.
7. Be a child again
Indulge in activities you loved as a child. Hit an amusement park or simply to a dolls museum. Consume your favorite cotton candy, lollipop, waffle cones, etc. Pamper your self and fade away all the worries. It always helps to go to a spa and just relax. You could watch some of the silly movies you use to when you were a kid. You could go to all those childhood places you have not been to for long. Go lie in your mother's lap and fall asleep.
8. Eat, eat and eat!!!
Eating good food can help in removing stress easily. Cook your favorite meal together with your partner and indulge in some love making side by side. Do not talk or even think about anything related to wedding. If you do not want to cook, head to your favorite eating joint and pamper each other with delicious foods.