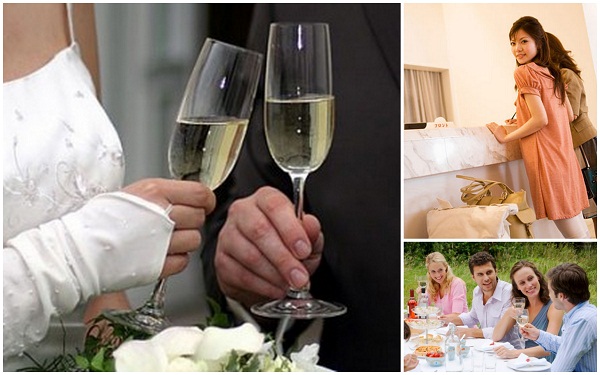 Attending a wedding alone could become depressing and you could feel a bit out of place. There is nothing to worry about, there are numerous people who attend weddings bye themselves. You could take this opportunity to meet more people and socialize with other opposite sexes. For all you know, you could meet the perfect date right there. There are some pointers to keep in mind when attending a marriage when you are coming alone. Listed below are some tips you could have a look at, and not think that being single could hamper your thoughts of going to the wedding.
1. Change your perspective
To a great extent, your enjoyment in a wedding depends on your perception. If you go to a wedding with a happy mindset and to look forward to loads of fun and frolic, you surely are going to enjoy the wedding. You will get to catch up with the best of pals and cousins and will get some frolic time with dance, drinks and sumptuous food. On the other hand, if you think of it as a burden on your shoulders, you will never be able to enjoy the gala day despite all the facilities and comforts. So, first of all bring a change in your perspective and go with a positive mindset to enjoy yourself.
2. Keep an eye on the guest list
As soon as you get an invitation of a wedding which you know is inevitable and you have to attend it, do not feel shy to ask about the expected invitees from your own circle. Ask subtly about other invitees who are expected in the wedding and those who can be your great company during the dances and drinks. Once you identify a few people with whom you share warm vibes, contact them and make plans with them about attending the wedding together. You can either make a group of friends and can go to attend the wedding together or you can go with one or two friends. To make the party fun and if you are comfortable enough, you can also color coordinate your party dresses and can get some of the most amazing pictures with greatest pals and cousins. When you go with such an open mindset, you will find many fun moments waiting for you at the wedding. You never know, you may like someone in the wedding, good enough for you to chase the relationship further.
3. Pamper yourself beforehand
Before going to a wedding, prepare yourself well. The idea is to look good and feel confident about your looks. Girls can go for a facial or a massage and can splurge on a new outfit or a new set of earrings. For that matter any purchase appropriate for the occasion – a new pair of shoes that go well with that party dress or a new tiara to compliment your new gown can be bought. Boys should also take good care of their looks and prepare themselves well with right professional shave and massage, well ironed shirt and suit and well polished shoes. Once you look good and feel good, it hardly matters whether you enter the wedding venue with some hand in your hands or zoom in alone. There will be many people in the wedding who will be impressed with your confident and well groomed appearance and will do all efforts to get close to you.
4. Enjoy your drinks but do not let them rule you

While it is true that you have gone to attend the wedding also to enjoy drinks with friends, it does not mean that you head straight away to the bar and make it sole aim of your evening to drink as much as possible. Just drink one or two martinis to make yourself relaxed amidst the strangers and then move around and make friends. Drinks should be a medium to mix up well with people and should not be a way to stay away from them. Sip your drink, mix and mingle with people and socialize well.
5. Do not lament about your single status

In your friend's or cousin's wedding, don not attract sympathies or negative attention from people by bemoaning the fact that you are still single and have come to attend wedding as a singleton. Instead, project your single-doom as an opportunity for yourself as a great opportunity to be yourself and enjoy your own company completely. As a good looking person, when you will be enjoying drinks, dance and food by yourself, the chances are that your coupled friends will feel jealous of you at least once. Bring in that air of confidence and attend the wedding happily. Above all, show all possible happiness about your friend who is getting wedded without dropping any hint about you being jealous or sad.