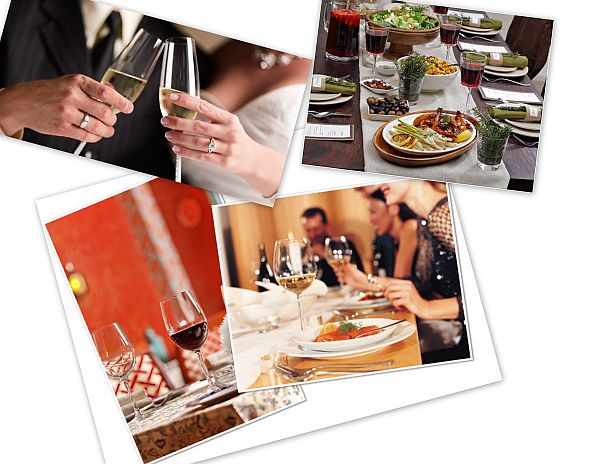 Although, wedding rehearsals are full of excitement and anticipation, yet planning for rehearsal dinners can leave one baffled and bewildered particularly because the bride and groom of today are concerned about budget and expenditure issues. It is always a good deal and the time taken to plan a wedding rehearsal dinner is worth it. It gives you insight on how your wedding is going to turn out. If you are one of those couples who are looking forward to hosting a budget rehearsal dinner that focuses on family, friends and food but also fits your pockets then these tips will surely assist you.
1. Check out wedding reception areas
It may seem absurd but you can always check out reception areas and talk to the concerned managers if they can provide you rehearsal dinners at low cost. They can always help make a good deal. So search for a reception hall where you can get subsidized rates for rehearsal dinner along with a great reception a day later.
2. Favorite family recipes
Rehearsal dinners are all about family. So, why not include memorable family recipes into your dinner! Find a local chef who can treat you with your favorite home cooked meals and recreate the magic on family recipes while you chat with your loved ones. It might sound expensive but a little bit of research will help you find a good chef who would work at low cost. Also it would help you mingle up with your friends and family.
3. Let the family members be the chef
If you can't find a good chef, then make your family members a chef. Rehearsal dinner is the best day to present family menus cooked by family members themselves. Your mother can cook your family's favorite ham while your sister can get finger licking sandwiches. You can also ask your friends if they have access to some good parks or recreation centers which can be your low-cost venue for the rehearsal dinner.
You can also have your dinner at cheap fast food outlets or have a themed party with your friends bringing drinks for a lazy evening. Instead of getting costly dessert items, take your friends and family to an ice-cream parlor where they can gorge on their favorite flavors without you worrying about a hefty expenditure.
4. Rehearsal dinner at backyard
If you find that a park's pavilion or a hall is too costly for rehearsal dinner, then shift the venue to the backyard of your or your partner's house. You can book some outdoor catering for great food. This can reduce the cost up to fifty percent. At the same time it allows your friends and family to shower their blessings at a place where you have so many memories.
5. Your love story
Rehearsal dinner is for the lovely bride and groom. So why not tell your family members about your fairy tale love story. Make a small movie or a slide show about how you met, when the love sparked between you two. In fact you can even take your relatives to the restaurant or park where he proposed and have your dinner there.
6. Picnic in the Park
You surely want a memorable family dinner without budgetary issues, so why not opt for a picnic. Your family members can come to a favorite park and have a picnic on a warm Sunday morning. Lay down beautiful table cloth, have some jellies, grill some chicken and make your get-together an unforgettable experience without overshadowing the main wedding celebration.
7. Make a toast
Several family members and guests would like to make a toast for the couple. So instead of going the conventional way where guests stand and make a toast, have a floor or an area especially for the loved one to say a few words for the couple. Let them make jokes, pull a karaoke machine and ask them to sing a song for the couple going who will tie the wedding knot. Make sure that the whole activity involves full-audience interaction.
Make a point to be good hosts and allow your guest to have a great deal of fun. At the same time, be sure to interact with your partner friends and family and know a little more about your soul-mate. Plan small surprises for your loved ones and play silly games. Laugh out loud because this is your day of an unforgettable get together.