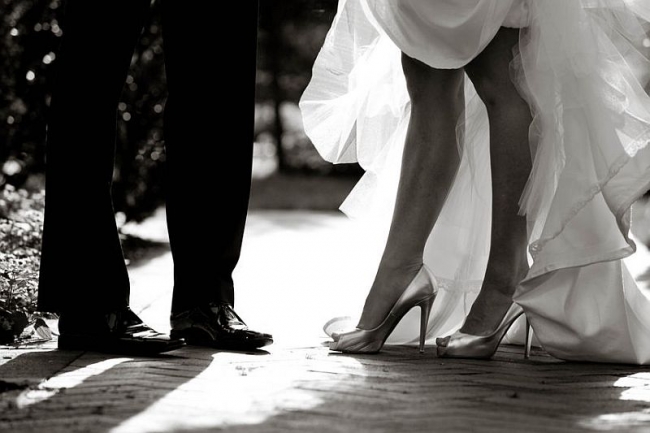 Most couple dream of having a beach wedding. It sounds romantic but the rule book to dress up for a beach wedding is different from the traditional ones. Now what you need to consider the most are the shoes. What shoes would you wear? If you are thinking about high heels and stilettos, it is a bad option as those heels would end up stuck in the sand. So choose wisely and make your big day the most memorable one for yourself. Here are some tips
You won't believe that you can also get a wide variety in beach sandals for your wedding, which range from a stylish, strappy sandal ornamented with lace as well as pearls to a white thong. You need not worry about your style statement. Here are few suggestions you need to keep in mind while finding the perfect beach wedding shoes.
1. What not to Wear
Generally brides go out looking for gorgeous pair of shoes, giving little importance to comfort. After all it will be your best day and you need to look great as well as feel comfortable in what you are wearing. You have to stand for long time and walk dance and also pose for photographs. With those painful shoes and hurt heels you won't be able to get the best of your clicks thereby spoiling your wedding experience.
Before you search for your perfect beach pair, here are few factors you need to avoid:
a. Close-toed shoes will seem too formal for the beach ceremony and at the same time get filled up with sand.
b. Stilettos sink into the sand, thereby making it more difficult for you to walk down the aisle.
c. Wearing traditional high heels makes it uneven to move in sand; also you are risking yourself to have an embarrassing fall.
2. Go for Platform Heels
Doing away with stilettos and high heels eliminates the group of painful shoes, leaving you with appealing options. Beach bridal shoes mainly specialize for their comfort feature. You can choose flats as they are not only comfortable but at the same time make you look elegant. The fashionable gladiator-style sandals can be a great option for a wedding, especially when teamed with an airy and flowing wedding dress. You can find a shoe that complements the colors of your wedding according to the design of pearls, crystals and embroidery.
If you are not happy with flats and crave to wear heels, go for a platform heeled sandal or a low heeled shoe that offers your feet stability even on the soft sand. Remember not to go for too high heels and try your shoes on the beach before your wedding day to avoid any mishaps.
3. Fashionable in Flip Flops
Flip flops can be a great option to more formal beach shoes. Don't think that flip flops can be worn only with a bikini and towel. Look out for some stylish ones with pearls, Swarovski crystals or satin. You can find a variety of comfortable flip flops that are also affordable in white, ivory, silver and gold colors. Flip flops range from the simple ones to those with sequins, crystals, ribbons and beads.
They are additionally available in various styles and materials such as leather, woven fabrics and even wooden soles. If you are creative enough then why not make yourself a designed flip flop by adding accessories you like to create a custom-made pair of beach wedding sandals reflecting your personality.
If you are keen on the idea of flip flops but still hope for heels, go for wedge flip flops that comes in different heights, all the way making you look dressier than typical flats.
4. No Shoes, No Problem
With the concept of beach weeding you also can add a variety to your wedding by going barefoot, which indoor brides and grooms don't have. Many couples go for this option and ask their guests to do the same.
With this idea, you shopping list would have one item less also the worry to get a perfect comfortable pair of shoes. One thing that you need to keep a note of is forgoing shoes means you are opting for a casual style of wedding so make sure your attire goes with this style.
5. Climate
Climate plays a very important role in wedding so consider the place and understand climate conditions of your wedding place. If you are getting married in winter time then white wellingtons will be very stylish as well as comfortable. Some more options like ivory sandals, wedge shoes and flip flops can only be wore at summer time for outdoor and beach wedding. These shoes offers space for breathing and prevent you from healing on your big day.
6. Beach wedding shoes for the entire wedding party
Beach Wedding means it is not only you who will be standing in sand, you will have the bridesmaid, best men and not to forget your groom with you. It is more likely that all of them would need guidance about choosing suitable footwear.
Your groom may have limited option for footwear as his formal shoes won't work on beach. If you are opting for formal footwear, he also would be interested in wearing classic leather sandals. If you are choosing flip flops, ask him to do the same. The bridesmaids and best men can also follow the same rules for shoe shopping.
You might need to take efforts to find you a perfect pair for your big day. Do focus on the comfort factor if you wish to enjoy your wedding to the fullest and don't wish to complain about the shoe bites. A perfect wedding shoe would be the one that fits comfortably at the same time making you feel beautiful on the big day of your life.