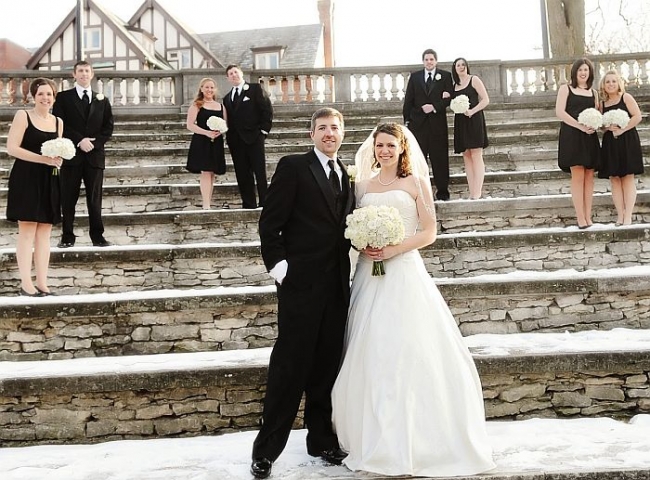 Many couples prefer to marry in the spring or early summer although some opt for a winter wedding. It can be truly an exhilarating idea with the snowflakes drizzling down. There can be a magical charm about winter weddings and planning out one can be quite cost effective. You could save a lot of money as many venues are available at off-season rates and less expensive during this season. Winter weddings could be a most unforgettable and snuggling experience for the young couple. Here are some tips to help you make the most out of your winter wedding.
1. Your wedding Attire

The temperature may drop drastically so you got to be prepared for any eventuality. You can wear a long sleeved gown with thermal underwear if you choose not to use a wrap. For the bride who wants to go outside to take her photos can throw a wrap, cape or long elegant coat over her strapless gown. The groom in tails with a red boutonnaire can complement the bride's red wrap if that is the color chosen by the bride. The bridesmaids could also have the same wraps as the bride and why not, if it adds to the warmth of the winter theme.
2. Perfect Place to have a Winter Wedding
You can opt for an old inn with a snug fireplace to get that cozy winter feel, a private club or even a historical mansion if it is going to be a big affair. Nothing could be worse than having your guests getting chilblains and not enjoying themselves. Ensure that your wedding venue is well insulated so that there is adequate warmth for the guests to feel comfortable. You can even use switch-on fan heaters for drought y buildings and these can be switched on before the guests arrive.
3. Planning the Menu
You could serve comfort food like a squash dish and warm pumpkin soup, in addition to all your favorite food like prime rib and chocolate dessert. Serve some special treats like eggnog, spiced mulled wine, or hot chocolate. This not only warms up your guests but brings in the spirit of the festive seasons as well into your wedding. Make sure that you do not serve chilled champagne. For the cake, it has to be a special touch so you can have it trimmed with silver snowflake patterns or tie up with white and blue ribbons.
4. Winter Wedding Flowers
You can decide to go festive or create that silver-white elegance where flowers are concerned. For the more elegant silver look, you could use silver-dollar eucalyptus, baby-blue eucalyptus interspersed with white flowers, roses, lilies, crocus and football mums. Red roses, holly and pine-greens would go excellent for your festive bouquet. Basically, red roses, calla lilies and amaryllis are the winter specials which you can theme up with hydrangeas for variety. However, you can always consult your florist for the seasonal varieties.
5. The Decor for Your Wedding
There can be attractive center-pieces with white poinsettias creating a spectacular winter display, or pillar candles on beds of pine branches for that magical, fairytale light. You can even have ice-carved vases with white winter branches and crystals to play with the lights in the decor. There can even be floating candles in a bowl surrounded by red cranberries. This will not only be an inexpensive center piece but can be very romantic in the midst of the winter theme.
6. Favors
Since your wedding falls during the festive season, you could gift your guests decorative ornaments. If not, there is a choice of less expensive favors such as home-made spiced hot chocolate mix or even hot cocoa mix with marshmallows. You can even have your names, wedding date engraved on a cookie cutter with a recipe attached. Another option would be a paper weight, with the figures of the bride and groom inside. When shaken this can cause snowfalls inside.
7. Special Touches
The bride and groom can travel in winter wonderland style on a horse-drawn carriage, snuggling warm beneath a fur throw. There can be life size or miniature Christmas trees put up at different locations of the reception area. The reception hall could even be decorated with an ice sculpture if you want to stretch the wintry feeling. You can go so far as having your bouquet made out of crystal so you can preserve it forever. Your guests could be welcomed with a cup of hot coffee or hot chocolate as soon as they arrive. This will make them feel much pampered and they can relax happily.
8. Planning Ahead
A winter weddings need a proper planning as it is generally considered as off season for weddings. With festivals like Christmas, New Year, it is the party time for all so it's necessary you confirm the bookings in advance. Prices are usually very high this time but if you book venues in advance, you may get it at reasonable price.
9. Think Out of the Box
In winters, where most of the people celebrate their weddings in churches or in some covered location, you can do it in different way by shooting your wedding photos out in snow. Although, this does not seem to be a great idea but if done perfectly, you are surely going to remember your dares for the lifetime. For precaution sake, you can wear a pair of boots and thermal leggings. Most wedding dresses allow enough space for shoes which will not even get notice.
10. Warm Weddings in Winter
Some people admit that they don't really want to get marry in winters because of chilling cold but due to some reason they will have to. Well, if you don't like to celebrate your wedding in snow, you may set off for a Hawaiian or Caribbean for destination weddings. Another benefit of destination wedding is that you don't have to spend or strive for honeymoon destinations.