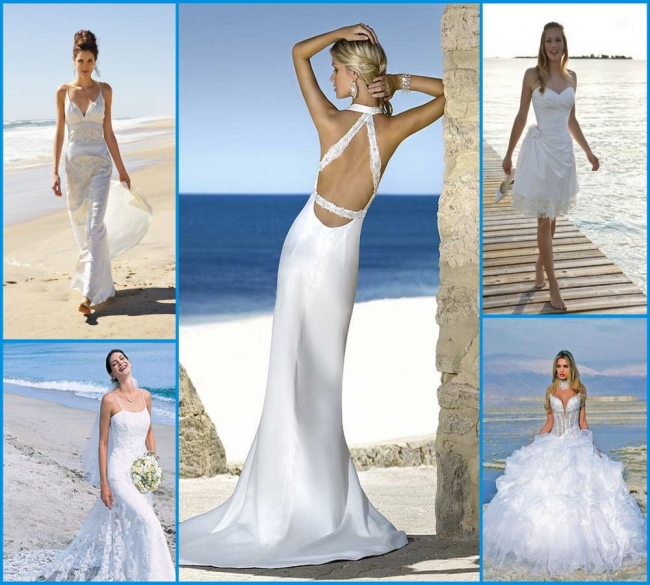 We all love to go different and unique when it comes to our weddings. One of the most fun and eventful way to have one is to have a beach wedding. While a beach wedding is way more different from a routine wedding in many ways, the most challenging aspect for a bride is to decide a beach dress. Though other aspects like food, seating, decorations are equally difficult, a bride has to truly stand out and look her best in her wedding. Beach dresses are way more different than traditional weddings and follow different set of rules. As they are more informal in nature, you can be way more flexible in choosing your wedding dress. Listed below are some ways to help you choose the perfect wedding dress so that you surprise everyone at your perfect beach wedding!
Tips and Instructions:
1. Imagine your wedding dress
Picture yourself on your wedding day and imagine what you might be wearing. See yourself standing on a beautiful beach with all your loved ones and the man of your life with you and think about how you would like them to look at you. Look at a perfect beach and write down all the words which come to your mind like Relaxing, pristine, serene, liberating, romantic etc. Make sure to think of these words and more and write down them all on a word document. Your wedding dress should reflect your mood and the way you want your guests to look at you. So imagine your mood with running breeze and ocean scent running through your hair
There might be other wedding dresses which you may have liked. Think about them and write them down too or perhaps sketch them out. Write down types like romantic, classy, bohemian, contemporary etc. Thinking and visualizing yourself in the wedding dress is hence a huge factor in deciding your wedding dress
2. Decide your Formality Level
You can be all traditional by choosing the regular wedding gown or something slightly more than a sun dress! It's your wedding after all! A beach wedding is slightly more liberal when it comes to choosing your wedding gown and you can take freedom in the level of formality. There is only one advice that we would like to give if you choose an informal dress; try looking for your bridesmaid dresses in white. Bridesmaids shouldn't feel sidelined at your wedding and be unique in their own way too. You will never realize what beauties you will have discovered and that so at a small price.
3. Have an appealing cut
You are the one lady who needs to look the best on the wedding day. If you want to look your best, choose a wedding dress that makes you look like a ravishing princess. The most important thing in the wedding dress is to look for cuts that go with your body type. They are very important as you want your wedding dress to be something which you'll end up loving and looking the best in.
4. Choose the correct material
Choosing the right material is very important for a beach wedding. Indoors and in a church, there is no concern of the sunlight directly falling on you. But that is not the case in a beach. You should go for a type of cloth which is light, flowing and doesn't get crumpled easily as well. Make sure you stay away from thick and heavy materials like velvet or brocade.
The most ideal material for wedding dresses is crepe as it is thin, delicate and crinkly, charmeuse as it is soft and light with a slight sheen and chiffon. You can also try fabrics like damaske, satin and illusion nets. The best thing about these clothes is their light weight which will do amazing in the beach wind. They also somehow capture the essence of a beach in many ways.
5. Practicality
Be feasible about what dress you are wearing. Being practical is the per-requisite when you have to choose a wedding dress. As said earlier, on a beach there are many things which you may not find at the church, You have to take care of a lot of things like wind, walking barefoot in the sand, posing near the water, harsh sunlight etc.
All brides love to walk around with a large train. But sadly a large train and a long veil may become totally out of control with the flowing wind. You can also opt for a shorter gown for getting married on a beach so that you can easily pose near the water and walk around comfortably
Source: Ehow