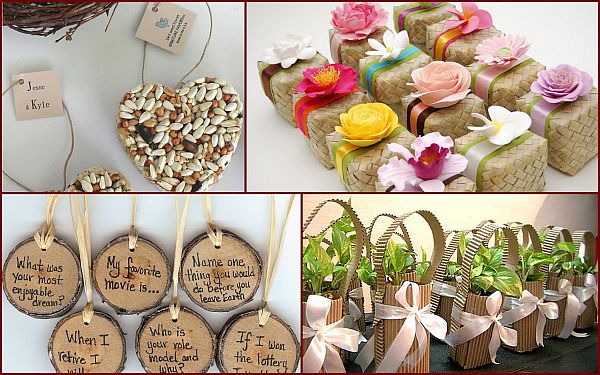 Eco friendly weddings is the new trend. You can go for a number of items and have the guests want to come back for more. You would not only be appreciated but it would be a wedding cherished by all. Going green is the best way one can get married. being environmental friendly gets you thinking a lot too. you wonder what to give as wedding favors, because you seem to find nothing. You need not worry about it anymore as provided below is a list of ways of choosing Eco-friendly favors. You could personalize them and most of them can also be made yourself. Eco-friendly candles, and coasters are highly common.
1. Out of the box wedding
Think out of the box is old; a wedding without boxes is new. Simply saying, do away with all those boxes, packaging and gift wrap material that is a common sight at wedding parties. All of the wedding favors in the market are available in their own packaging; you don't have to add stuff from your side. If you want to add a personal touch or message with the favor, then put a little handmade label on the original box with the guest name on it. You can also opt for gifts which do not require large amounts of packaging.Gifts like CD"S or photo frames, don't just make for good gifts but also require significantly less amount of packaging.
2. Plant an idea
Most guests at your wedding are not newbie's to receiving wedding favors. They have had their shares of honey and chocolate boxes, but by going green you can not only save the environment but also bring in a refreshing change. Plant the idea of "Go Green Spirit' in them by gifting them a plant. A nice little plant or tree along with a personalized message from you can be the perfect gift. The biggest advantage of gifting a plant is that it stays with your guest for the most part of their lives. In a sense, your wedding memories are forever embedded in their nostalgia files.
3. Move on the plate, mate!
Instead of gifting them food items or a little basket of fruit individually, you can offer them the same in a group around the buffet table. To push the envelope further you can add little message chits with two three lines of poetry or a love song and paste it on the bowls or the food items. It saves money; it saves you from the trouble of packaging and best of all, it brings everyone together. There are a number of items you could give, why not this be one of them. You could have candy which has a little token of appreciation within it. You could have candles which could be carved in a manner you choose. Beeswax candles are Eco-friendly.