Selfies and social media have literally become major additions to every function, event or social gathering out there. It has gone to the point where one has to make necessary arrangements to accommodate these additions to an event. However, one has to follow certain etiquettes for the selfies and the social media when attending an event. Take a look at 6 such selfie and social media etiquettes you need to follow in a wedding.
Selfie Etiquettes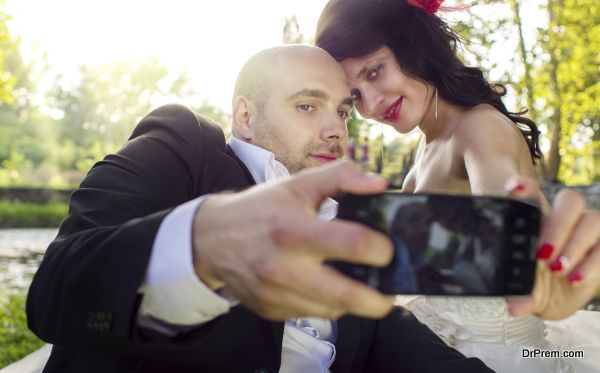 Choose the right moment
Rather than randomly clicking selfies, choose the right moments to make your selfies stand out. Excellent options will include one with the flower girls, one with the bridal party, one with the couple, etc. However, make sure you don't photobomb other photos in the process of clicking that perfect selfie.
Set up a selfie station
If it is your wedding, there will probably be a lot of guests roaming around trying to click selfies. Setting up a selfie station will allow these guests to click the best selfies without disturbing the rest of the wedding. A photo booth set up with a pretty backdrop and some props can serve this purpose beautifully.
Don't overdo it
Don't go overboard with the selfies. Try taking your selfies well before the wedding starts so that you don't disturb the wedding party. Also choose to take a said number of selfies and then leave it instead of clicking yourself away to glory at someone else's wedding.
Social Media Etiquettes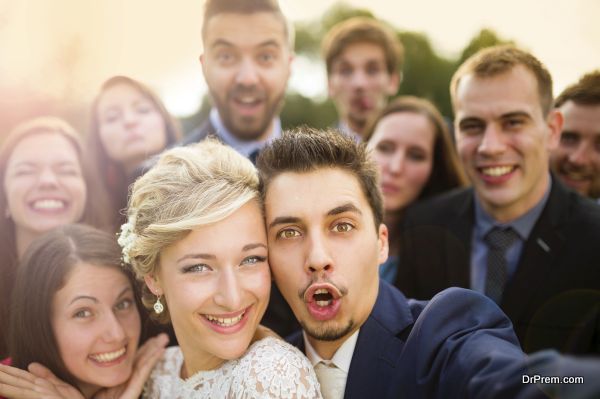 Post pictures, but not all the pictures
Your friends and family members will love to view pictures of the wedding. So make sure you create a special hashtag that everyone at the event can post their pictures in. You can also post pictures of the venue, the decorations and even the rings. But keep certain photos private until after the event. Photos of the wedding dress and the exchange of vows can be posted after the wedding in order to give more privacy to the couple on their special day.
Ask for permission before posting
You may be compelled to post pictures of the wedding on a real time basis. However, you need to respect the wishes of the bride and groom if they don't want you to post any pictures. You may probably need to wait until the couple post the images on their official page. So ask for permission before posting any pictures on social media.
Avoid negative posts
There are times when planning a wedding can become a stressful affair. In this case, it is considered wise to post only the positive things about the wedding while leaving out all the negative issues. These issues can be handled via phone calls or direct conversations. This will help the wedding remain a smooth affair, removing the animosity if any, between guests at the event.
Selfies and social media have become important additions in every event, including weddings. These tips will help you follow the more common selfie and social media etiquettes one needs to follow at these events.