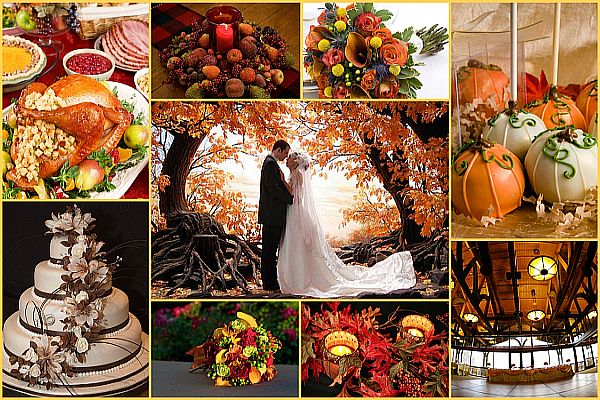 The fall season is probably the perfect time to get married. It is the most striking time of the year and it is pleasant. Getting married during this time has a different feel to it and would be great. It is a romantic time for nuptials. The fall season gives that extra glow and the color of leaves at that point of time are extraordinary. The weather is rather mild and you can gain advantage and plan your wedding beautifully. All these factors make a fall wedding warm and intimate. Take a look at the ideas provided to you to help you plan a fall wedding. There are other seasons but each have their drawback. Experiencing a fall wedding is something the bride and groom should most certainly not miss out on.
1. Venue

Plan to select a venue which has lots of tree with the shed leaves to get the feel of the fall. Any quiet and elegant place can do wonders. Select the venue according to your and your fiancee's tastes. It can be a 18Th century church or modern clubs and chapels, or even a country inn, park, or a backyard but filled with trees.
Tip: Planning the venue should not be such a problem during this time of the year. In fact you should go for something which would get you married out in the open. The ambiance of the outside decoration is more stunning than ever. Take for an instance a barn or something, it would also give your photographs a more obsolescent look and you are bound to love it.
2. Food Menu
You can bring the feel of autumn while deciding the menu. Try including the food items which are more brown, like nuts, chocolate etc. Take the advice of an expert chef and plan the food items suitable for autumn season. Take into account the fall weather – it is neither too cold nor too hot. Decide upon the soups, main dishes, and desserts accordingly. Fall is the time when we have full appetite and hence you can even opt for fried and crispy things to leave the guests licking their fingers and wanting more.
Tip: Surely the advice you get from caterers too would be the same that is to have food which reminds one of the season. A fall season has the famous pumpkin and that is the best thing to have but too much of it would also not be a good idea. Do not have to much of anything that matter. You could check out DIY food ideas for a fall wedding.
3. Decorations
Make sure that the decorations are as earthy as possible, as earthy colors match well with the fall season. You can decorate the menu with leave made wreaths or sheaths, as a complement to rich jewels. The tables can be decorated with linens and flowers. If the ceremony is in the night, you can light candles. You can also make velvet napkin bands. Brown is a good color for decorating the venue of the marriage. You can also use pumpkins for decoration.
Tip: Decoration should be such that it blends in with your surrounding and does not make the wedding venue look to gaudy. The fact that you are getting married during the fall is a great thing in itself. The fall season itself is so eye-catching that getting married out in the open without decorations would do. You could go for the vintage decorations too.
4. Flower Arrangements
Flowers add a beautiful touch to fall weddings. Dried flowers are the best choice for a fall wedding. It is a good idea to sprinkle the narrow space in between with rose petals.The flowers should be compatible with the general theme of your wedding. Roses and daisies can be used with berries. It is also good to mix in leaves to have a wonderful effect. However, ensure to avoid too dried flowers, which might be rough and difficult to hold.
Tip: Frankly you do not need a special person to arrange the flowers for you. You could just do it yourself. Use a few flowers of the fall and tall standing vases. Dried flowers look great too and give a rustic look to the wedding. Make sure the flowers do not break and are kept away from children too. You could also have light colored candles.
5. Favors
Favor your guests with small gifts which you can buy from the local market. You can feel free to gift them candles, sachets, or flowers. You can also give them sweets or mini pumpkins. Make sure that you make favors which they would enjoy and remember. Home made jams are a good choice, but you should try it only if are good at making them. Make the wedding favors as personalized and creative as possible. It also makes sense to order customized gifts carefully chosen for your guests.
Tip: The guests favors should be such that they have not taken a notice to such favors before. You could have snacks or you could have floating candles. You could pile up a couple of things, you could have coasters in the shape and color of fall leaves. The things to do are unlimited. You could write something on dry leaves too for each of your guests.
6. Cake
The wedding cake can be the best bet to remind everyone of the fall season and the joy it accompanies. The cake should have a good icing, with proper decoration with colors. Spice cake is a nice serve. Pumpkin flavored cakes too are delicious. Though there is no necessity that you have to choose a spice cake or a chocolate one, these ones match the time and season. It would be good if you can decorate the cake with marzipan fruit.
Tip: It is not necessary that you are required to have the complete wedding according to the fall theme. Which means haveing a pumpkin in everything might not be appealing to the guests. Have a normal cake but ad a hint of the fall in out. Probabrbly into the design of the cake or cut decoration around the cake.