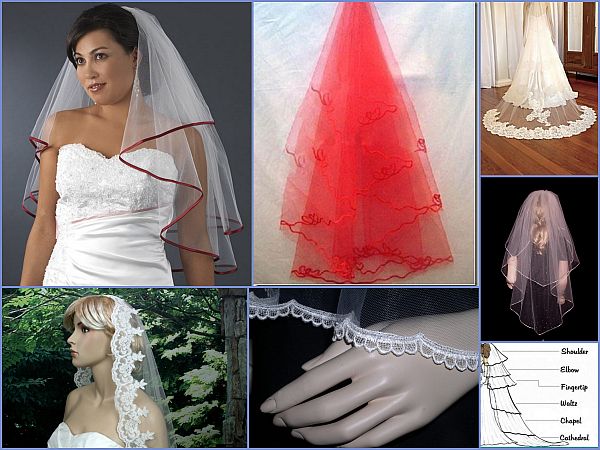 If wedding gowns adorn a bride's look then the veils glorifies it. It's a sign of chastity and sheer elegance. It adds drama to the bride's attire and femininity to her looks. So, make your man blossom with new love while you walk down the aisle wearing the most gorgeous veil. Like the wedding gowns the wedding veils also have various trends and types. Getting to know about the various looks can help the bride to be to choose the best. Let's go through different tips and trends to cover up your face from the ones who are longing to have a gaze at it.
1. Length
Before opting for a veil, the foremost thing to decide upon is the length of the veil. Too long or too short veil may not be that perfect for you. So you have to ponder on what is the most correct length for you. Extending it too much can spoil the whole impact and purpose of the veil. Try to keep it appealing by the right length of your veil. A little short one reveals your flirtatious and playful side.
2. Color
Besides the length what works for your special day is the color of the veil. Obviously it should be in sync with the color code of your apparel. Pick a hue that merges well with your gown. A white satin gown and a orange veil can be a disastrous display. Isn't it? So color is a major concern when it comes to a wedding veil. Mostly, off white, ivory, baby pink, and snow white are the colors to go for.
3. Fabric
Fairy looks in a soft satin fluffy-fabric, but a heavy veil to top it off. Sounding a great fashion fauxpas? So avoid such combinations. And try sticking to a veil that very well matches your robe. You tend to look royal, so it should be the right choice of veil going well with the entire get-up for the day. If you have satin or silky smooth attire, even the veil should be as classy to make a style statement.
4. Veil design
To add a little fun, drama, and romance, you can be a little tease with the veil. Try a veil with at least two layers of net fabric or a soft transparent texture. A hide and seek game with your would-be is not a bad idea. Peeping through the playful layers to gaze at his princess will surely excite him. Detachable layers also leave you with an option to remove the top layer after the ceremony.
5. Pinning up
You must be worried that the veil would cover your ornamental hairdo. If you want that pretty hairdo to show while you pull over your veil fasten your veil to your headdress with few jeweled hair pins and clips or a studded comb. You can also accessorize your hair with pearls or crystals for that bejeweled stunning look.
6. Highlighted edges
If we are talking about a veil, then why not experiment more on its looks? A bride can go for a light sequined veil or a little shimmery edge to the veil. You can also have its edges highlighted with a lace, ribbon, or shine border. It will make you stand out in your fashion sense.
So brides to be, walk down to your partner masking your beauty to mesmerize and surprise him when he unveils your gorgeous and dazzling looks!