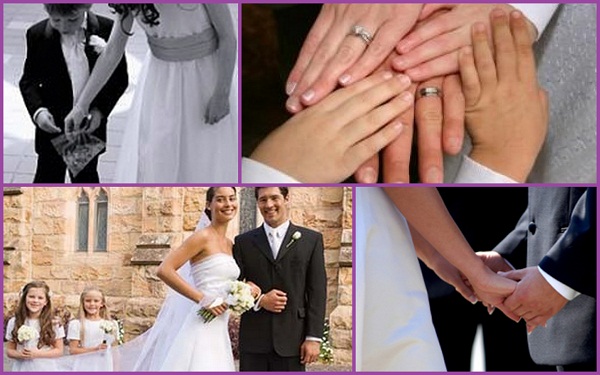 Marriages that involve children from previous relationships most often carry some emotional baggage and there is some soreness and resistance. Children are as important a part of your life as your new spouse is going to be. So there has to be some kind of a balancing act where in children are given their due importance as well. When kids are involved in the marriage vows, the fear is eliminated from their impressionable minds and seeds of harmony are sowed. Although future is uncertain and there are no guarantees in life, but this is definitely a good start to a new beginning. All marriage vows are sanctimonious and sweet beyond words. They are not mere words. They are oaths that symbolize true unconditional love and a promise to be together till the end of time. Following 4 vows are doubly sweet because they safeguard the interest of children.
1. Vow of Support
In traditional marriage vows, when a partner accepts the other as a lawfully wedded spouse, he also has to assure her of the support he will provide her throughout her life. This is a vow "to have and to hold". This simple pure vow can become more meaningful when a partner also includes respective partner's children in the vow of support. A promise to be a loving parent and provide them with everything they deserve along with endless love and compassion adds a lot more depth to not just a marriage vow, but also a relationship, be it with the spouse or with the children.
2. Vow of Acceptance
Children should be encouraged to actively participate in the exchange of vows so that they learn that marriage is a union wherein all the people involved work towards a common goal. Just like partners vow to accept children into their family, children should also recite vows of their own that ensure that they too accept their new parents wholeheartedly into their family. Questions like "Do you" can be made part of the vows and children should be made to answer "Yes I/we do".
3. Tokens and Symbols
When children are involved in the marriage vows, rings should not be just exchanged between the bride and groom. Children should also be presented some miniature rings or medals, necklaces, bracelets, unity pins or some other souvenirs to make the whole event memorable. Children can play important supplementing roles such as ring bearers or flower girls. If older children involved are slightly older, they can even act as a junior bridesmaid or groomsman. Lighting a symbolic unity candle in honor of a new beginning is another great idea. Along with that couples and children may recite little vows of their own to express their willingness to support each other.
4. Blessing of the Union
When couples hold their hands together during the exchange of vows, children hands too could be placed over the couple's hands. It is a sweet gesture of acknowledging children as a part of their family. On kids' part, the gesture indicates that the union has been respectfully acknowledged by the children.
Another great way to keep younger kids happy is to arrange their own "Reception party for juniors" inviting some of their friends and young relatives. The kids will be so excited to host their own party and you would definitely win some brownie points for that.