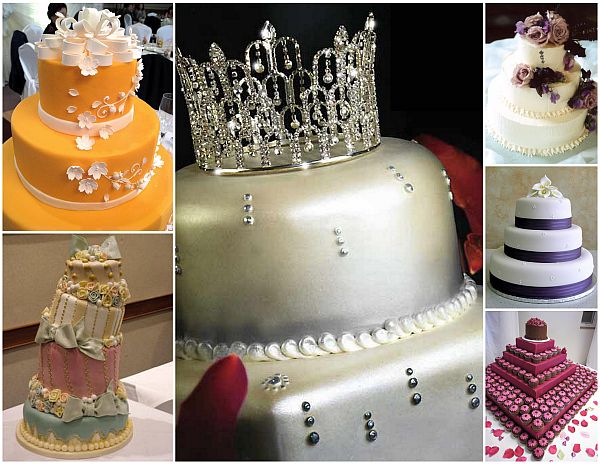 Wedding cake is essential to any wedding celebration. It gains as much importance as the wedding venue, guest list, menu, and bridal accessories. Hence, the couple makes their best effort to make it look unique and stand apart in its decoration. Nowadays, wedding cake also has to match to the wedding theme as well. Wedding cakes come in numerous shapes and sizes, unimaginable till recent past. Most of the couples even look for customized designs according to their specifications. These cakes come in various shapes too. The couple can opt for simple traditional and white round cake or even modern cakes with unique designs and patterns. Since they can be prepared in various flavors it is easy for the couple to decide what flavor they need. Cakes can be made in different styles. We have put together 7 most popular cake styles of all times.
1. Bold colors
Gone are the days when a wedding cake was only either white or pink in color. Today they come in unique colors which are more bold and striking. Some of the cakes have even more than two colors in mix and match format. You too can select your shade of color matching with the theme and season.
2. Toppling cakes
Another surprising trend found in the wedding cake is its toppling shape. These cakes are designed in such a manner that they look as if they are going to tumble any moment. But the fact is that they are very sturdy and strong. The idea of using such a pattern is to make the cake stand out from everything and be the center of focus. They are marvelous pieces of cake engineering.
3. Flowers
Flowers are eternal decorative items. But who must have thought of using flowers on a cake? The use of flowers on cakes is an upcoming trend. Beautiful and realistic flowers are found on the major parts of the wedding cake and make them look extremely beautiful. Most of the brides prefer to use decorative and colorful flowers on the cakes. The best thing is that the cake decorators use flowers not only on the top but on all sides and even leave them cascading along the sides of the cakes. Some of them use both silk and real flowers for the decorations.
4. Jewelry
Another hot favorite of the couples is to decorate their wedding cake using different kinds of jewelry. Different types of precious stones are being used to decorate the finest wedding cakes. Pearls and rhinestones are very commonly used on the cakes to make them look more attractive and sophisticated. When the cake is cut all the jewels are removed to avoid discomfort while eating. So, having a cake with jewels looks really royal.
5. Cup cakes
Another trend that is soon catching up is the cup cakes trend. Most of the couples opt for cakes made in layers with the help of decorative and colorful cup cakes. When they are arranged in layers or other patterns they look like a huge and special cake. The guest will realize that it is made of cup cakes only when they come close to it. Some of them even wish to have a cup cake display next to their wedding cake for enhancing the looks.
6. Fondant
Decorated fondant cakes are also very popular these days. Bakers who are creative are taking this new type of cake as a type of art. One of the most popular verities is the Wedgewood cake. The wedding cakes are covered with smooth fondant in blue colors and decorated using lattice work and white chestnuts. Most of these cakes are extremely stunning to look.
7. Animals
Who doesn't love animals? But including them as part of wedding cake decoration is a new gesture to them. A very noble but elegant creation. Cakes with animal shapes are becoming very popular these days. Sometimes couple who met each other in zoo or aquarium or any animal related place, want to refresh their memory and prefer that in their wedding cake to immortalize their love. Some even prefer their loving pet.