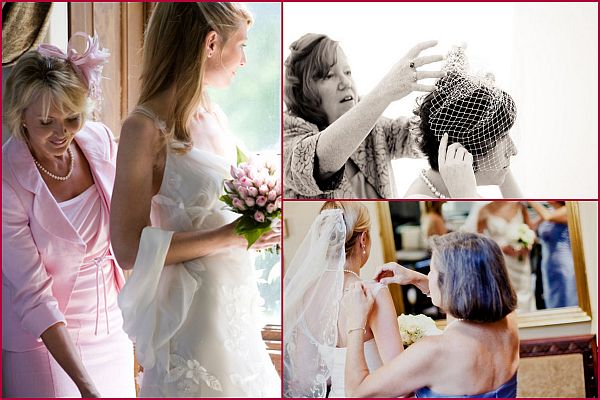 The greatest joy in any mother's life is the day her daughter tells her she is going to be a mother to a bride. A mother dreams about her daughter's wedding from the moment she is born. During the time of her daughter's marriage, a mother's shoulders are bowed by the responsibilities of making the marriage ceremony successful and impress the guests. She has to take care of everything and especially not allow anything to affect her daughter during the wedding. No mother wants to see tears in her daughter's eyes. Her prime responsibility is also to see that the wishes of bride are carried according to her taste. If your daughter is about to step into her new phase and is looking upon you for guidance, here are some tips which you can follow as the bride's mother.
1. Advising her in dress selection
Selecting the bridal dress can be a difficult choice for a bride because of the different varieties available in the market. You are the best person to judge the appropriate dress for your daughter which will suit her personality. You are the only person which can ensure that your daughter looks beautiful in her bridal attire.
2. Consulting the bride for wedding budget
The bride's mother has the prime responsibility to take care of the budget and plan the finance. She must take care that money is spent wise and not wasted.
3. Taking care of each and every item required for the wedding
The bride's mother must ensure that all the items, big or small, are available much before the wedding day. This can include dresses to the groom's family, things for the ceremony like flowers, decoration articles, items needed by the priest etc.
4. Taking care of guests
Guests are the charm of any ceremony. They bless the couple to start their new life. We, as hosts, must ensure that they go back happy and remember our hospitality forever. It is the bride's mother's responsibilities to take care of each guest on the wedding ceremony.
5. Taking care of the groom's family
The groom's family, especially his parents is very important guests. As the bride's mother, you must ensure that all their needs, how so ever small, are taken care of. You can take the help of your close relatives like sister or brother etc. who can also attend to them in your absence.
6. Blessing the couple
Last but not the least, when everything goes as planned; you display your last responsibility of blessing your daughter and son-in-law for their new life. You will not miss a tear in your eyes, a tear of joy.