Tuxedos have been running throughout fashion since forever. You have the well-groomed and panache look when it comes to wearing a tuxedo. The men look handsome and those who carry it off well appear so stunning. The style may have changed but it has always been the haute couture for men who have to dress up, especially for the grooms. Men look their best in a three piece suit. There are various types of wedding suits which go with the different types of personalities of men and their physique. It would be best to know what to wear and how to wear it. There a few pointers for those who shall wear a tux in the near future.
For a tall and lanky groom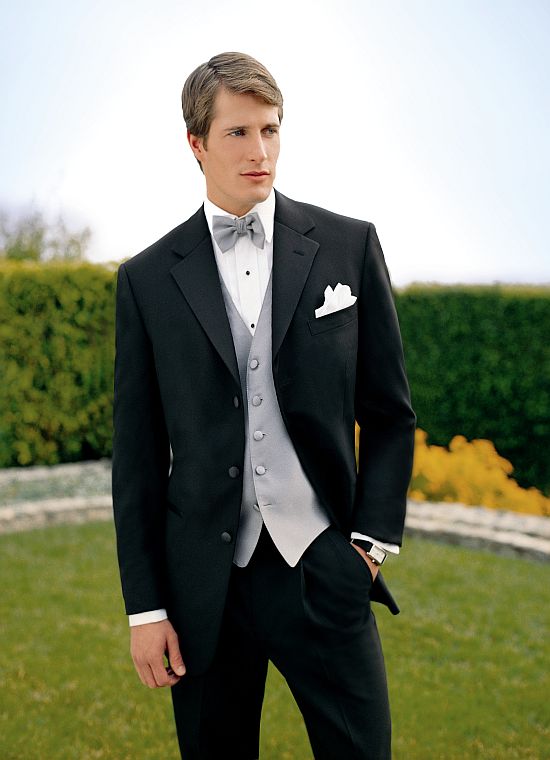 Luckily, blessed with such an appealing physique, you are already saved from much of experimentation. Simply go with any tuxedo and quirky patterned tie and you will do just fine. You could try from the contemporary style tuxedos to the progressive style tuxedos. The European style tux will provide a flattering look. In case you wish to look more hefty and sexy, try modern style single-breasted four-button torso with a cummerbund. Be careful with the good length arm size of your jacket. Don't let the trouser legs or torso arms fall short.
Tip: Smart colors blended together can do the trick of not making you look so bony. Stick to plain suits, do not have stripes on them that would only make you look thinner and taller. It would be good to have your the coat not too long. Do not wear a skin tight suit.
For a burly or a muscular groom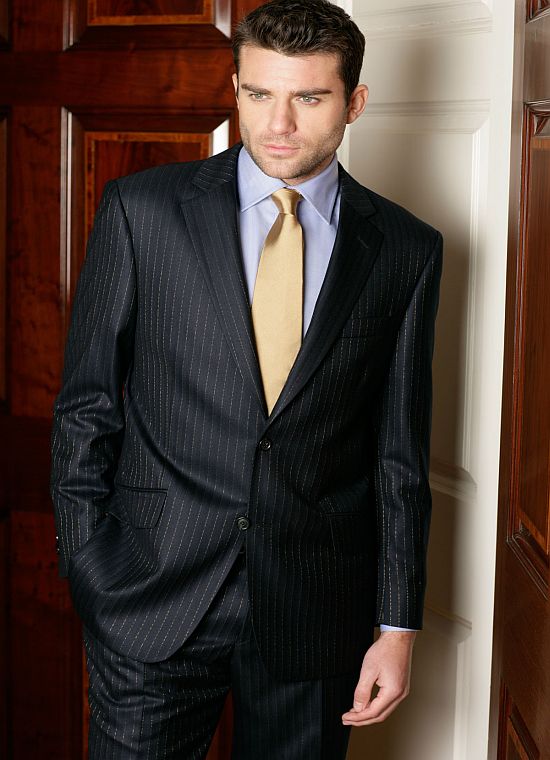 If you are muscular, it's advisable to wear the dress which hides your bulkiness. Remember, wedding is all about elegance, therefore don't apply add-ons and unnecessary embellishments on your couture. A vest without a lot of frills would be much appropriate than opting for a cummerbund. This would loosen up your large waist and extra girth a bit. Wearing a classic black tuxedo would be a good bet. Also, a light-hued suit should be a big no no. Dress up smartly, so that all the drawbacks your body type has don't appear publicly.
Tip: It is important to know your built. Get custom made suits if possible. It is always to get it from a renowned brand and not hesitate to have to redo tailor it if necessary. You have broad shoulder's make sure you do not look beefed up even more. The suit should appear to fall gently and look too tight.
For a short and thin groom
Avoid wearing pleats and double breasted coats. Escape from wearing large framed jackets. It reflects a suppressed personality with your physique. Also, it will be too outsized for your body type. Prefer wearing a tuxedo with a low button stance jacket and extra paddling as it will give an illusion of a broad shoulder along with an elongated body. To look more muscular, you could try a beefy and chiseled look by wearing a medium broad necktie or a patterned bowtie. Go for a light-colored suit rather than the classic black.
Tip: Have a longer coat, if you are short, in order to be able to apear slightly taller. Make sure you do not appear thinner than normal. Use materials which have a bit of a puffy edge to it. Have the shoulder's puffed up so you look a little less thin.
For a broad and short groom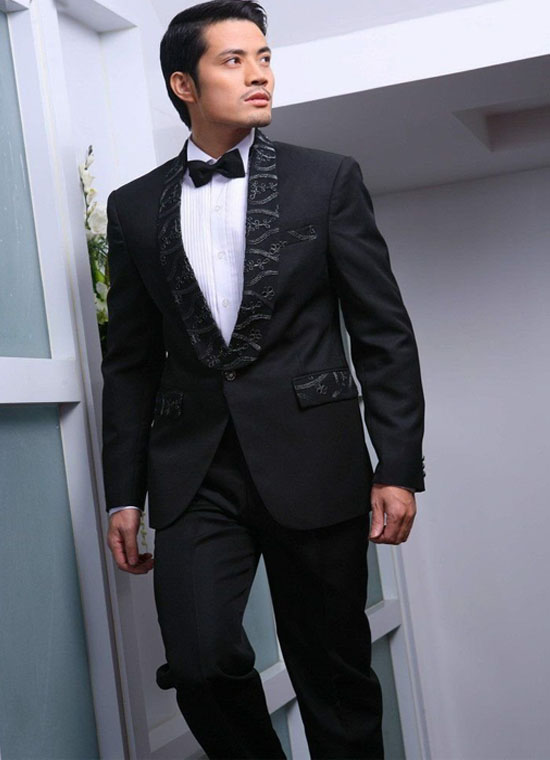 Don't wear a tuxedo with layers or you will look more short and bulky. For giving your body a slim, tall look, go for a perfect fitting with a two or one button jacket with a shawl collar ("a more rounded lapel than a peak collar"). Hide your extra flab with a natural shoulder line. Note that a black tuxedo will give you a slim look. Furthermore, don't wear oversized broad style tuxedo and avoid folding the arms because folded arms look immature.
Tip: Black goes with everything and surely that would be the best color to wear. Make sure you are able to wear black as it will make you appear slimmer than normal. If possible wear a cummerband, that too will make you appear slimmer than normal. It is all about what you wear and how.
Basic tuxedo wearing rules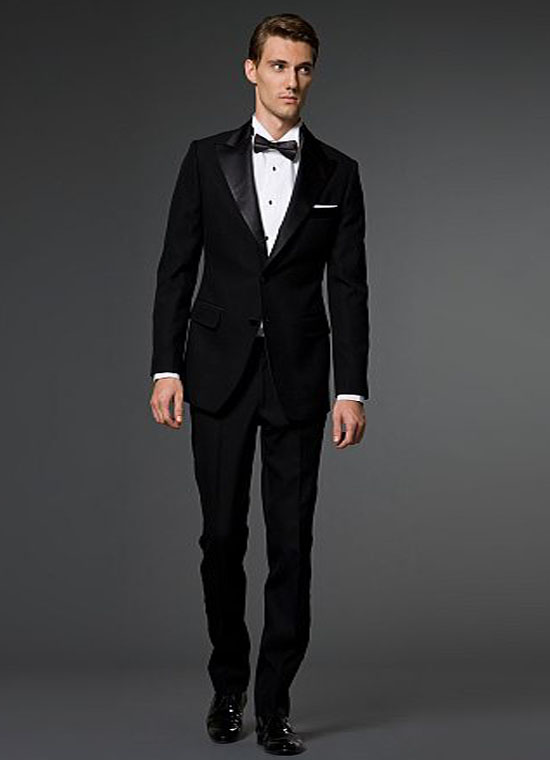 A good thing about tuxedo is that it demands half the time any other groom outfits need. It's easy to get into this garment. So, wearing a tuxedo is the best option at your wedding. As an additional tip, never wear an outdated tuxedo at your wedding. Always choose the tuxedo that follows the latest fashion trend unless you want to look like the bride's father. Based on your body type, personalize your outfit and be comfy in your wedding tuxedo.
Tip: The tuxedo must allways compliment the bride's dress. You must not look too fat or too thin the tuxedo. It should eb the perfect color, not allways black, though black goes with everything. You must know the color them and get a hint of what your fiance would be wearing to the wedding. Always know that a coat's sleeves are always half an inch smaller than the shirt.