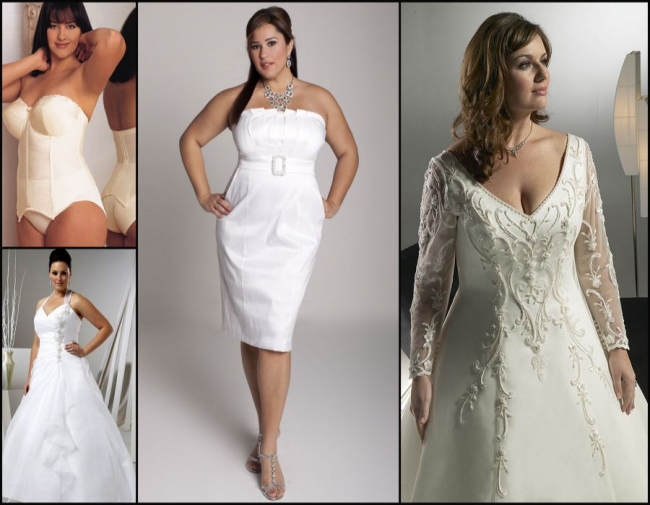 It's the dream of every woman to look alluring on the day she ties the nuptial knot. The wedding gown plays a very imperative role in making the bride look regal. While the skinny brides can take inspiration from the skimpy models sashaying bridal outfits on the runway, problem lies with the plus sized brides. They are lost in despair for the fact that they won't be able to look their best on the big day. Since designers also concentrate on making wedding outfits for the svelte body, there is no room left for the over sized. But, you can be smart enough by following a few tips which would help you buy a perfect wedding dress despite your weight issue. Read on to know about 7 tips to buy wedding dress for plus sized brides and be the queen bee on your special day:
1. Make an early search
You must have heard the saying "a stitch in time saves nine." So, make it sure that you start looking for your wedding gown days before the marriage. This is help you avoid any unwanted pitfall and also help you choose the best outfit with proper fitting and other essential work done on it.
Tip:
An early search always defines your sincerity and passion for the wedding. Complete the search a week before the wedding day to ensure everything is at right place.
2. Look for the professional photographer's portfolio
The professional photographers have a collection of every type of photos of bride. You will get a clear idea about what type of gown you can don on your special day if you are oversized. Well, you may also be wondering that these photographers do the necessary morphing to make even the ugliest look debonair, but this is not always true. Just take a look at the oversized bride's photographs and take inspiration from them.
Tip:
A professional photographer has the potential to hide your heavy side without diminishing your beauty and curves. It's advisable to hire a good professional photographer to avoid post marriage blunders.
3. Don't buy a tight fit
Brides to be often go for regular workout and aerobic days before the wedding, to make them slim and sexy. But not all succeed in achieving that. After all you are not a wonder woman. So, just keep this thought in mind and don't get a dress giving yourself false praises that you will lose weight before the wedding. Because it won't happen in a thrice!
Tip:
A tight fir can spoil your whole appearance and also make your look ugly and sluggish. It may show your bulkier side and may make you look as women with extra bulge.
4. Try the gown over the corset
You can do this before you actually wear the dress on the wedding day. This will help you prepare in advance, the way you are going to look on that day. Moreover, don't squeeze your corset more than the limit. This will make you uncomfortable and possibly you may faint on the altar at the wedding ceremony.
Tip:
Trying the corset always has a benefit as it exhibits a great fit and comfort and also makes you look slimmer and fitter. This may result in an increasing number of compliments on your wedding day.
5. Wear and check the gown's comfort
Know all you have to check is whether you are able to carry the dress properly or not. For that you can sit and walk around wearing the outfit to check its comfortability.
Tip:
The comfort is the top most things to assure while going on for your own wedding. A good fit allows great appearance as well as exhibit charm.
6. Look for informal wedding dress
It's not necessary that you stick to traditional wedding gown. You can gracefully flaunt the informal wedding dress on your wedding dress and be the classy bride. They can also look equally graceful and elegant.
Tip:
Informal and casual dresses can also make you look equally beautiful and enchanting. So don't fear from experimenting.
7. Look for off white colors
Instead of looking for white gown you can make a search and buy some of white shades like ivory, cream and it can also be pink. White gowns not always flatter plus sized woman, so other color choices are always welcome.
Tip:
White make s one look more slimmer and beautiful and when it's your wedding you should look like a most beautiful bride with alluring curves.