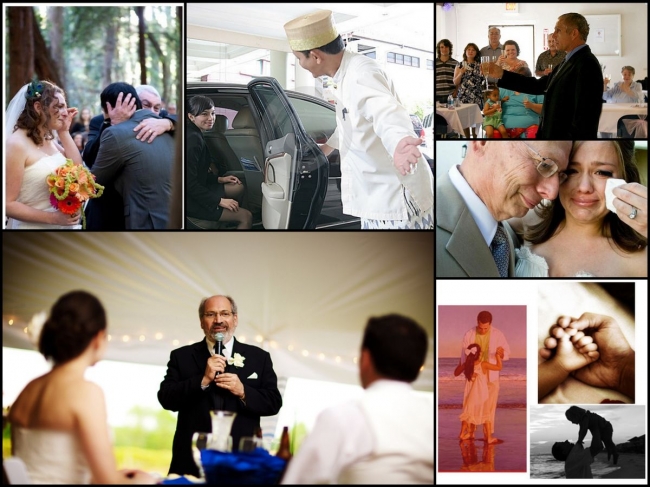 On the day of the wedding, the father of the bride realizes that his daughter is all grown up and moving on with with her groom. She is now ready to take her life into another direction. Emotions run high on this day and so it can be quite difficult for the father of the bride to give his speech. Your life experiences and the joy of marriage will certainly help you out in delivering your speech. However, early preparations are not going to hurt you, in fact it will help you out in expressing your feelings in the best possible way. Below are some tips that you must always keep in mind. But, also keep in mind the fact that the best speech comes from heart and not from a book.
1. Welcoming the guests
You must begin your speech by welcoming the immediate family of the groom into your family. This is the first and the most important thing that needs to be mentioned in your speech. You must welcome the groom's immediate family on behalf of your family (including your wife, your daughter, her new husband, and your other children).
2. Welcoming the groom into the family
One of the most important things that you need to do is to welcome the groom into your family. Share how he has changed your daughter's life and how he played an important role in her life when she was growing up, if that is the case. Talk about your first meeting with your son-in-law and share with your guests some of the funny and touching memories that you have with the groom. Welcoming the groom and mentioning the groom's parents is a nice gesture, which gives a better opportunity to your guests to involve themselves in the ceremony.
3. Childhood memories
Who can speak about the bride better – of her childhood and her journey of life, which transformed her into the wonderful and young lady she has become – than the father of the bride? This is the opportunity to show your love and affection for your daughter and how much you have enjoyed her company in your life. You also need to keep the guests entertained while you give your happy and heartfelt speech and share your fondest memories of your daughter; so, many clever anecdotes may help you out. Include stories about the groom, if he was a part of her childhood.
4. The days to come
Share your hopes that you have with the newly married couple. Talk about the future of the bride and her husband. Talk about everything including career plans, dreams about children, change of location, and so on. Tell everyone how much pride you have in your daughter and in the goals that the newly wed couple have set for themselves.
5. Giving positive advice
Include some positive advice for the married couple in your speech. Share some of your life changing experiences in your speech and tell what you have learnt from them. Give them advice on how they can work together to ensure a happy union. Tell them to have faith and trust in each other no matter what situations they face in their life, because this relationship is entirely based on trust, which one has in one's partner.
6. Meaningful music
A brief toast can be made after dedicating a song to your daughter and her husband if your family is musically inclined or has a strong musical background. As far as the selection of song is concerned, try to pick one, which holds special meaning in the life of the couple or the family as a whole. It will be best if you perform this song by yourself in honor of the groom and the bride at the reception. Even your wife can participate in the song by playing an instrument or singing along you.
7. Proposing a toast
Finish your speech by raising your drink in order to propose a toast. Dedicate your thoughts and wish the bride and the groom happiness in their life together. This is the last part of your speech so you need to share your thoughts briefly, and need not just get carried away. Finish your speech by introducing the groom for his speech.