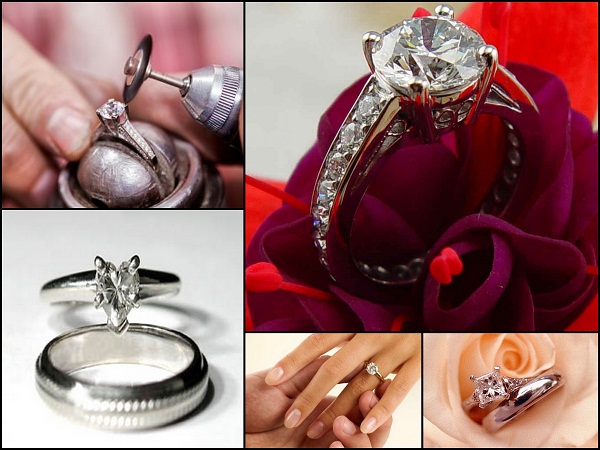 Preserving your engagement ring might be something you have already thought of, but do not know how. An engagement ring is the most precious piece of jewel for anyone because of the deep emotions attached to it. Every girl waits for the moment her boyfriend would ask her to marry her. When that time arrives it comes with a token of appreciation which is the ring. It is your duty and responsibility to ensure that the ring is in safe hands. Be it in diamond, gold or precious stones, it is important to save it from getting damaged or lost. You can easily protect your ring by taking some precautions and following simple steps.
1. Store it safely
Always make sure that you store your engagement ring safely. Do not let it lie loose in the closet or even your handbag. Always keep it inside in a box or packet. Jewellery boxes are also recommended for this purpose as they keep jewels safe. You can also consider having an electronic safe installed at your home to keep it protected from robberies. Otherwise, bank lockers are a great way to protect it, provided you don't wear it frequently.
2. Be cautious if you wear it everyday
If you wish to wear your engagement ring everyday, make sure that you do not get it damaged or broken. So take it of while doing household chores or wear thick rubber gloves. While taking a shower, keep the ring aside as it may just slip out and get lost. Also, try to designate a special place to keep it. Keeping it at different spots will end up in a search every time you want to wear it.
3. While traveling
When you are on the go, make sure you keep the ring with yourself. Either wear it or keep it safely in your handbag. Do not keep the ring in any hotel room. But if you wish to store it in the locker, wrap it in a soft tissue or a piece of cloth to avoid scratches. Remember where you kept the ring so as to not loose it. Keep the ring in a pouch if you have to and lock it up in the suitcase or in your handbag.
4. Ring care tips
If you wear your ring often, it may lose its sheen or the stones may become loose, so you need to take extra care. To keep it shiny like it's new, get the ring polished from time to time. It is also recommended to check the prongs for any loose stone. If there is anything wrong with the ring, take it for repair immediately.
5. Home care

Instead of occasionally hitting the jewelers shop for maintenance of your ring, you can do it yourself at home. Remove all the stuck up dust and other impurities using a toothpick and soft cloth. Then soak it in a small bowl of water. This will loosen all the impurities which can then be removed easily. Use a toothbrush with a little soap to clean the inside and backside of the ring.
6. Avoid wearing during activities

Do not wear your ring while playing, gardening, doing household chores, etc. Basically while doing anything that can potentially damage the ring. You can cause maximum damage to your ring during playtime, thus, it is strongly recommended to remove it during such activities. if you are a workaholic and are on your feet a lot, it is feasible to not wear the ring throughout that time.
7. Insure your ring
Make a smart move by getting your ring insured so that in case the diamond is lost, damaged or stolen, you can easily get the loss claimed. Understand, that the engagement ring is certainly much more than a piece of jewel and thus like your car and property requires insurance.