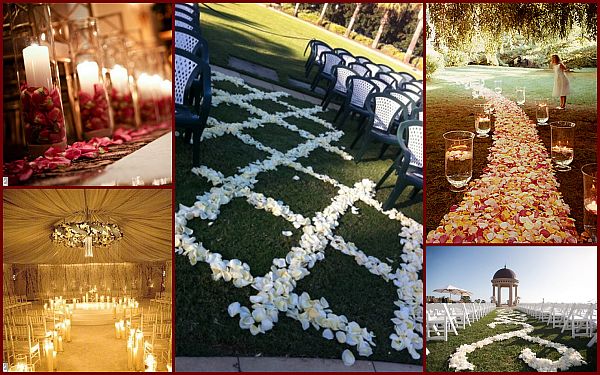 A wedding aisle decoration should not be restricted to some turf with silk rose petals speckled on top. An aisle is the first thing the guests would view as soon as they enter and this also sets the mood for the entire ceremony. Here are four fresh ideas for an eye pleasing wedding aisle. Decorating your aisle will only make your wedding more beautiful. You must get a hint of all the unique ways to decorate the ramp you would be walking. You should seem like the show stopper and the princess that you are.
1. Kissing Balls or Pew Pomanders
Pew Pomanders, also called the kissing ball, is a striking aisle decoration. They also make lovely bouquets and can be used for the reception and table settings. They can be made by an experienced florist, but if you feel like giving them a try on your own, take a foam florists' ball, wire each flower head and cautiously pierce the foam with the wire from each flower, and a ball of flowers is complete. Sling with a ribbon wired into place, and you can also have a decorative ribbon at the base of each ball. Let them dangle along your aisle from the chair tops.
2. Paper parasols
Glorious parasols are perfect for summer and beach weddings. Choose your desired color and place them down the aisle with complementary rose petals. In addition to being beautiful, they are cost effective and practical too as your invitees can pick them up and use them to safeguard their skin from the burning sun.
3. Flower petals in patterns
In place of the traditional aisle runners or lining the aisle with petals, you can arrange the flower patterns in aisle with various designs. There are endless design possibilities. Confirm with your florist whether they can create a design which complements the theme of the wedding ceremony. Choose colors which suit the wedding decor. For simple and elegant theme, soft colors like white or peach colored petals will be perfect, and if you want a hit of intensity and fun, you can choose colors like red or purple for the patterns.
4. Exquisite Lanterns
For weddings held during dusk, lanterns can help adding radiance to the ceremony. Closed lanterns with pillar candles add an intense element to outdoor weddings. Another idea is to use glowing paper ball lanterns with dissimilar ribbons. Use real candles instead of the flameless ones, as the latter ones are not bright enough. If it's very windy, go for battery-operated candles.
You can hang them on seats or place them on shepherd's hooks; or simply line the aisle with lanterns. These can brighten the aisle for the bride and the groom and bring a soft glow for the ceremony, adding a flavor of romance