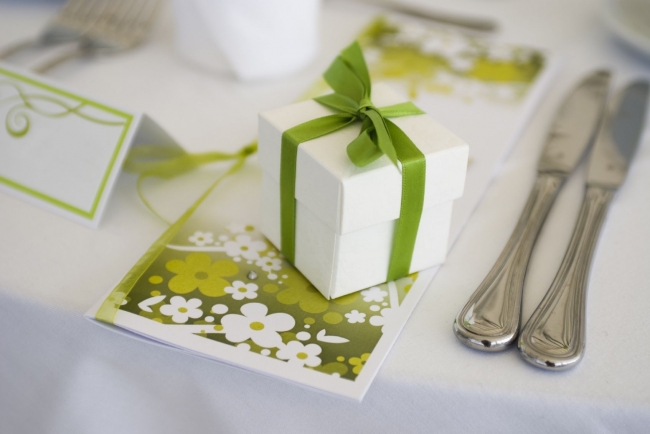 A wedding favor should be different, which should remind the guests about the couple. You can thank guests in a unique way by offering homemade wedding favors. Now when it comes to choosing a wedding favors that is different and special as well you find it difficult. Below listed are some of the leading and most liked wedding favors.
1. DIY wedding favors
Do-it-yourself wedding favors have an additional advantage of developing a bond between the family and friends by getting them actively involved. These self-made gifts can also save lots of you money. Some of the DIY wedding favors include scented candles, tea lights and sweet tins that are artistically wrapped, along with potpourri and do-it-yourself sachets. You can also easily print labels with the bride and groom's name making use of the computer at your home.
2. Personalized wedding favors
You can also give personalized gifts to the guests, which includes drink coasters made of silver, champagne bottles, golf balls, pens, matchbooks etc. You can customize these stuffs with the bride and groom's name along with their wedding date. These personalized gifts also include key chain, letter opener, love coasters, colognes, picture frame, fragrance sprays and stuffed animals. You can also go for Natural as well as organic gifts, such as customized pebbles, sea shells, plant seeds like forget-me-nots, soaps and gels.
3. Edible wedding favors
Edible favors are another such great options. You can give gift bags or candy tins packed with almonds, mints, chocolates of various shapes or a heart or a dove shaped chocolate in a long stem that might look like a rose. Edible wedding favors also include special cup cakes, fortune cookies or assorted biscuits or nuts.
4. Decorative candles
Candles are one such wedding favor that is sophisticated and is available in a number of sizes, designs, and fragrances. On your wedding day, go for heart-shaped candles that might suit best to the occasion. This wedding favor can be of good use to the guests. Craft printed labels stating the details of the ceremony thereby reminding the attendees of the special wedding day each time they light it. If you are looking for a simple yet sweet style, get a transparent glass candle holders which have designs of love bird printed on it. If yours is a beach-inspired wedding, then fill some sand and few small seashells in the glass holders and top it with a turquoise blue candle. Other ideas also include wedding cake or swan shaped candles.
5. Flower favors
It's a good option to say thanks with charming and fragrant flowers. These favors are not only convenient but can be used as table decor also. Craft a coordinated look by making these floral favors using same type of blooms as in the bridal bouquet or the centerpieces. If the wedding theme is red-and gold fill red roses in subtle gold metallic vases. For a spring-inspired wedding with green and pastel pink color scheme, fill antique glass bottles with fresh greenery and camellias in pastel pink color.
6. Photograph frames
Photograph frames are a resourceful option as favors as these frames can be of use to the guests. The attendees can use this frame to place a picture of themselves at their house. You can also give the frame with a happy photograph of the bride and the groom, which can also be a good option.
7. Seasonal favors
Seasonal favors can be easily found and that too with several options. You might consider some Christmas decorations if it's a winter wedding or candles with spice perfumes during autumn wedding.
These are some of the popular wedding favors that will help you find a perfect choice of favor that goes with your wedding theme as well as your style. All you need is to select a concept and use your creative mind to customize it to suit your wedding. Wedding favors need not be costlier but needs to be unique in its own style so that it remains as a memory for your guests.