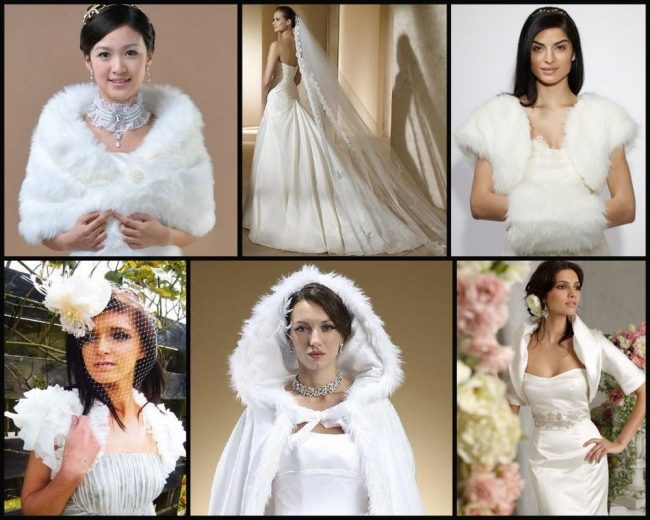 Planning for a winter wedding? Then it should not be very difficult in choosing your warm wedding clothes because they come in a wide variety. You can choose from funky and colorful choices such as the shawls, capes, gloves, sleeves and what not. Most of these can be obtained matching to your wedding gown to give a perfect overall look. Apart from the looks they can keep you warm and comfortable all through your wedding. Take a look at 8 clothing options to keep you warm on wedding day.
1. Shawls
Shawls for winter wedding gowns come in various stunning patterns and styles. Choose a white faux-fur shawl to go with your white wedding gown. You can also opt for a fuzzy and warm faux mint shawl that is available in ivory, white, black and brown. Wear a perfect shawl according to your dress and stay warm and beautiful.
Tip:
Shawls can be a superb option to remain warm in that chilled weather on your wedding day. Wrap around them in a funky style so that make a style statement while covering up your skin form the chilly wind passing by! Don't forget to keep it stylish always!
2. Capes
Capes are the best choice if you want to keep your upper half warmly covered. They come in different styles. Choose from an open-style faux fur Capulet. They help to show off your upper part of your wedding dress. You can also choose from other styles like a satin lined cape with hood or even a long hooded cloak that can keep you completely warm. It is perfect if you have organized for a Medieval Renaissance theme wedding.
Tip:
Capes are one option that will definitely keep you warm in the winters. They work as a big hindrance in between body and icy winds. So you are sure to get protected from the winter's chilly weather, if you plan to get married in this season.
3. Gloves and sleeves
Another best way to keep warm for your winter wedding is by choosing to wear gloves and sleeves. These can help you to keep your hands and fingers warm and stylish. They come in various materials that are meant to provide warmth to your hands and match to your wedding dress. Leg warmers are also available.
Tip:
Gloved and sleeved wedding gown look equally beautiful and enchanting and carry a grace along with them. They work as a helping hand in winters and prevent you from being affected by winters' cool breeze.
4. Boleros and shrugs
Shrugs and boleros are extremely stylish options for your wedding day. They keep the style element intact along with protecting your body from cold. The best thing is that they come in a wide variety of designs and styles to match to any kind of wedding dress. They are made of lace and other materials like satin etc. They are available in various colors.
Tip:
Boleros and shrugs help and give you a style statement along with a warm outlook. They can work wonders with your wedding attire, when adorned in a proper way. They look stylish, enchanting and delicate.
5. Long veils
Long veils are incredibly stylish. They come in beautiful laced materials as well as other lightweight clothes. It is one of the best ways to add some heat to your body on a cold day and add style to your special wedding outfit.
Tip:
Veils are an important part of your wedding dress. They look beautiful when adorn along the wedding attire. They come in different sizes and styles but because its winters, then one must pick a long veil that can cover up your body entirely its flair. It also appears dreamy and fairytale like.
6. Jackets
There is nothing more beautiful than wearing a bridal jacket matching to your wedding gown. It is going to be the best wedding accessory to use. Apart from adding a special touch of class to your outfit, it is going to keep you warm for the whole day without compromising on style. They come in different styles, colors and materials. Choose from the white satin jacket or the sheer top for retaining the beauty of your wedding gown.
Tip:
Jackets always look classy and elegant. Even if it's a short, mid length or long gown, they suit every kind of wedding attire and make it appear more pleasing and glitzy. Adorn one that matches your personality and suits the dress well to avoid any fashion disasters.
7. Headdresses
For those who are looking at some cool options for their head can choose from some stylish and colorful headdresses. They come is a wide variety of designs and accents like flowers, laces, stones etc. You can also choose from warm knit hats or simple woolen head scarves to stay warm in a stylish way.
Tip:
Headdresses come in different patterns and styles. They can be funky, subtle and experimental too. You can buy one that suits you the most and can flaunt it in a stylish way. This way you can show the stylish and intelligent side of yours to people.
8. Muffs
Ear muffs are a great choice to remain warm on your wedding day. They come in various colors making it very easy to select the colors of your choice. The muffs can also keep you from hiding your fancy hairstyle.
It is a matter of choice and comfort as to what clothing you are going to wear for your wedding. Since you have planned for a winter wedding the above mentioned accessories may be worth a look. Choose the ones you are comfortable and enjoy a warm wedding day in perfect outfit.
Tip:
Muffs play an important role in preventing your ears from the cool breeze on your wedding day; they keep you warm and contended. You can wrap around them around your ears and can adorn them in fashionista way. You will look graceful and stylish at the same time.