A typical bride wants her wedding to spell elegance and sophistication. She wants everything from her jewelry to the venue decorations to be delicate and classy. Now that, is the typical bride. Adventurous girls, who want to experiment with their wedding, do not want the boring white traditional ceremony! These women like to have a themed wedding, that offers an expression to their individuality. A Halloween theme works out brilliantly for the eccentric albeit fun wedding.
The best idea is to schedule your big day for October 31st so that the guests be left wondering if they are attending a wedding or a Halloween party! With that, the trick part of the 'trick or treat' is smartly taken care of and who better to rely on for spooking the invitees, than your bridesmaids dressed in their Halloween outfits! Some of the ideas for the scary yet chic bridesmaids gowns are:
1. Medusa Reincarnate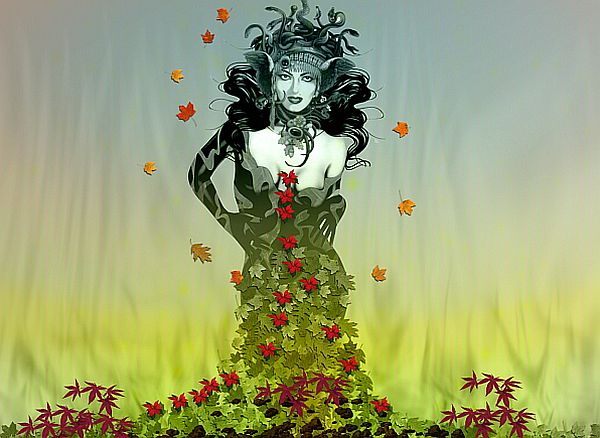 Well, the bridesmaids will be stealing the show if they wear a bridal gown, so wear a light pink or beige dress instead. Team it up with a Godzilla head. You can also use a simple head band and tuck in raging flames made out of paper or cardboard for a frightful look. Also, you can paint your face in gooey, ghastly colors like florescent green or yellow. In case you are not comfortable with the idea of face paint, make sure you wear dark makeup to (not) suit the occasion! This is a unique Halloween outfit that resembles the get up of the evil Medusa. With history on its side, this one is sure to be remembered for ages!
2. Reduce and Reuse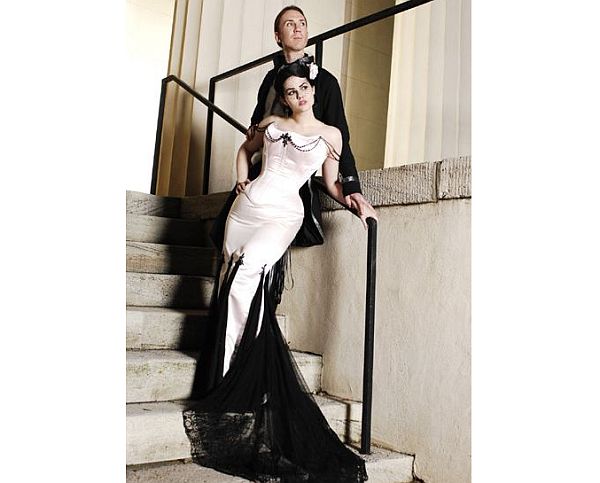 Do you have your bridesmaids dresses from previous weddings that you love to hate? Take four of them and sew them together to create one new piece! Cut each one down the middle line and then along the side seam to obtain a quarter of each dress. With that, the reduce part of the recycle is done. Attach the four pieces and create your own horrible bridesmaid's gown to reuse your old dresses! With such great volume of the outfit, ensure to keep your jewelry minimal and tie your hair is in an updo with plaited tendrils falling on either side.
You do not have to waste money on a new bridesmaid's dress if you implement this idea. Also, you can put the dreaded dresses to use instead of throwing them away.
3.Gothic-a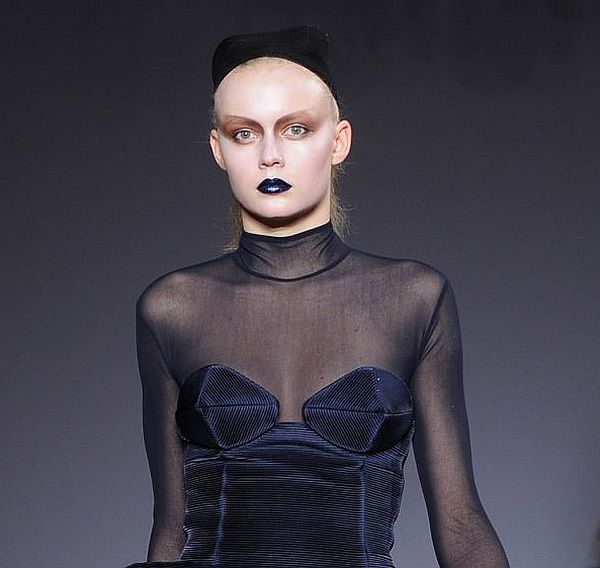 Some brides want to keep it subtle. They want a stark black-themed wedding, for the color black is both powerful and impressive. The bridesmaids for such a wedding can wear a simple LBD or a long black dress, depending on the bride's choice. The dress is to be worn without any jewelry or any extra bling. The bareness should be neutralized with a simple item of makeup- the lipstick. We are not talking about the expected blood-red lipstick. No. Use your blue eye-pencil and fill up your lips in electric blue! Go goth with this look.
This is a funky idea for a funky wedding. It also makes a bold fashion statement which will surely earn you a lot of compliments.
4. Just Eloped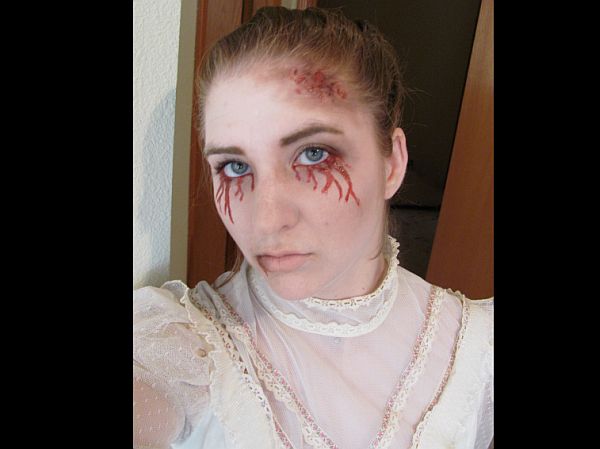 Use a beige or cream colored dress for this idea. Make sure your look resembles that of a bride leaving in haste, but does not steal the thunder from the actual bride on her D-day. Team up your dress with a sports shoes. Use a sweatband and wear your hair in a ponytail. You may use the extra wristband or sports watch to complement the look.
This idea spells a fun and "racy" affair, leaving the guests and the poor groom suspicious if the real bride is going to run away! Keep the adrenaline rush on, bridesmaids.
5. A Peachy Affair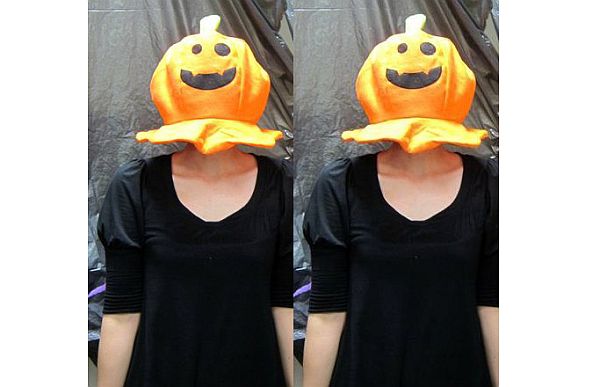 Think Halloween, think tones of orange and peach. These are the pumpkin-inspired colors that the ideal Halloween wedding would need to have. The bridesmaids can either wear an orange-pink or a deep orange dress and keep the make up nude, or contrast a dress of a lighter shade of cinnamon with darker makeup. While getting the dress made, you can advise the seamstress to use a stiff, high collar for a medieval look.
Also, you can have the bridesmaids wear a simple dress and accessorize it with the pumpkin itself! Punch holes into the pumpkin and wear it as a mask for the perfect Halloween -cum- wedding ensemble. This idea works out well because it is a classic. Orange and peach are the classic colors of Halloween and they go with weddings too. The Victorian collar adds a dash of ancientness to the entire ensemble and a dash of history is always intriguing.
6. Blast From The Past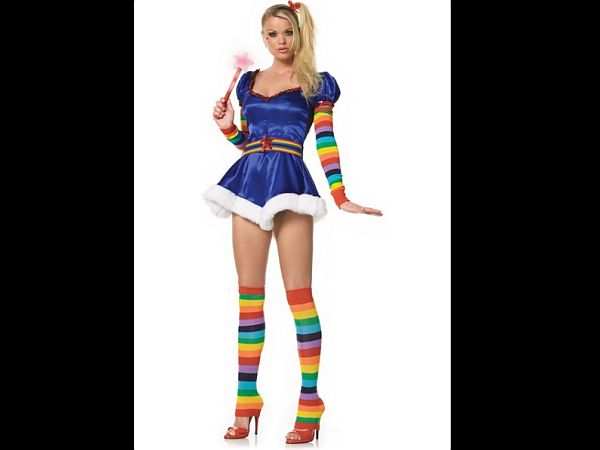 How can we forget Rainbow Brite from the 80s? Use her blue skirt and knee length socks for a vibrant twist to a sombre occasion. Bridesmaids dressed as Rainbow "Bright" will actually shine out in their multi-colored dresses. Wear minimal make up and jewelry with this outfit, lest you should go overboard with the brightness. You can get a ready-made Rainbow Bright dress at a fancy costume store.
7.The French Connection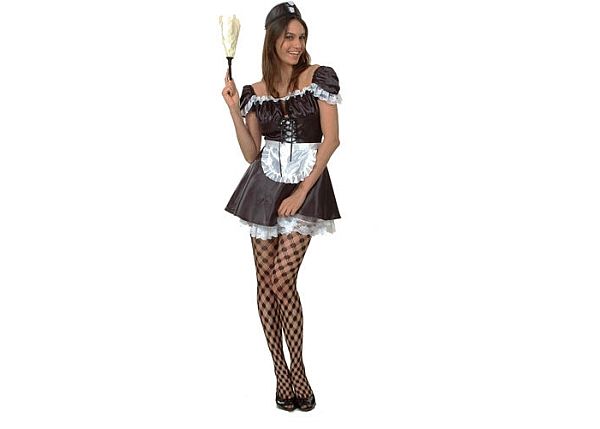 We have seen the French maid's costume over the years and loved it. The satin get-up, with a bouquet to replace the feather duster works out very well. It is a sophisticated look for the wedding, yet twisted enough for Halloween.
8. Fantastic(al) Outfits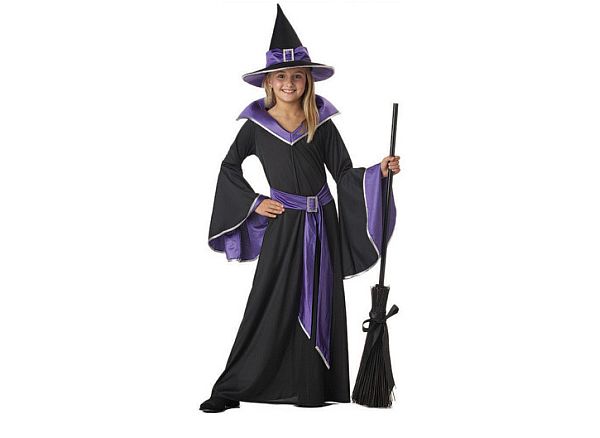 Look into the wardrobe of a witch. Oh well. Witches are mythological. Instead, go to a costume store and buy a black dress with frills and sheer lace for the quintessential "witchy" look. Team up the outfit with fishnet stockings for an even sinister and mean look. Carry a broom as an accessory, replacing the top fibers with the wedding bouquet. "Where shall we three meet again," is expected to be the evil whisper among the bridesmaids with this look!
Also, you can give the ensemble a vampire twist by using fangs. The flowers recommended with this look are 'blood' red roses, to say the obvious. This look oozes class and a snobbish elegance at the same time, with a hint of a sensual seduction that will make the groomsmen go weak in the knees.