Science fiction film, Alien vs. Predator had many glued to the screens enjoying every bit of the fight that erupted between predators, aliens and humans. But, the long fight seems to have come to end in the form of a dark cake! Tracey, brains behind the awesome cake design and the Little Cherry Cake Company, came up with this attention arresting cake for a geeky couple's wedding celebrations. Undoubtedly, the cake became the focal point of the wedding ceremony and fetched a lot of appreciations because of the exquisiteness it came draped in.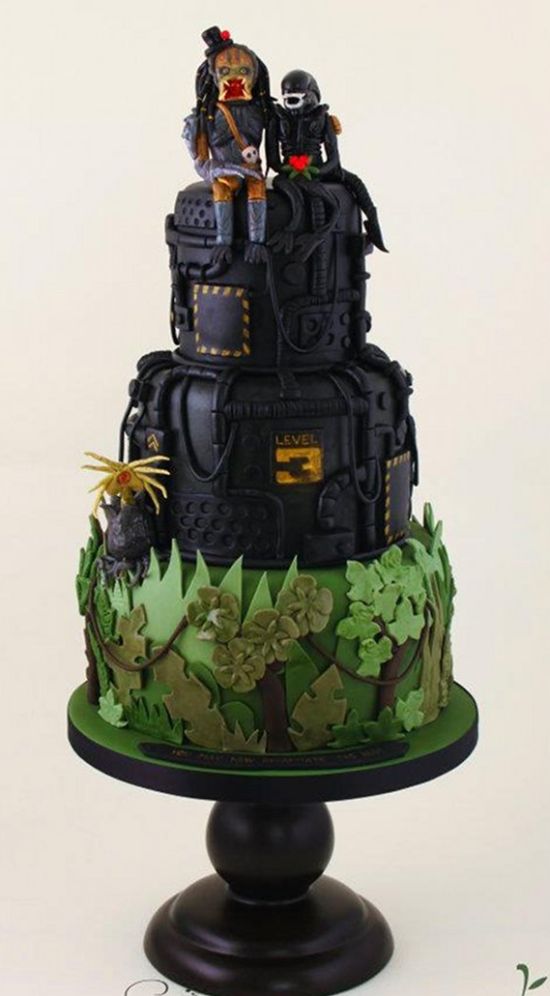 Tracy fetched a lot of inspiration from the moving to come up with this edible creepy cake. She took screen shots from the film to keep even the minutest details intact. The cake has three tiers and was smothered with a dark colored icing that managed to give the same grave appeal like scenes in the movie. The top two tiers of this staggering cake creation see the alien and the predator sitting cozily together, which is a symbol of undying love that the geeky couple carries for each other. The bottom tier has been given a jungle like appearance for some added color and life.
The cake is nothing like you will get to see in regular bakery shops and will bring all your sci-fi fantasies to life in case you opt for a geeky themed wedding. It has all the elements that will leave guests surprised and queue up to get a bite of this awesomely created cake transporting them to a hostile alien world.
Via: Thatsnerdalicious