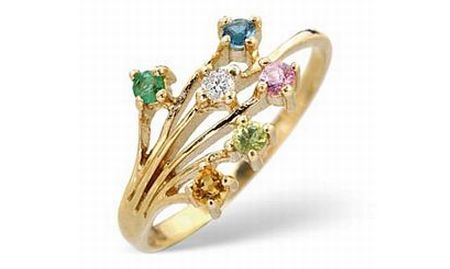 The engagement ring is probably the most important piece of jewelry and the couple deserves nothing but the best! After all, it's going to stay with you forever, so the design should not just be stylish but also that doesn't look outdated over the years. So, if you are all set to promise to be someone's forever and are looking out for a bedazzling engagement ring for your beloved, here are some alluring gemstone engagement rings for you to choose from. Just slip one of these into your queen's finger and she'll be yours forever. Go ahead and make up your mind…
Diamond and Gemstone Ring in Yellow Gold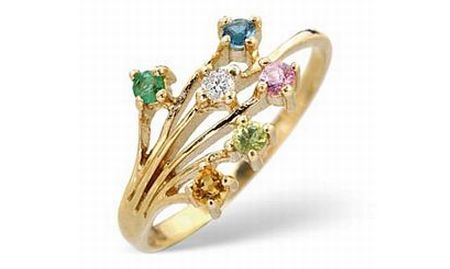 Quite different from the usual engagement rings, this one is definitely a winner. Enchanting diamonds and gorgeous gemstones set in 9 K yellow gold, make this a perfect engagement ring for a girl who loves everything that's bright, colorful and full of life. It's just of the right size – neither too big to look chunky and nor to small to go unnoticed. The 0.04 carat diamonds bring a touch of opulence to this ring while the vibrant gemstones give it a distinct look making it a piece that she'll love to flaunt forever!
Sterling Silver Cubic Zirconia Engagement Ring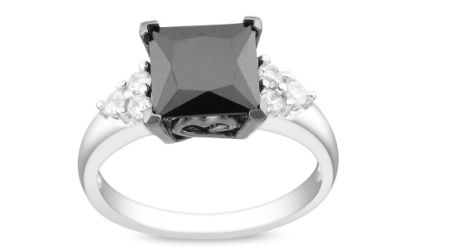 If gold is not her first love and 'standing out' is what she's used to, then this stunning piece of love is ideal for her! Made in sterling silver and accentuated by a bedazzling cubic zirconia, this engagement ring is simply gorgeous. The combination of black and white gives this ring a stylish and dramatic look, without looking over the top. Perfect piece of wedding jewelry for your daring diva!
Icz Stonez Sterling Silver Cubic Zirconia Bridal Engagement Ring

It's not diamond, but it's marvelous nonetheless! The cubic zirconia accentuated by the finest style of cushion cutting when set in sterling silver make this ring an object of desire for every bride to be. After all it's nit just a ring but a style statement in itself. Dazzling, striking and stupendous – that's the Icz Stonez Engagement Ring for you!
Silvertone Emerald-cut Champagne CZ Engagement Ring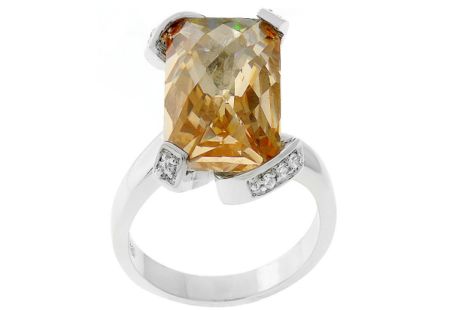 If she's always been a fan for big rocks and owning one has always been her most cherished dream, surprise your lady love on the most important day of her life with this ostentatious engagement ring. Made in sterling silver, it features an emerald cut stone in champagne color that makes it a striking combination. Add to it the fine detailing at the corners and you have the perfect recipe to woo her!
Real Marquise Blue Sapphire Solitaire Engagement Ring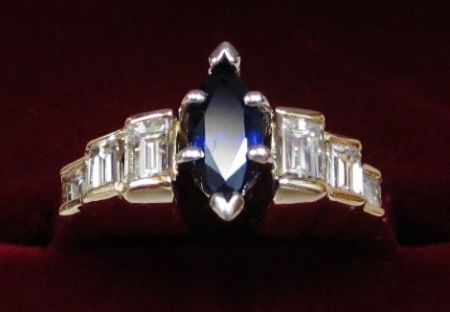 Diamonds may be a girl's best friend but solitaire is a friend that comes to rescue when the best friend is busy! Magnificent from the word go, this engagement ring will be a dream come true for your beloved, who has always wished of owning a solitaire.Designed in 14k yellow gold, this ring features a 3.4 carat dark blue marquise sapphire as the center piece and additional bagguettes on the sides totaling to half a carat. All in all, its pure enchantment!
Multicolor Rainbow Sapphire Engagement Ring

We know she means the world to you, how about giving her the most colorful part of your world to her? How about a rainbow on her finger! If you are already liking the idea, read ahead. We are talking about this engagement that's designed in 18 K white gold and set with multicolored sapphires weighing approximately 1.4 carat. Red, blue, green, yellow – every hue of a rainbow finds a place on this exquisite ring. Slip this rainbow on her finger and she'll never stop that love-shower!
Simple Yet Elegant Diamond and Sapphire Engagement Ring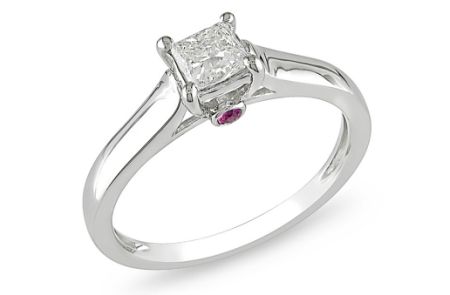 This is a really stylish piece of jewelry for your ubercool girl, who loves to be different but not drab. It's simple yet sexy. Understated yet unmatched when it comes to finesse and class. Made in 14 K white gold, this ring features a princess-cut 0.5 carat diamond in the center, while a scintillating pink sapphire stands out on the side making it a unique piece of jewelry for your unique girl!
Flowery Engagement Ring in Diamond and Sapphire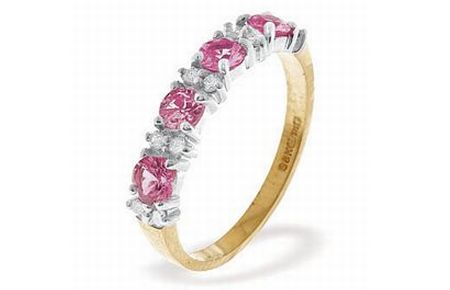 Another brilliant combination of pristine diamonds and lovely sapphires, this engagement ring looks more like a band rather than the conventional rings. Made in 9 K yellow gold and encrusted with 0.15 carats of diamonds and 0.78 carats of pink sapphires. Chic and elegant, this one's perfect for your cute girlfriend.
Go green with this Diamond and Green Sapphire Engagement Ring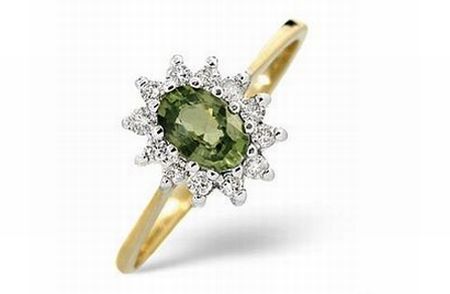 If she finds usual quite boring, stun her with this flowery delight in green. Made in 9 K yellow gold, this starry ring features a big 6 mm X 4 mm dazzling green sapphire, giving it a distinct look. Not just this, it also boasts of 0.18 carats of diamonds that cluster together to make the petals of a beautiful flower that makes the centerpiece of this ring. Don't you think this green sapphire ring will give enough reasons to your girl's girly gang go green?
Diamon and Kanchan Sapphire Engagement Ring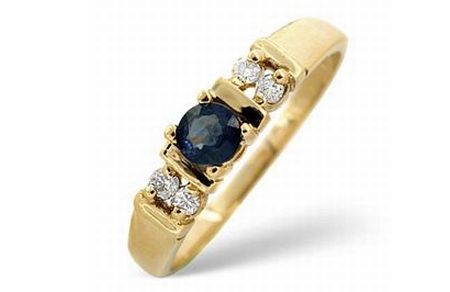 This one is simply gorgeous! Different, classy and beautiful – that's the magic that the 3.5mm Kanchan sapphire does to this piece of wedding jewelry. Made in 9K yellow gold, this engagement ring is encrusted with 0.10 carat of diamonds, making it not just an object of desire but an ultimate symbol of love that's forever!