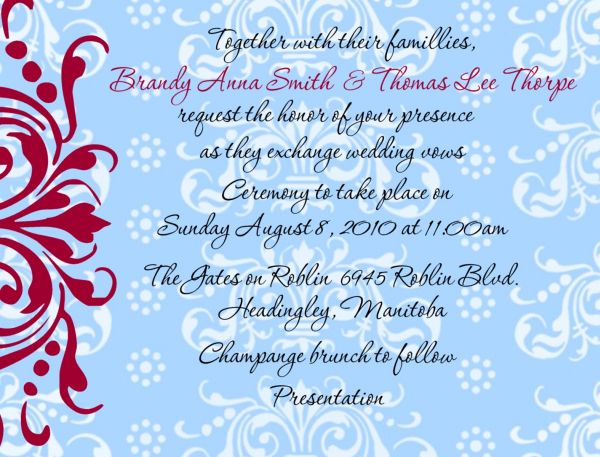 Words play a crucial role in all our lives. They do matter when we are getting married as well! Wedding invitations of the present times do not require being formal in their taste. As much as there are the kinds of the weddings planned these days so is the wedding invitation wording that couples opt for. So what do you keep in mind when you write down the wedding invitation wording for your wedding. To give you some enlightenment on this important facet of the wedding we have our expert tips here that will bring out the beauty and the aesthetics of your wedding in a good mannerism.
Refrain from using Mr. and Mrs. for your parents
Addressing bride's or the groom's parents as Mr. and Mrs. Must have been the thing that was used in the wedding invitation for ages but that not looks great each time. Come on, they are your parents and you do not have to show that they are someone who are so sophisticated. The idea here is that your parents name should be kept as such and it is even better if you use just their names. Believe us that even if your parents are traditionalists then also they would love this pretty little gesture you do with your wedding invitation wording. They will feel much personalized to your wedding.
Use a relaxed request line
If you are not going for a wedding that is supported by a religious institution then there is no use of writing the request lines such as "request the pleasure of your company" or "would honor your presence" and the likewise. As per the setting and the theme of your wedding you can choose for some more much on the informal side request line that looks pretty relaxed too. Just for an example you can write like this, "Would like you to be the part of the wedding celebrations". This is just a citing and you can use a wording that look much more relaxing.
Prioritize couples name
If you are planning your wedding all on your own and your parents are just going to attend it and not participating at all; then you need not include their names like all the traditional wedding invitation wording formats that you see. Just start with your name and address the invitation. But do not forget to thank both your parents at the time of raising the wedding toast. This will make them happy and make your wedding invitation wording look much simpler and exquisite.
Keep intact the 'Standard Information'
Standard information refers to the information that every wedding invitation wording must have without any doubt or objection. You cannot negotiate with the standard information that has to be there. So what all comes under the category of the standard information? These are bride's and groom's name, the place of reception or the wedding venue, date and time. These are the basic information that every invitee will look for when he or she receives the wedding invitation. Do not stuff up your wordings and try including a small map of the wedding venue that gives the direction to reach there. Check all the wedding invitation of some wear and tear that might be possible when you get them in bulk. If everything looks fine just go on with mailing them to the wedding guest's addresses.
Make space for kids, if any
When you are getting wed with the kids on your side or the both sides then you have to take some extra care. Your kids might not quite like to get a complete new mom or the dad. Make them an exclusive and inseparable part of your wedding by staring with their names. For example you can write the invitation wording like this. "John & Juliet and Mike (kid's names) would like to invite you to share in their happiness as their parents; Jane and Harry join their families in marriage."
Include a personal note
Personalized has become like a modern ingredient for everything from your assets to the weddings as well. You can share your love story with the invitees and let them know how the two of you got together and finally decided to tie the nuptial knot with all love and romance. This is pretty cute and a romantic gesture. In this case if you have some space then you can both share your stories with your own angles and write down that how the life has changed since your duo has been in unison. But do not get carried away and forget to write the standard information! Guess that was a PJ but never mind.
Let your wedding theme to rule
When you have chosen a wedding theme it is special for you and your would-be spouse. You can always use the charm and the touch of your wedding theme in the wedding invitation wording. A pirate themed wedding can use the pirate language. A beach themed wedding can use the poetic language. Likewise there can be a greater option for every theme. So sync in the theme and the wedding idea. If you do not know how to do this then take some help from the internet.
Include named of your loved ones
If you are being helped by your family and friends then leave some area to write down their names too. Tell what they will be helping you with at your wedding. You can include the names of the bridesmaids, best man and the flower girls to make them feel special and closer to your wedding experience. This all makes sense as they all are with you to celebrate your life's best moment.
Take care of any foreign guests
With the world being global with its every spin, you will have few names in your wedding guests list that might hail from another country and might not know the language that you speak. Find out if you have guest like that in your list and then get the wedding invitation wording translated. But this is just an exceptional case and you would not counter much of this language barrier these days. Even then, take it as a valid criteria.
Simple wording
Simple words are always welcomed and heartfelt. Just remember what you said to propose your love for the wedding. You do not require too much of the wedding invitation wording jotted down to your wedding invitations. Just mention what is needed and what you want therein. But keep away from making an essay of your wedding invitation wording.