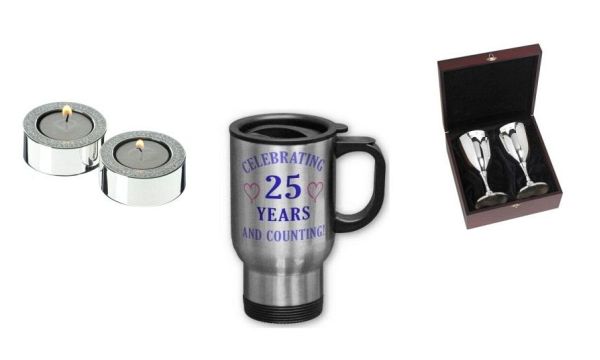 God is so kind on some couples to let them celebrate their 25th wedding anniversary with all love and companionship around. It is one of the most auspicious moments for the couples who are able to make it so far. With all responsibilities performed in the mannerism, the couples surely deserve nice presents from their loved ones and also from each other as well. Here we share few must see amazing 25th wedding anniversary gifts that you can bless the celebrating couple with. Have a look and fins what you will choose for the birds of love.
Silver 25th wedding anniversary gift personalized photo album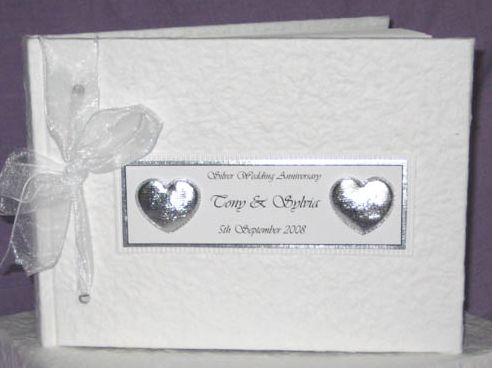 Handcrafted majorly by professionals, this beautiful silver colored photo album forms a great wedding anniversary gift for the beautiful couple. It can be personalized by including the names of the spouses with their anniversary date. For your ease, the same style of this photo album is available in three sizes that is the medium, small and large respectively. It makes a good memorable wedding gift. You can also give this one after you have got the pictures of the wedding anniversary party with you later on. That way it will make much more personalized gift to be given.
Sterling silver pair of wine goblets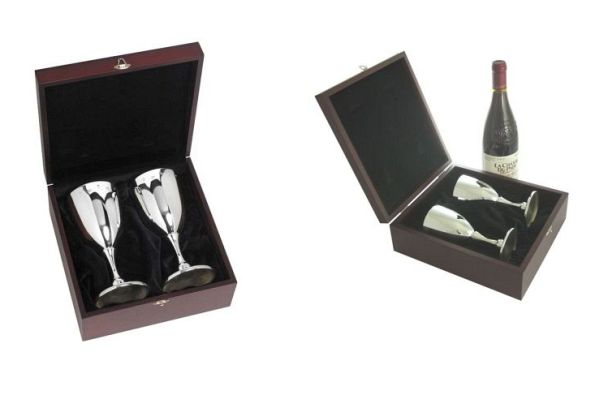 Crafted to perfection this set of two sterling silver wine goblets mark as a wonderful token of love that you share with the silver wedding anniversary couple. The 925 sterling silver with the highest standards of manufacturing has been used in preparation of these lovely wine goblets. Each goblet has a capacity of 20 cl. This is a gift that symbolizes the time that the couple has spent together and gives them a great opportunity to celebrate their happiness once a while. Probably a good wine bottle with this set will complete this gift in a pretty way.
Silver wedding anniversary crate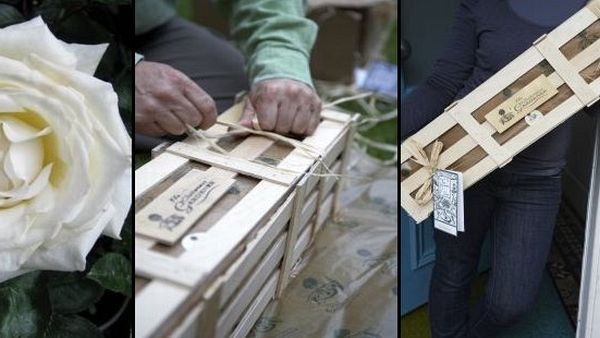 Kind of a mixture of creativity, uniqueness and something that is natural as well this is a nice and wonderful 25th wedding anniversary gift idea. This is a wooden crate that holds a bottle of champagne along with a rose twigs, that are ready to be planted. You can gift this to the wondrous couple at the day of their wedding anniversary with a good heart touching message attached with this crate.
25th wedding anniversary Swarovski cake topper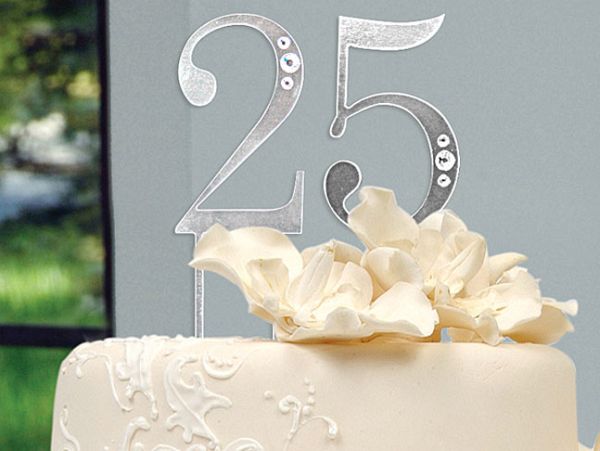 Igniting all the memories of the wedding day, a wonderful wedding anniversary cake can do wonders. But what if you have got a great cake topper as well? This is a 25th wedding anniversary Swarovski cake topper that the kids can present as a surprise to their parents who are celebrating their 25 wonderful years together. The cake topper is designed as 'number 25' and made from silver colored metal with the Swarovski crystals magnifying its beauty. It is 3 inches tall with 2.5-inch prongs.
Guess 14503L1 prism chronograph women's silver watch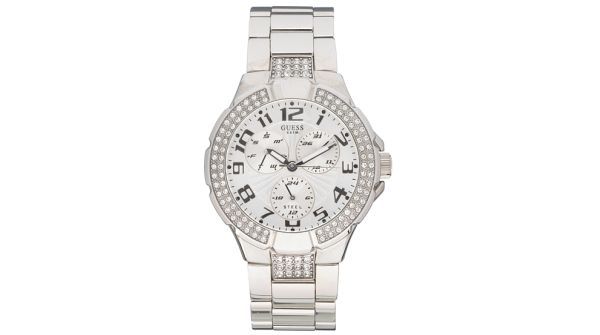 From the house of Guess this is a beautiful sporty looking chronograph made from stainless steel and silver all in its looks. This makes a cherished and lovable gift for your wife, if you are soon going to celebrate your silver wedding anniversary. The sparkle is added to this beautiful watch with the stones around its bezel. The numerals are outsized and give to it an innovative look furthermore. It comes with 2 years of guarantee and is water resistant up to 50 meters. Make your wife smile with this wonderful watch on the auspicious occasion like a 25th wedding anniversary.
Ray-Ban men's classic aviator silver sunglasses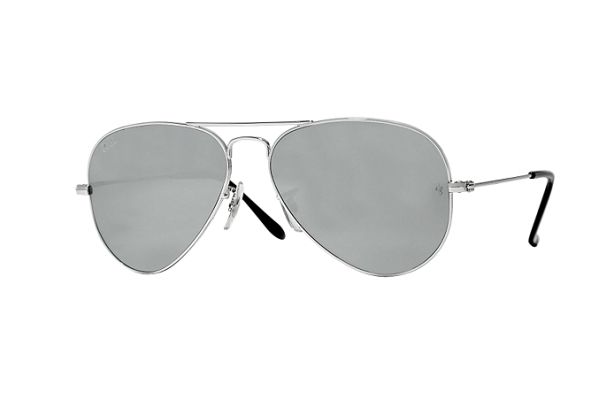 Priced at $190, this is a beautiful gift for your husband on your 25th wedding anniversary. A pair of Ray Ban men's aviator silver sunglasses that look classically cool. These are sleek, having the silver frames ending with the black tips and a double styled bridge. The lenses of the sunglasses have a grey tint and they have the Ray Ban logo therein on them. It surely does make a gift that any husband would be delighted to have.
Celebrating 25th anniversary commuter coffee mug gift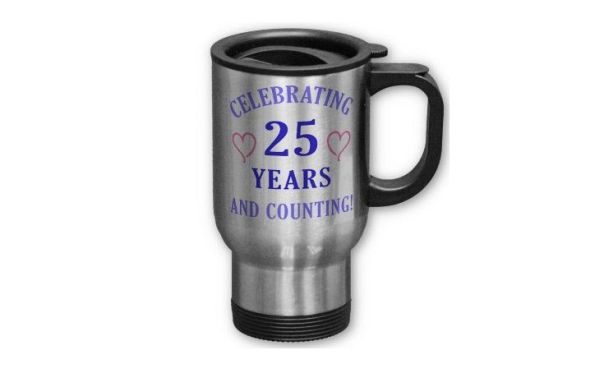 Wishing the couple with delightful words this coffee mug makes a great 25th wedding anniversary gift to remember for a lifetime. The coffee mug says with its print 'celebrating 25 years and counting!'. Apart from that cute message it comes with other best features too. It is all spill-proof and has a plastic top that is removable. It is best finds usage as a travel or the commuter mug. So it in a way symbolizes that tough love and tough things last for years together!
Sterling silver finely engraved pill box 25th wedding anniversary gift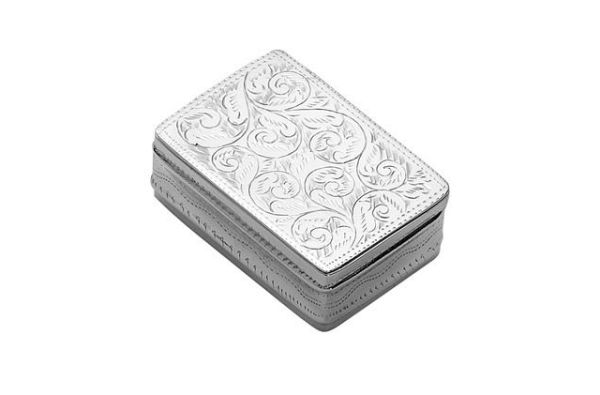 To wish good health for the couple who have their silver wedding anniversary this is a very appropriate gift. This pill box helps keeping the small things all at one place for the couple whenever they require it. Most ideal for keeping medicines and small jewelry items like earrings this box measures 1.3 cm in height, 3.8 cm in length and 2.6 cm in width. The sterling silver used to make this box is all of the highest standards.
Arthur price present day silver plated candle holders 25th wedding anniversary gift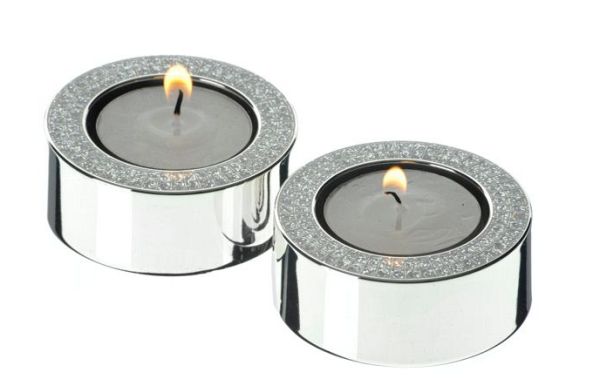 A love that has remained as long as 25 years requires no ignition to blossom without any doubt. This is just a small gift that represents the flame of love and commitment that the spouses share. It is a well built silver plated candle holder set that makes an appropriate gift for the lovely wife and the husband. The candles can also be bought with this set of candle holders to make the gift up to the mark.
25th anniversary wedding bells gift canvas bag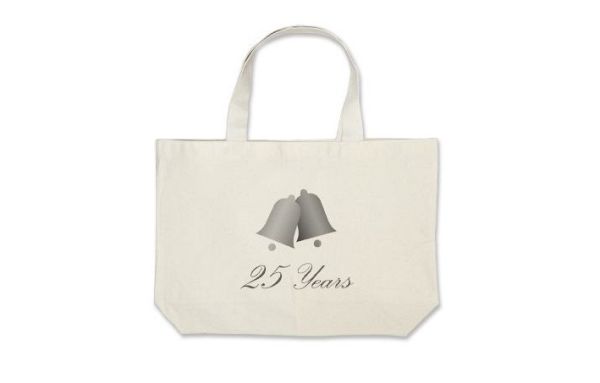 Purposeful, simple and an adorable gift like this 25th anniversary wedding bells gift canvas bag will make the partying couple party for long. This bag is made of the eco friendly materials to add some environment friendly touch to your gift on the other hand. It is 51cm wide, 37cm high and 11cm deep.