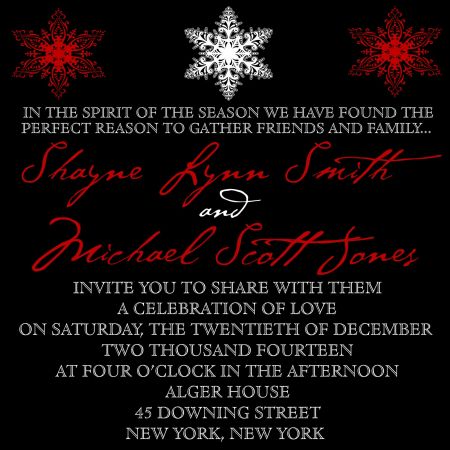 If your wedding falls in the time of Christmas, we will say you are lucky as that it is the most wonderful time of the year. The whole world is in the mood of holidaying and celebration. Hence, your nuptial will be a bonus on the gaiety of the time. But if you are dazed about the perfect way to set up a Christmas themed wedding, we are here at your service. From the wise selection of characteristic Christmas colors to the reception table arrangement and from the selection of 'Christmas' trademark savories to the characteristic wedding favor, you have a wide scope for experimentation. We bring here a handful of ideas that will come handy for you. Take a look!
Christmas wedding invitations ideas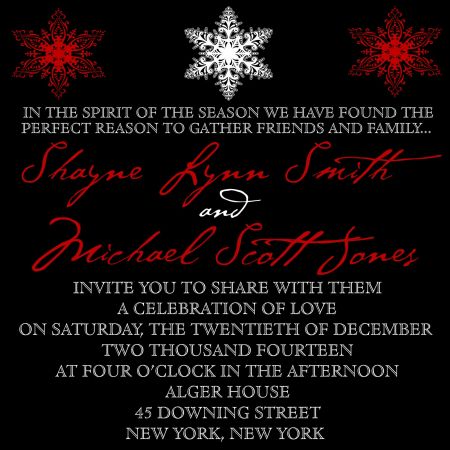 The first thing that will bear the impression of your Christmas themed wedding is the wedding invitation. Let the guests assume beforehand that they are supposed to take a tour to a winter wonderland by visiting and felicitating your nuptial. Thus, our suggestion is that your wedding invitation must include characteristic Christmas icons like snowflakes, snowman, plum red cherries, reindeers, jingling bells, etc. Never forget to incorporate the Christmas colors such as red, green and white in your wedding invitation card.
Christmas wedding flowers ideas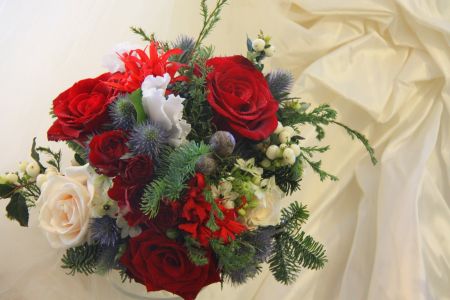 You cannot avoid the importance of flowers in any nuptial. But the good news that comes your way is that Christmas is the time you will get an assorted collection of some of the most beautiful Christmas flowers. You are a greater liberty to choose characteristic Christmas theme flowers, which bear colors like dark red, gold and snow white. Some of the ornamental leaves such as birch, maple, pine, etc. are also readily available now. They will assist you to put in shades of dark green, rusty yellow and light brown in your floral décor.
Christmas wedding music ideas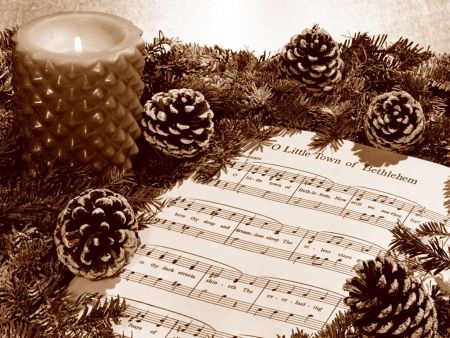 Music is also a prime factor that sets the mood and ambiance of your wedding. Now, since you have planned to tie the wedlock during the Christmas holidays, so you need to be particular about setting the apt music that reflects your Christmas wedding. So, our tips are that reserve the Christmas carols for the prelude. For the ambient music spiritual notes are a great choice. The Christmas love songs are best for your wedding party and ball room, for tapping your feet gracefully with your spouse.
Christmas wedding decor ideas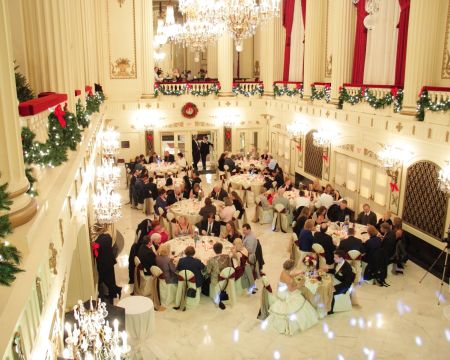 Wedding decoration is certainly the best canvas which reveals your preferences, inclinations and the theme of your nuptial. Go for your preferred style to depict your style of reflecting Christmas. If it is all about holidaying and fun go for snowball prototypes, colorful bells and everything that brings out a gleeful atmosphere. If Christmas is a time of traditional values, then your wedding centerpiece will be Christmas bells, glittery stars and colorful sash, mainly in red, white and gold tones.
Christmas wedding favor ideas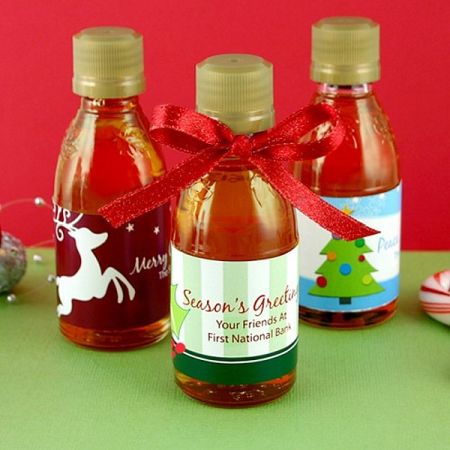 Make your esteemed wedding invitees remember forever that they had attended an event that was a bonus treat together with the festivity and fun of Christmas. So, the wedding favor must be carefully chosen, such that they stand perfectly with the mood of your Christmas nuptial merriment. While snowflake models and showmen predominate as the best loved wedding favors, you can choose some other authentic Christmas themed wedding favors too, like pine cone, bottles of maple syrup, pure honey, etc. to thank your guests.
Christmas wedding attire ideas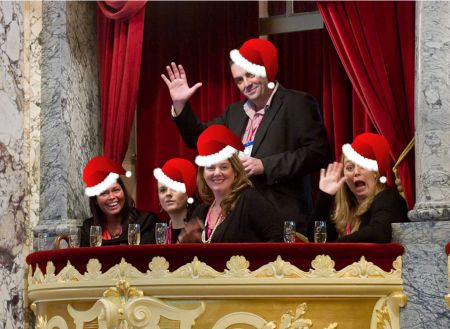 Next vital thing you must be particular about in order to depict your Christmas theme wedding in full vigor is to select the wedding attires carefully. Christmas theme wedding attires inculcate the spell of auspiciousness in your wedding together with mood of cajoling, which is a characteristic part of this religious holiday season. While white will predominate in your bridal trousseau, a touch of Christmas can be incorporated by detailing like fur gloves, creamy white rose embellishments and veil with ruffled edges symbolizing snowflakes. The bridesmaids' dressed must bear hints of red, gold and dark green to comply with the theme.
Christmas wedding cake ideas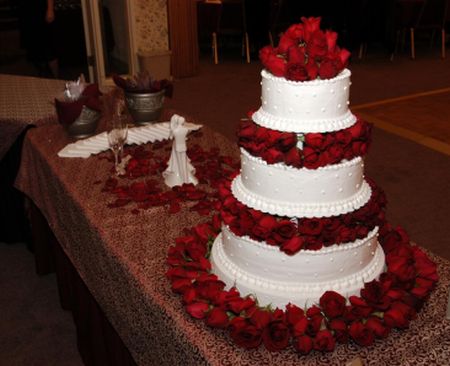 Never underestimate the wedding cake as together with being the witness of your merry event it works as a powerful engine in portraying the theme of your matrimony. Although the selection of Christmas themed wedding cakes is a bit narrower, you can still run your imagination and incorporate some of the iconic Christmas models to give your wedding cake the apt treatment. Go for vanilla flavor so that the color remains restricted to white. You can decorate it further with red roses and cherries or butter cream frosting with coconut scraps, resembling snowflakes.
Christmas wedding centerpieces ideas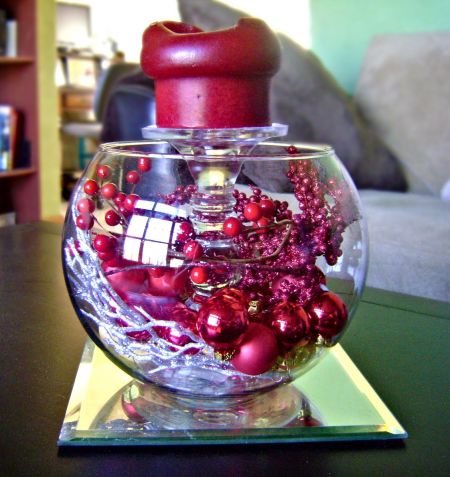 Wedding centerpiece is rightly expressed as the center of attraction of your matrimony. It gives the instant hint of the theme of your wedding and your mood too. So, let the wedding centerpiece say it all for you. The best one you can depend upon keeping your eyes closed is a mini Christmas tree. But if you wish be a bit more innovative with your Christmas themed wedding centerpieces, options for you are gingerbread house, gift boxes wrapped in satin ribbons, Christmas bells, etc.
Christmas wedding photography ideas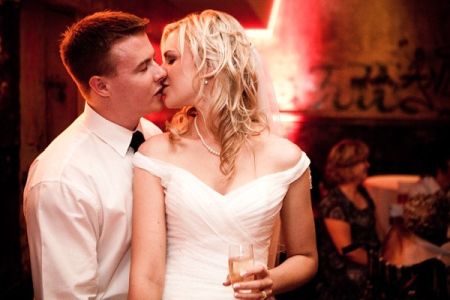 Speculations regarding photography are maximum when wedding is concerned. With Christmas themed weddings, your intensity of speculations will be manifold for sure. But do not cram your head. We have effective suggestions with us. Capture the daylight options as much as you can as nights are always darker in winters. Bad weather must be given an extra consideration. So, include extra time in your schedule. Get properly dressed and carry protective gears for outdoor photo shoots as you might be victim of frostbites in the most unfortunate situations.
Christmas wedding destination ideas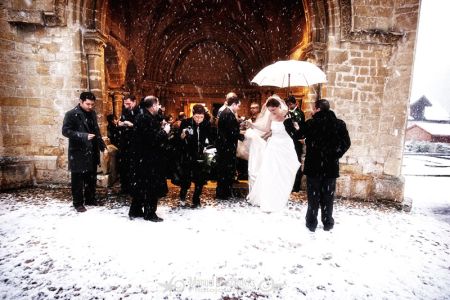 If destination wedding is what you have planned for during the chilled Christmas, you need to settle down what are your preferences. While some love exotic locations, others prefer mountainous backdrops. Yet others are there, who have an inclination for snow covered landscapes and peaks to enjoy winter to the fullest. You can select some of the popular destinations like Sugarloaf Mountain in Maine, Streamboat Springs in Colorado and Stonebridge Country Club in Manchester, which are havens for couples wedding in the chill of Christmas.