Wedding Day is a moment that everyone wants to decorate with things that go down the memory lane. From wedding dress to shoes, everything is stacked away in the cupboard but it is the wedding ring that remains close to the heart forever. A finely crafted ring will evoke the beauty of your perpetual love and will become your identity over the years. So, make sure your special day lasts forever with the wedding ring of your dreams. Have look at some of the most exquisite women's wedding rings that will prove to be the best thing money can buy.
10k White Gold Women's 1/10ct TDW Black Diamond Wedding Ring

Add a tiny bit of magic to your wedding with the shimmering diamond wedding ring that will perfectly blend with the festive mood. Set in 10 carat white gold, the round cut diamonds will win a lot of praises as it shines in your loved one's hand. The awesomely crafted ring with the presence of black colored diamond is bound to leave onlookers wheezing. The black colored stone gives it uniqueness and enhance the beauty further.
9ct White Gold 0.33 Carat Diamond Bridal Ring Set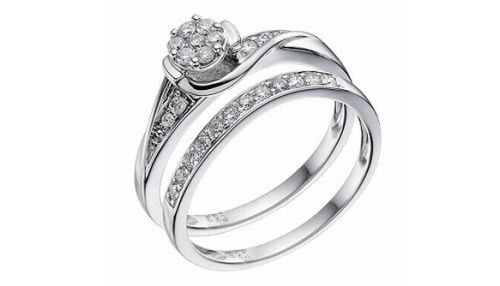 Planning a royal wedding, then how can you miss laying your hands on the striking diamond bridal ring? The smooth look of the piece of jewelry will bring an eternal smile on the bride's face as she keeps it close to her heart till the last breath. The sleek creation has been crafted out of 9 carat white gold and the diamonds do the needful by shinning like a star. A cluster of diamonds form a beautiful flower, while the length of the band also comes studded with these precious white colored stones that can make hearts skip a beat in no time at all.
9ct Three Colour Gold Diamond Cut Russian Wedding Ring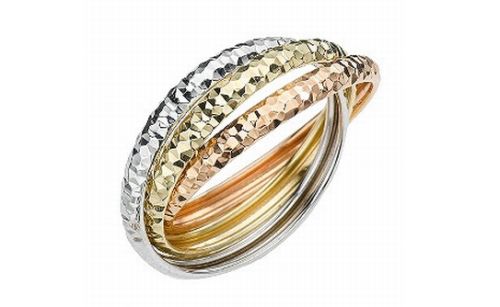 Add a splash of glamor to your wedding with the absolutely sumptuous Gold Diamond Cut Russian Ring. Styled with an alluring charismatic appeal the 9 carat bridal ring in three colors is bound stay in style for years to come. The delicate ring with three different colored bands will make eyes do a somersault in surprise and make your sweetheart fall in love with you all over again. So, celebrate your wedding with sheer grandeur making the day all the more special.
10k White Gold Women's 1/3ct TDW Blue Diamond Wedding Ring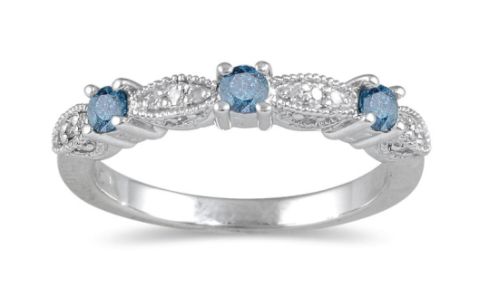 The exquisite creation is sure to delight for many years to come. See the color blue shimmer in your bride's beautiful eyes as you slip the 1/3 carat TDW Blue Diamond Wedding Ring set in 10 carat white gold in her finger. The ring boasts of three blue colored round cut diamonds, which are placed between 12 white glistening diamonds. The awesome creation will shine with all its worth as the presence of blue diamonds pumps up the sophistication of the moment.
9ct Gold 1/4 Carat Diamond Wedding Ring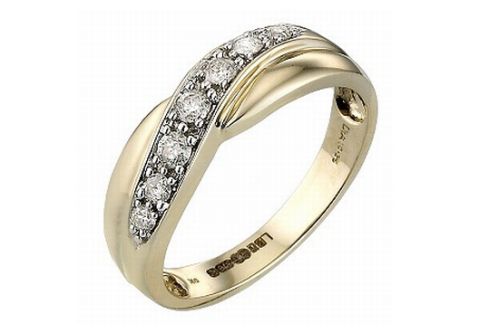 Here is a stunning 9 carat gold wedding ring with a cross over design that is nothing but as special as the most awaited day of your life. The contemporary design of the piece of jewelry further gets a streak of elegance with the presence of 1/4 carat brilliantly cut diamonds. The intricate placement of these precious stones will add that extra zing to your wedding as the flowing appreciations will fail to cease, making the bride look all the more ravishing.
Beautiful Silver and Clear CZ'S Women's Wedding Ring Set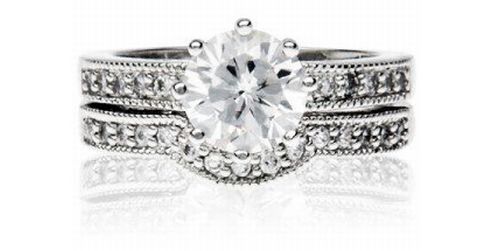 The awe amazing ring has been styled with an alluring vintage feel that will leave anyone and everyone smitten. Crafted in silver, the meticulously crafted ring comes smothered in a lot of style, spilling the much needed glitz and glamor. It comes tagged with a lot of class and will be a perfect choice to ornament your lover's hand, as she gathers compliments throughout the ceremony.
Platinum and diamond wedding ring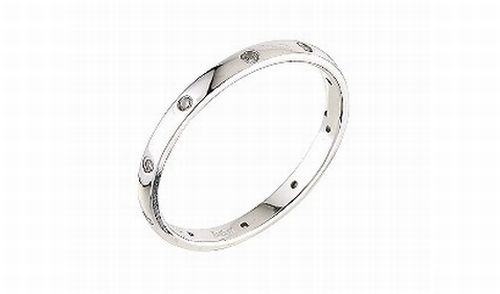 Platinum has over the years gained popularity and not to forget has become a favorite amongst women of all age groups. If you want to give your sweetheart nothing but the best, then the deadly combination of platinum and diamond placed together in a ring will do the trick. The wedding band is simple, but won't fall short on impressing everyone present at the venue. The design is delightfully nostalgic and vows to remain a stunner for years to come. The mesmerizing shine and style quotient makes it an oh-so-amazing wedding ring that you will ever come across.
9ct White Gold Three Diamond Shaped Wedding Ring

9 carat White Gold Wedding Ring with three diamonds atop makes for a piece of jewelry that has a modern twist with the everlasting classy charm. The diamonds have been placed in a four claw setting, which gives it a subtle existence. It comes smothered in a lot of feminism and the elegance it sprinkles makes the beautiful wedding ring a perfect symbol of undying love. It will prove to be an ideal eternity ring that will show her how much you care and love.
9ct white gold diamond wedding ring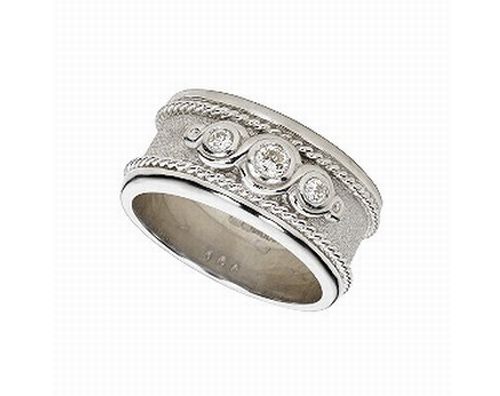 Ladies' 9 carat white gold diamond wedding ring is truly stunning and has been flawlessly created to make eyes pop. The shimmering wedding ring has a vintage appeal, making it a timeless piece of jewelry. The three brilliant diamonds have been meticulously placed over a rubover setting, which is complemented by the presence of romantic swirls. It will prove to be a ring, which every girl dreams of especially when tying the knot.
9ct Gold Two Colour 5mm Ladies Wedding Band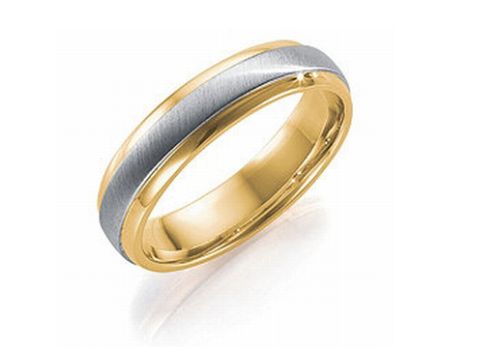 Complete you dream wedding with the stunning wedding band that has been crafted out of 9 carat gold in two colors. The sparkling wedding band will be a true symbol eternal love as the simple design hold attention. It will prove to be a perfect sign of commitment for that absolutely special moment which you will want to freeze forever with the subtle gold ring.