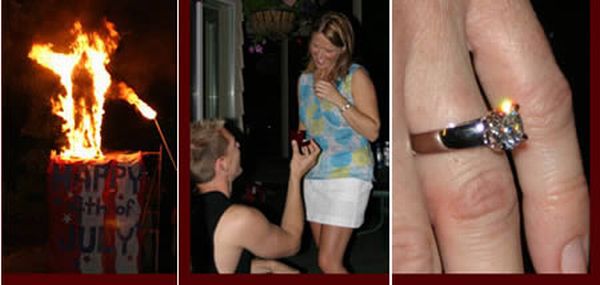 Asking a girl to marry you has got to be one of the hardest thing men have to do in their entire life (barring a ritual circumcision, of course) and the sad thing is that there aren't any hard and fast rules that tell you what would be super-romantic and what would be a total disaster. Since the "story of the proposal" is what a guy gets judged on by his lady's (and at times his own) family and friends, there is a lot of pressure on guys to make it as innovative and ingenious as they can. However, sometimes things that sound awesome in your head and turn out to be totally disastrous when carried out practically. Here's our list of 'weirdest' wedding proposals that won a few hearts and broke a few as well.
Man sets himself on fire for 'hot' 4th of July Proposal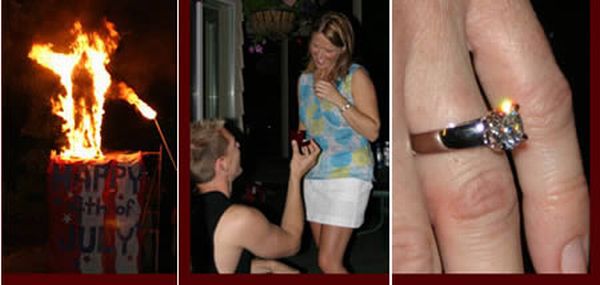 Who proposed? Todd created a human-torch fire jump to propose Malissa.
Here's a wedding proposal that would have haunted the guy forever with 'crash and burn' jokes had the girl not said yes! The spectacular proposal was made by Todd (we don't know his last name) who roped in the expert services of stunt man Eric Barkley to co-ordinate a human-torch fire jump for his innovative proposal. Since it was a 4th of July annual family reunion, Todd decided to entertain family and friends with the stunt while making a stunning proposal to his girlfriend Malissa. After getting into his fire-retardant gear, Eric set Todd on fire after which Todd, completely on fire, ran off a platform and jumped into the pool with a great round of applause from all present. Much to everyone's surprise, Todd emerged from the pool, took off his fire suit and got on one knee and proposed to Malissa.
Halo 3 gamer proposes virtually during a game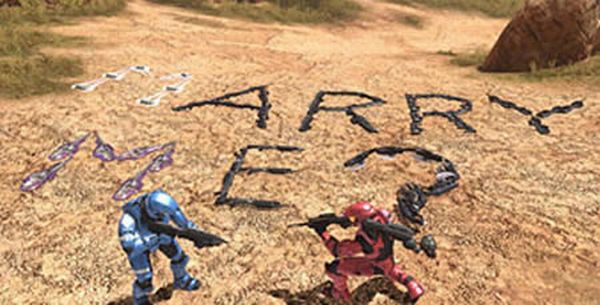 Who proposed? Gamer Moviesign created a virtual proposal using in-game weaponry to propose.
Avid Halo 3 enthusiast with the username Moviesign found the most innovative in the virtual world to his girlfriend (who uses the name Furtive Penguin in the game). After luring the unsuspecting girl to team up with his on what she thought was going to be a two-on-two battle with their friends, Moviesign led her to a spot on the Forge map saying he had left an energy sword there. much to her surprise, at that very spot were the words 'marry me?' spelt out in weapon that could be seen with a top-down view and Moviesign asked her to be his teammate for life!
Google employee uses Street View to propose to his girlfriend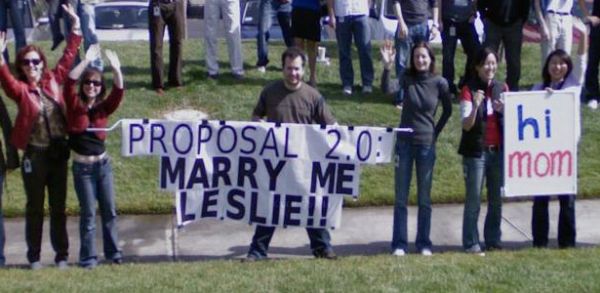 Who proposed? Google employee Michael Weiss-Malik put up a 'marry me' banner visible through Street View to propose.
After having already proposed to his girlfriend with few simple touching words at a couple's night in, Michael Weiss-Malik found a way to ensure that the story of his proposal lives on in the memory of his beloved forever. The Google employee created a big banner with the words 'Marry me, Leslie' and took a picture of himself near his office. The girlfriend later viewed the proposal using Google's Street View and needless to say she was much more impressed with the effort her fiancé put in!
Ring tied to balloon flies away during failed proposal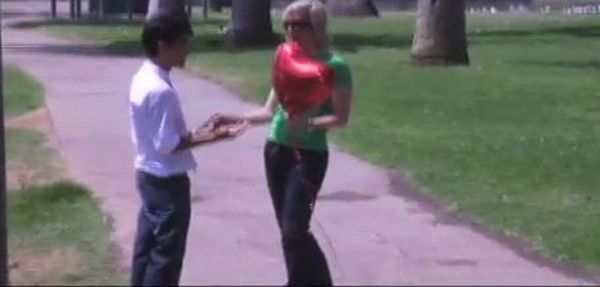 Who proposed? Unnamed guy has his heart wrenched away from him in more ways than one.
In the world of failed proposals, this one is perhaps one of the most common ones. This guy thought it would be a real surprise if he tied the engagement ring to a heart-shaped balloon and gave it to his girlfriend. After he handed the balloon over to the girl, he got down on one knee and proposed which apparently shocked the girl so much that she let go of the balloon. After a hilarious retrieval effort, the balloon was recaptured though the girl refused to marry the guy. Talk about symbolism, eh?
Gynecologist 'retrieves' ring from girlfriend's vagina to propose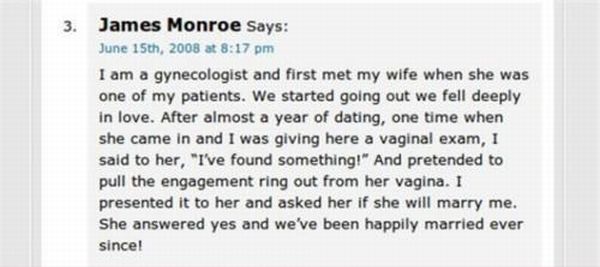 Who proposed? Dr. James Monroe proposes to girlfriend during her vaginal exam.
Gynecologist James Monroe had been dating one of his patients for almost a year when he thought up this weird proposal. We're not sure how dating one of his clients didn't already get the guy fired or how he managed to remain her GYN even after they had officially started dating but his proposals has got to be literally unrepeatable which is what makes it so unique. While Dr. Monroe was giving his patient/girlfriend a vaginal examination, he pretended to have found a wedding ring in her vajayjay, presented it to her and asked her to marry him. Since the girl accepted the proposal right away, we're guessing she isn't too concerned about whether he pulls such stunts with all his patients!
Brian Zoubek fan botches cute proposal during game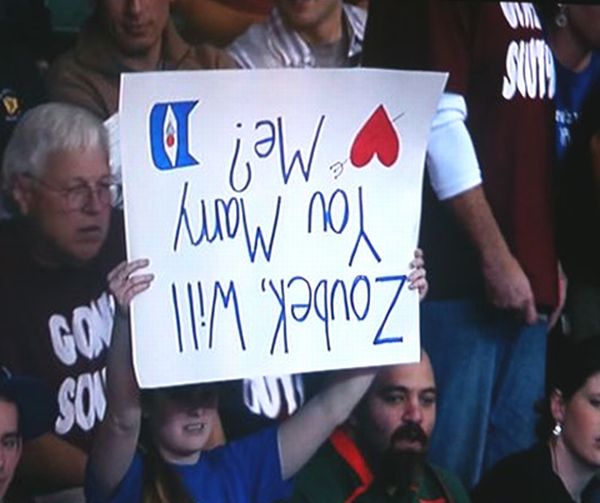 Who proposed? Unnamed Brian Zoubek fan held her 'marry me' placard the wrong side up during proposal.
Girls with 'marry me' signs aimed at sport stars are a common sight at sports arena, but this one really takes the cake for being a massive wedding proposal fail and a really funny bloopers moment as well. This unknown infatuated fan of the Duke Blue Devils star Brian Zoubek held up a sign asking him to marry her. Sadly, she did not realize that she was holding the banner upside down and after she was caught on camera, she got a few phone calls telling her to rectify her mistake and even when she did, Zoubek wasn't impressed with her proposal enough to accept it! Ouch!
Man puts up a plainly worded proposal on Twitter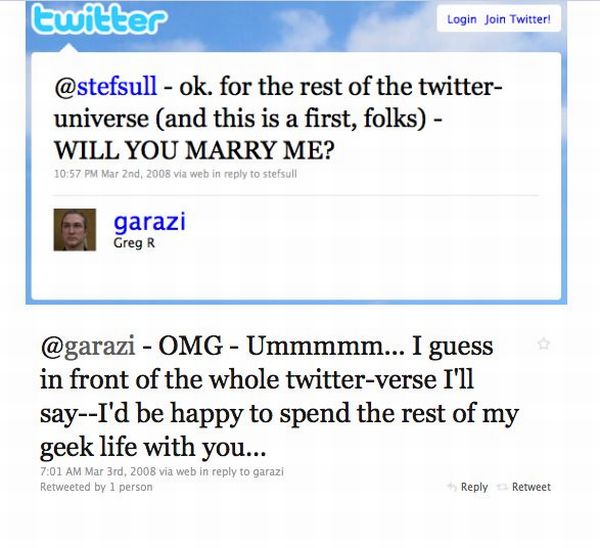 Who proposed? Twitter user Kielser tweets a not so sweet proposal online.
When you're the kinda guy that tweets about every mundane little detail of your life, we guess it makes perfect sense for you to propose to your girlfriend via the micro-blogging site. Even though the proposal was accepted, we're not really sure why the guy didn't word his proposal better!
Skydiver proposes at 20,000 feet just before skydiving with girlfriend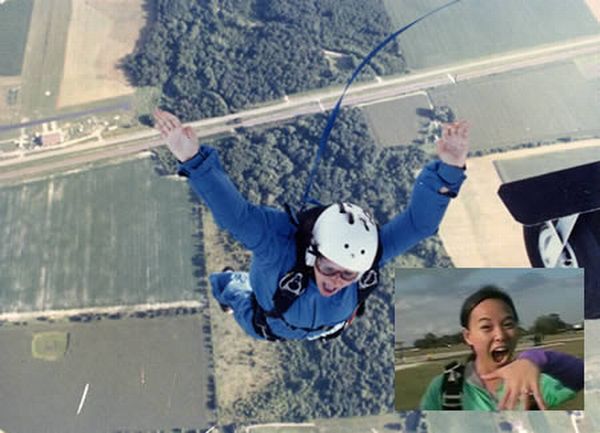 Who proposed? Mateo Martinez popped the question just before jumping out of an airplane.
Trying to control the butterflies in your stomach moment before you pop the question to your girlfriend is a tough task indeed. Though most guys try to sedate themselves with expensive wine/champagne before they say the words, skydiving enthusiast Mateo Martinez thought it was a better option to dampen the racing heart by popping the question just before he and his girlfriend jumped off a plane to sky dive from 20,000 feet above the surface of the earth. Good thing she accepted otherwise it would have been a long, long descent back to the surface with a suicidal option of not opening the parachute at all.
Man hacks girlfriend's computer game to propose


Who proposed? Bernie Peng tweaked girlfriend's Bejeweled game for geeky proposal.
When the woman of your dreams spends an insane amount of time playing Bejeweled everyday, this is perhaps a not-so-insane way of asking her to marry you. Bernie Peng used his girlfriend Tammy Li's obsession with the game to make his proposal one of the most innovative ones we have seen so far. By hacking into the game, Peng ensured that his proposal would be revealed once Li hits a pre-determined score! The makers of the game, Seattle-based PopCap, were so thrilled with the free publicity this stunt garnered that the even offered to fly the newly weds to for their honeymoon. Talk about killing two birds with one stone!
Zero gravity proposal takes girlfriend on cloud 9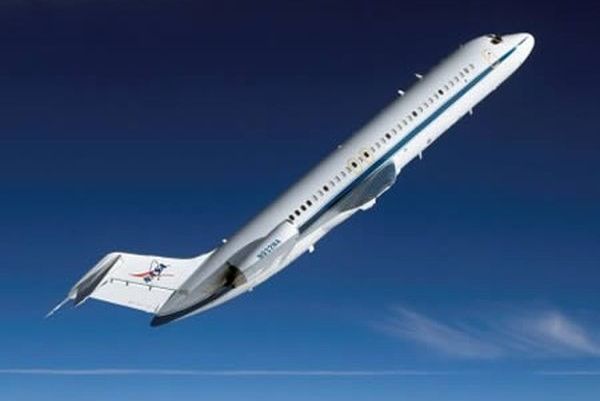 Who proposed? Alexander Loucopoulos proposed during zero gravity simulation flight.
27-year-old architect from Manhattan, Graciela Asturias got a huge double surprise for her birthday when her space enthusiast boyfriend Alexander Loucopoulos took her out to a $3,500 per person 90-minute trip on a specially designed Boeing 727 aircraft that lets folks experience zero-gravity and popped the question during one of the four-five minute plunges! Good thing the ring didn't fly away from them during the zero-gravity plunge!
Man drops engagement ring on Brooklyn Bridge during proposal

Who proposed? Don Walling almost botched up a romantic New York-style proposal.
The Brooklyn Bridge is one of the most preferred spot for proposals around New York City which is why Teacher Don Walling chose it to pop the question to his girlfriend, Gina Pellicani. Unfortunately for Walling, he dropped the ring on the Brooklyn Bridge roadway below the pedestrian bridge through a crack just as he was about to put it on her finger. However, instead of losing his nerves, Walling kissed his new fiancé, promised he will get the ring back, jumped onto the roadway and found the ring before it was damaged beyond repair.
Oregon Coast proposal turns to tragedy as woman is swept to sea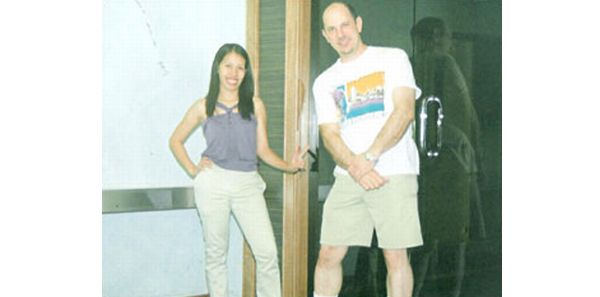 Who proposed? Scott Napper lost his fiancé when he took her out to Proposal Rock.
Destiny can be really cruel at times and for internet sweethearts Scoot Napper and Leafil Alforque, fate took a turn for the worse when Napper led his Philipino girlfriend out to Proposal Rock at the coast of Oregon to formally propose with a ring. Though the beach looked safe enough with a receding tide, a 3 foot wave suddenly came in and washed the 4'11" Alforque away with it. Even though Napper tried his best to rescue her, she was lost at sea and the body was never recovered.
Man raises money through internet to buy TV ad space for proposal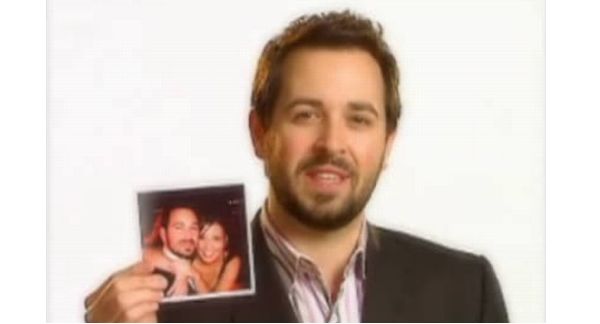 Who proposed? Rand set up a website to buy ad space for super-romantic proposal.
NFL fan and internet marketing executive Rand wanted to propose to his girlfriend of 5 years via a Super Bowl ad though he needed to raise around $2.5 million dollars to fund the ad space. Rand started a website to try and generate funds to buy the ad space though just 3 before the 2007 Super Bowl, he realized that he had just $85,000. Though the innovative proposal idea generated a lot of publicity and was even covered by Fox News, Good Morning America, MSNBC and Entertainment Tonight, CBS were reluctant to give away the prime ad space for $85K. This led Rand to buy out some ad space that would be aired during his girlfriend's favorite TV show Veronica Mars and proposed to her via the ad. Needless to say she said yes and Rand paid the generosity of his internet backers forward by donating the leftover raised funds to Vanderbilt Children's Hospital.