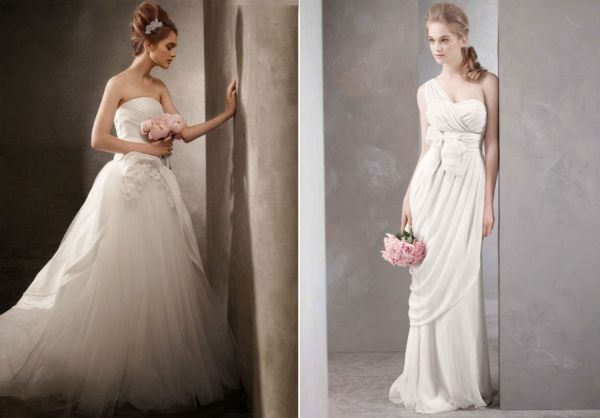 What could be better than a Vera Wang wedding gown for a bride who wishes to make a big style statement on her wedding day? Vera Wang, one of the most renowned couture designers, is quite famous for her beautiful wedding dress collection. Her wedding gowns are attractive, elegant and are designed to make the bride feel like royalty. Famous celebrities, including Alicia Keys, Avril Lavigne, Ivanka Trump, Andrea Corr and Mariah Carey, have worn her bridal creations. Vera Wang designs ultra stylish and modern wedding gowns to suit the liking of brides, which never fail to turn heads on the big day. Here we have shortlisted some of the most beautiful wedding gowns from Vera Wang. Hit the jump to check them all.Satin Faced Organza Ball Gown with Corsage Detail Style VW351026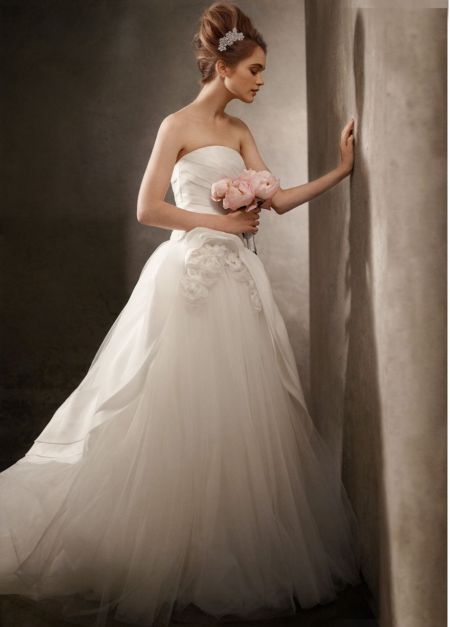 This white satin strapless wedding gown designed by Vera Vang would make you look and feel like a princess. Tagged as satin-faced organza ball gown, the dress has a diagonally banded top and full length skirt with mesh work. Characteristic features of this pretty gown are hand-cut, diagonal flanges with organza floral particulars. The diagonally banded top adorns and balances the entire dress. The gown gets an edgy look with an Ebony waistcloth. The full lining in the gown provides a comfortable feel with a back zip in this cathedral length gown. The gorgeous and classy gown is available in plus sizes up to size 26 in white and ivory hue.
Mermaid Gown with Pleated Skirt and Bubble Hem Style VW351043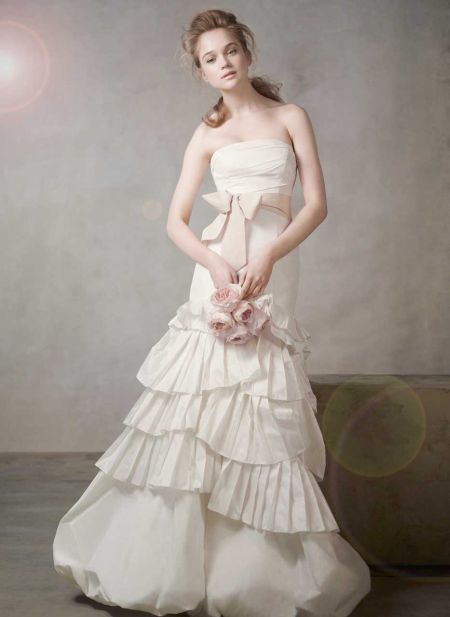 The mermaid gown with pleated skirt and bubble hem is a gorgeous strapless wedding dress. The form fitted bodice is accentuated with a crooked draping to fit in a beautiful way. Pleats of a special crisp, smooth and lustrous fabric, known as taffeta, makes the mermaid skirt with a soft bubble hem. There are elegant covered buttons featured on the back with a back zip. The chapel train is 54 cms in length from the waist. The dress is available in soft white and ivory color.
White by Vera Wang Wedding Gown VW351010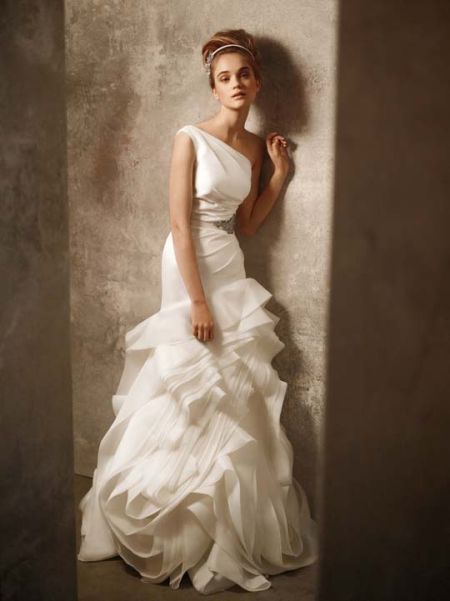 The White by Vera Wang is a graceful and refined wedding gown available in white and ivory color. The gown features one shoulder neckline with structured fit and flare gown spreading outward in full length. It includes a dropped waist with a floor length skirt designed with hand cut flanges of organza cloth. The semi cathedral sleeveless gown is embellished with sashes and ribbons. This modern, asymmetric wedding dress in a silhouette of a mermaid would add to the beauty of bride on her big day.
Vera Wang Wedding Gown Style VW11443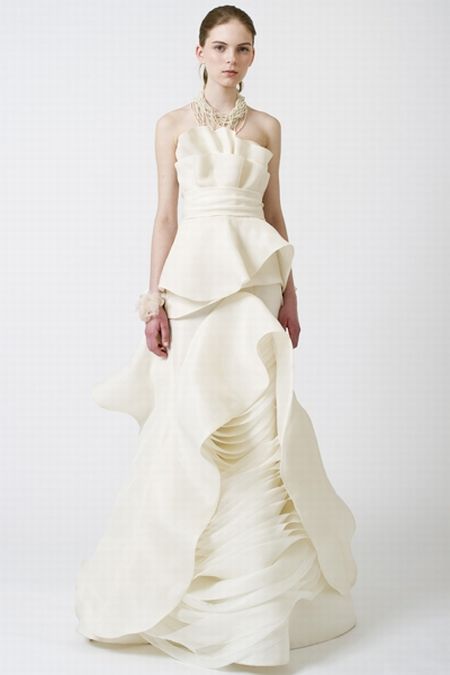 The wedding gown pictured above is yet another beautiful creation by Vera Wang. This wedding dress has an A- line silhouette. It includes a strapless neckline featuring a unique layered crumb catcher on the neck opening that enhances the beauty of the classy dress. The hemline is long enough to touch the floor. The dress is designed in a very elegant fashion with the fabric caught at the shoulders and draped in folds to the waist. This peplum gives a very distinct and stylish expression to the entire gown.
White by Vera Wang Wedding Gown VW351029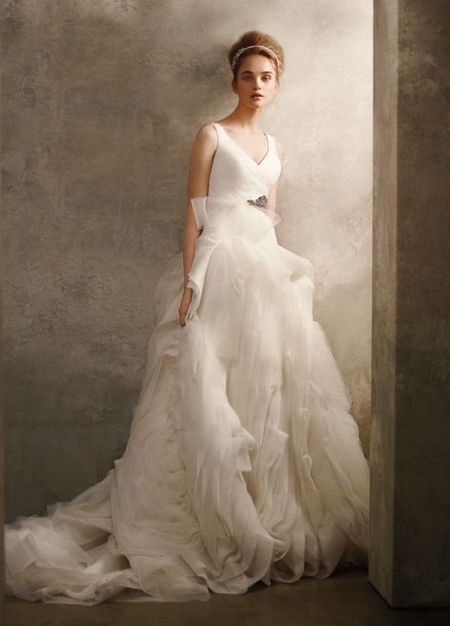 The White by Vera Wang's wedding dress style VW351029 is an elegant and romantic bridal dress. The wedding gown represents a ball gown silhouette and is available in ivory color. The neckline of this romantic gown is V-shaped and length of this classy gown touches the floor. The posh dress is beautifully created out of organza fabric. The gown is embellished and made more attractive by adding appliqué sash. This romantic ball gown is suitable for pear shaped or apple shaped body types. A bride with a full figured body would also look gorgeous in this pretty gown.
Vera Wang Wedding Gown Spring 2011 – Fiona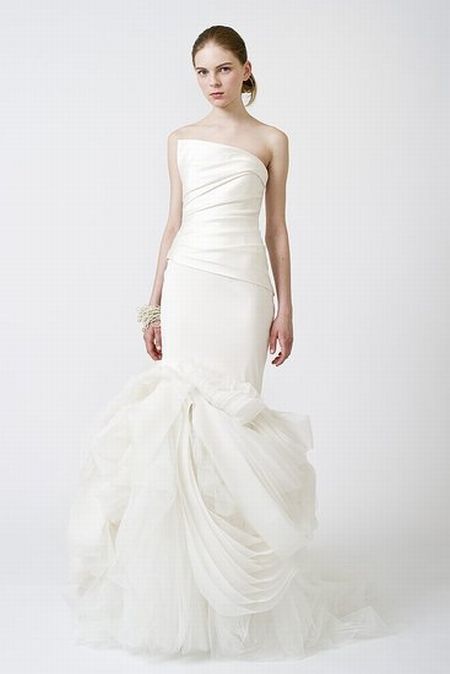 This Vera Wang's wedding dress style Spring 2011, dubbed Fiona, would be surely loved by the brides-to-be to make their special day even more special. This elegant bridal gown is designed in a modern style on silk material giving it an elite look. The silhouette of the beautiful gown is mermaid and trumpet. This modern wedding dress has a strapless neckline and floor length. The gown is suitable for a petite body type and is available in ivory, beige, champagne and white hue.
Vera Wang 2009 Spring Wedding Gown 56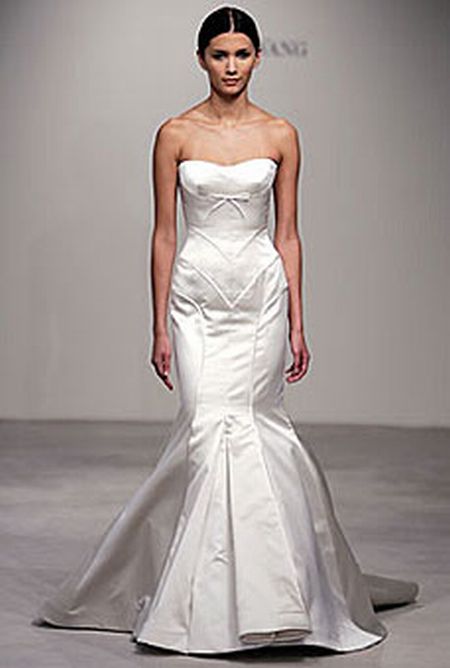 This stunning wedding gown was part of Vera Wang's Spring 2009 Bridal Collection. The whole collection, including the bridal gown pictured above, presented an ultra modern approach to the traditional wedding gown. For this particular wedding gown and the other authentic pieces from the collection, Vera Wang experimented with a variety of textures and silhouettes.
Vera Wang Wedding Gown Style Didi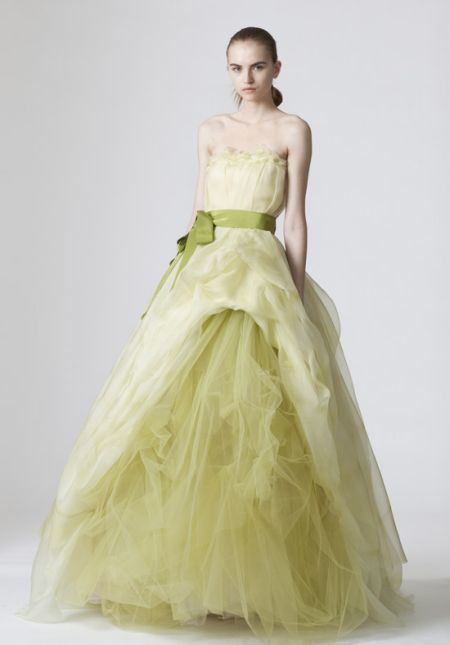 The Vera Wang Wedding Gown Style Didi displays effortless beauty and simplicity when showed off by the bride on her grand day. With a strapless neckline the Vera Wang Wedding Dress Style Didi features an A- line silhouette. The romantic styled wedding gown has a floor length and is fabricated in a tulle material. The beautiful gown is embellished by a sash and is available in various colors including ivory, beige, champagne and white. The classy dress is appropriate for a pear shaped petite body type.
One Shoulder Gown with Asymmetrically Draped Skirt Style VW351000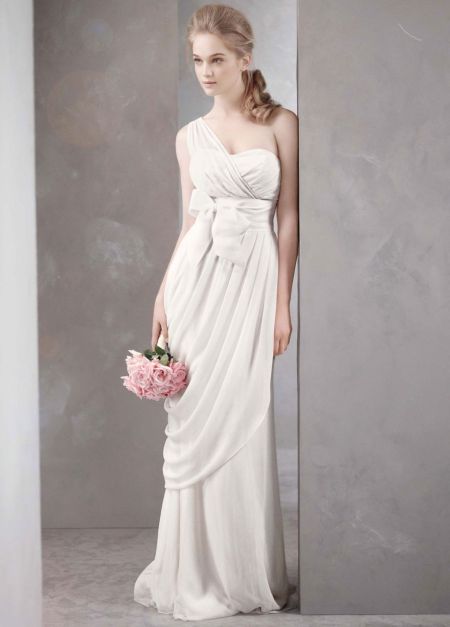 Here is another gorgeous chapel train wedding dress designed by Vera Wang named as One Shoulder Gown with Asymmetrically Draped Skirt Style VW351000. The pretty dress is made with crinkled chiffon fabric with empire waist and floor length hemline. This bridal outfit draws inspiration from Grecian styles and includes draping and long flowing lines. The dress has a one-shoulder neckline accented with a grosgrain sash. The skirt measures 58" from waist and has a side zip for a comfortable fit. The gown is fully lined with silky charmeuse lining making it soft and soothing to be comfortably worn whereas, the construction and boning gives an ultimate structure. This refined dress is available in ivory and white in various stores.
One Shoulder Structured Fit and Flare Gown Style VW351010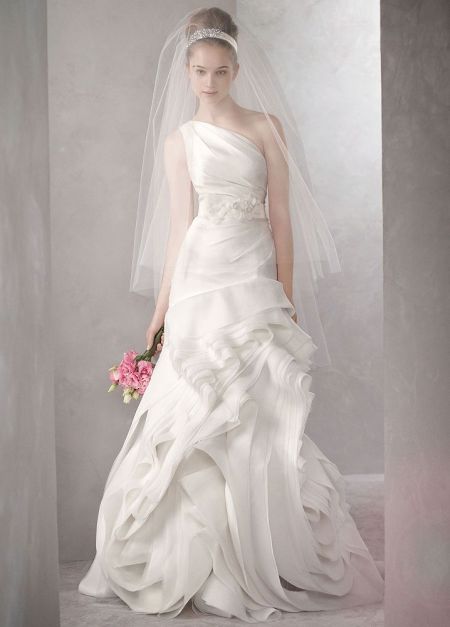 The One Shoulder Structured Fit and Flare Gown by Vera Wang is a stylish wedding gown designed in a contemporary fashion for a modern bride. The sculpted bodice with covered buttons remind of Hollywood's alluring charm. The hand cut detailed flanges of organza makes out distinctive swirling cascades on each gown. The side zip and soft lining of the gown give it a comfortable fit and appropriate structure. The red carpet styled gown is accentuated with a grosgrain or crystal sash. The modern cathedral train is 62" from waist and is available in soft ivory hue.