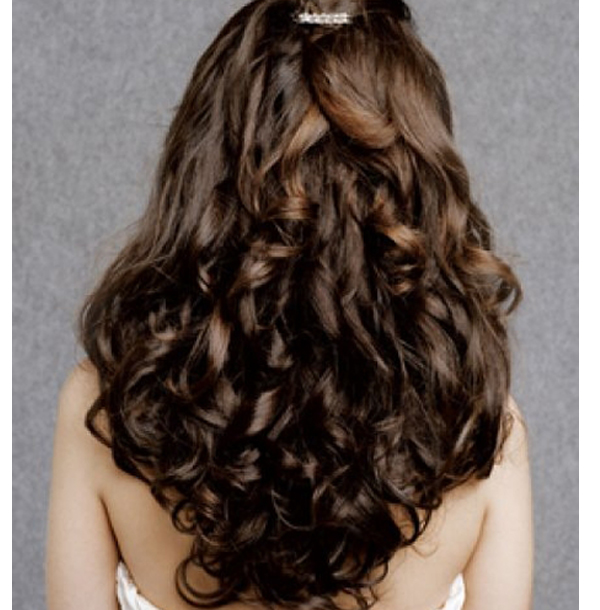 Curly hair is always a chaos when it comes to handling it. A lot of people are very unsatisfied with have curly hair. There are many ways and products to handle the hair. Combined are some ways you can manage your curls on the day you shall exchange vows. Curls only look hard to manage but with the help of a few products you can get them to stay the way you desire. You being the bride you are definitely the center of attraction and would not want to give your guests a chance to have anything to say about your attire, makeup, or hair. Read on to know some ways to have a good curly locks day.
Pinned back hairstyle: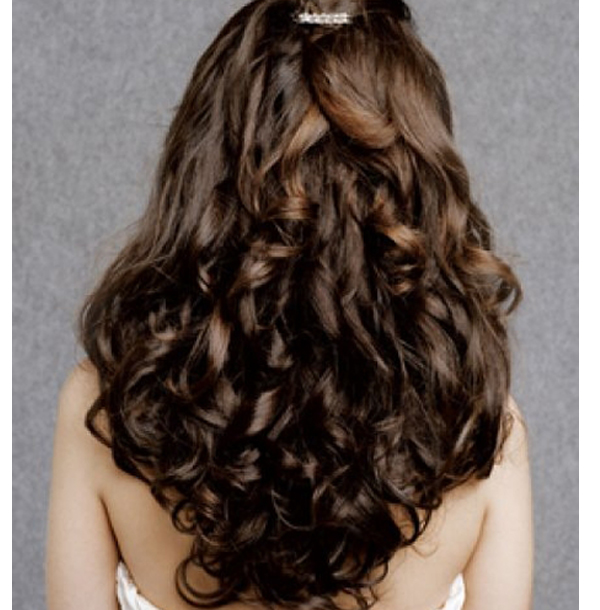 This pinned back hairstyle is great when you have smooth curls and want to wear a veil or a nice headband or tiara.
Things you need
1. Moisturizing Conditioner
2. Strong hair dryer
3. Curling iron
4. Serum
5. Hair pins
6. Hairspray
How to style
1. Wash your hair with a lot of moisturizing conditioner, as much as you can use. Make sure your curls are softened.
2. Use a product which either has olive oil, coconut oil and any other hydrating ingredients as this will help in keeping your curls soft and bouncy and will not allow it to become frizzy.
3. Blow-dry the top layer of hair and leave the bottom curls to be damp. Apply a serum from top to the tips of the curls, so they loosen out and soften a bit.
4. Dry out the rest of the tips using the diffuser.
5. Use the curling iron if necessary to open up your curls a bit, so that they become manageable.
6. Use the hair pins, and half pin up your hair back and then apply hair moose or hairspray so it sets in place.
Fluffy, wavy hair let loose: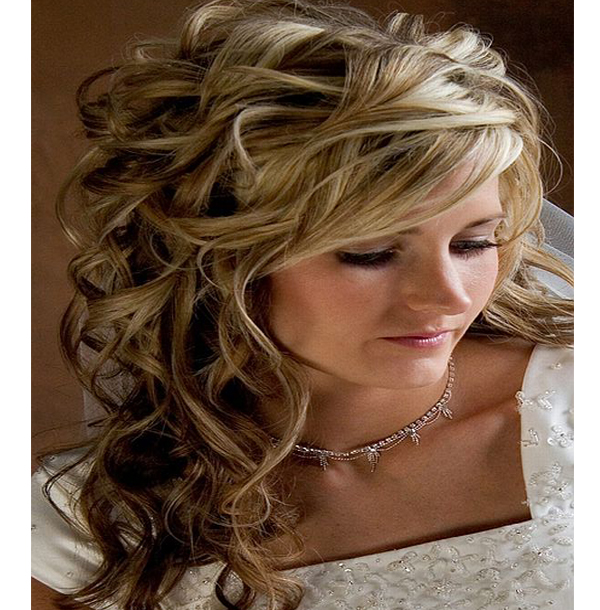 This hairstyle is good for extremely fluffy wavy hair which you are planning on letting loose or pinned on one side. You could settle for a veil or a tiara as a head accessory.
Things you need
1. Hair Mousse
2. Volumizer
3. Curling spray or defining curling cream
4. Blow dryer
5. Curling iron
How to style
1. Apply hair mousse with conditioning ingredients through your damp hair.
2. Use a volumizer only if you do not have very tight curls.
3. Use the hair mousse in order to not get the hair to curly and heavy. You would not want to have overly coiled hair.
4. Blow-dry the ends and use a diffuser to dry out the ends.
5. Add a defining cream to the curls, allowing some of the natural curls to come through.
6. Add sections of the hair around a large 1-inch barrel carling iron, to get slightly open curls.
7. Do your hair up in a side parting and layers.
Fine or medium hair with tight spiral curls: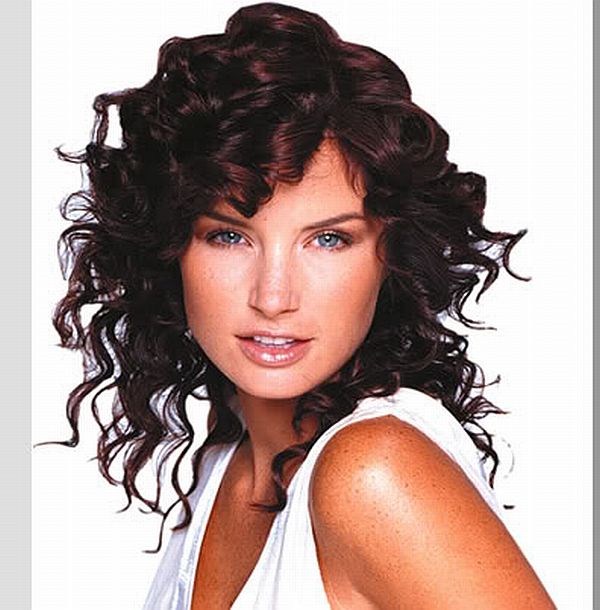 When you have fine and medium hair, you should definitely try out this hairstyle. Your tight spiral curls would look great in this open left hair style.
Things you need
1. Smoothening serum
2. Blow-dryer
3. Curling cream
4. Curling iron
How to style
1. This hairstyle is good if you have short hair, just do not use a strong conditioner when washing your hair.
2. Use a smoothening serum, just apply a few drops and run it through your hair. your hair should not be too sticky.
3. Blow-dry your hair first without a diffuser and then use a diffuser to dry the ends.
4. Take a comb and comb back the middle section or move it to the sides.
5. Use a curling cream or a defining cream to define the ends keeping them slightly pointy and the rest of the hair making it look frizzy.
6. Use a hairspray to set the hair.
Thick wavy hair into a chignon: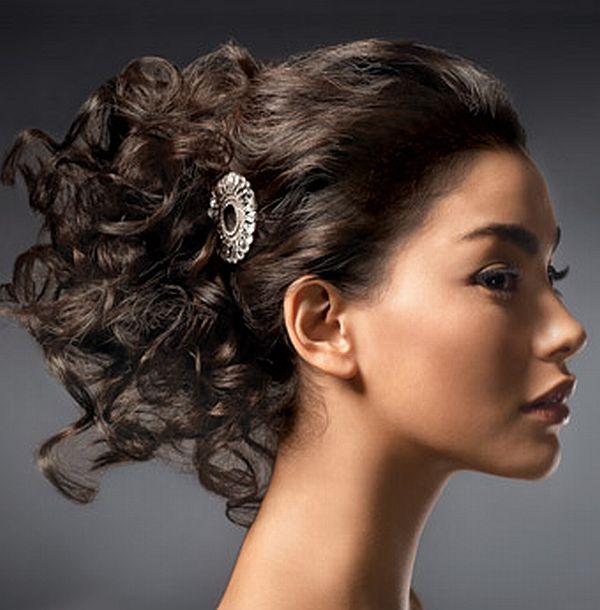 When you have very thick wavy hair, then putting it up into a chignon is a great hairdo for your wedding day. You could either have a pin up veil or a even a pretty headband.
Things you need
1. Straightening product
2. Blow dryer
3. Thick brush
4. Curling cream
5. Hair pins
How to style
1. Apply a leave-in straightening product so as to loosen the waves.
2. Blow dry your hair with a diffuser and then run your fingers through your hair in order to stretch your while defusing it.
3. Use a thick brush and brush your hair backwards in one direction from up to down to get volume in your hair.
4. Apply a leave-in curling control cream which redefines the hair and fights, frizziness.
5. Pull back your and tie it up into a chignon. Make sure the curls which are sticking out are done up nicely and puffed up.
Extremely thick and tight curls: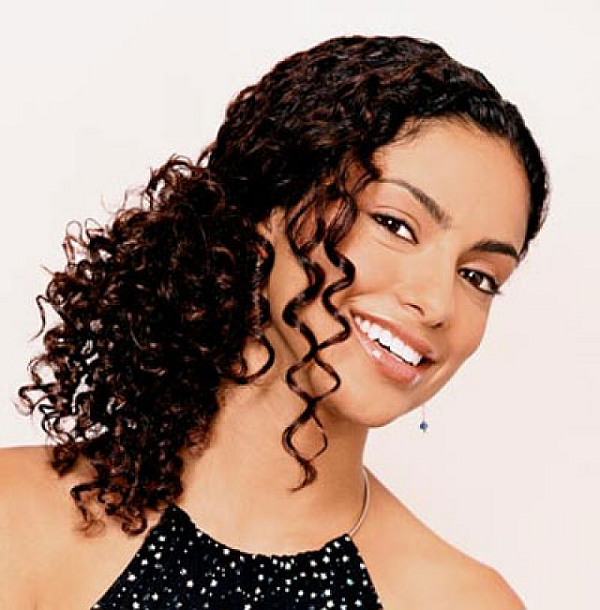 Having extremely thick hair could be a hassle, so to loosen up those curls a bit; you should go for tying it up so it does not appear messy. You could leave a few strands out if you like.
Things you need
1. Curling control cream
2. Smoothening serum
3. Blow dry with diffuser
4. Rubber band
5. Hair spray
How to style
1. When you have really thick and tight curls it could be quiet a hassle. Apply a leave-in conditioner to damp hair.
2. Scrunch your curls; since yours are natural you need not blow dry. You have to push the curls in.
3. Apply a serum so your curl ends and the rest of the hair does not look dull.
4. Use the blow dryer at the end with a diffuser.
5. Pull it to the side and have a low ponytail after apply a hairspray.
6. This will give you a neat hairstyle. You could accessorize it with a hair band.