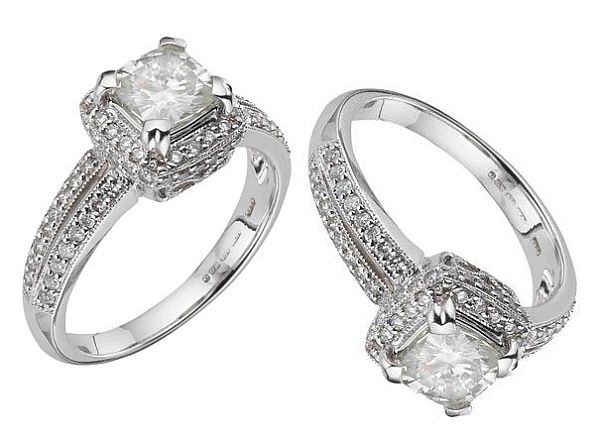 An engagement ring is a very special object signifying that the individual having the ring is supposed to get married. This tradition was originated first from the western culture and has now been adopted worldwide. In the United Kingdom and North America, brides conventionally wear the engagement rings that are usually made of diamonds or any other precious stones such as antique style rings. If a person is willing to make a high impression on the engagement day to his partner, antique style engagement rings can be the ultimate options. This article helps you to get ideas about some pf the best antique style engagement rings.
Moissanite 18-carat white gold moissanite cushion engagement ring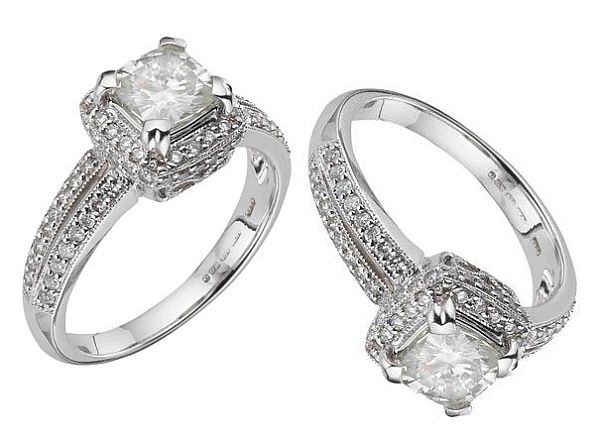 If you are planning to make the date very special, Moissanite 18-Carat White Gold Moissanite Cushion Engagement Ring can be the most suitable and ideal gift to your partner. It is an 18-carat white gold ring with the Moissanite gem which is equivalent to 1-carat diamond. This lab-created Moissanite gem usually does not have any color characterizing 2.4 times more fire and sparkles than a diamond. It is available in sizes H-V in the market. When you are purchasing, a branded wooden gift box will be given with the ring and an authenticated certificate is provided. The ring is featherweight and heavily polished.
Vintage white gold rose cut diamond cluster engagement ring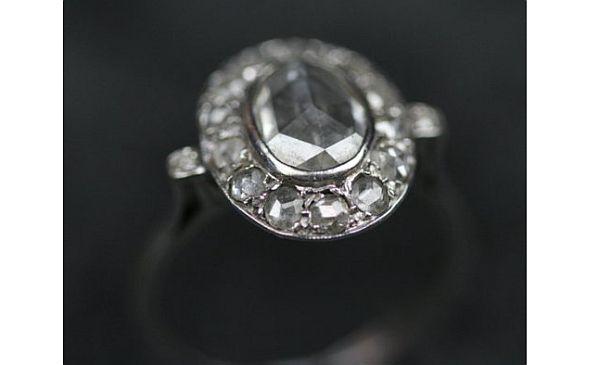 Vintage White Gold Rose Cut Diamond Cluster ring is another appreciable and presentable ring on your engagement. It is an 18 carat white gold cluster ring and a big elliptical rose cut diamond gem is placed in the focus. Relatively smaller round rose cut diamond pieces encircle the diamond situated in the middle. This ring is extremely suitable on your fingers and very comfortable to wear.
10k white gold 4/5ct TDW diamond antique engagement ring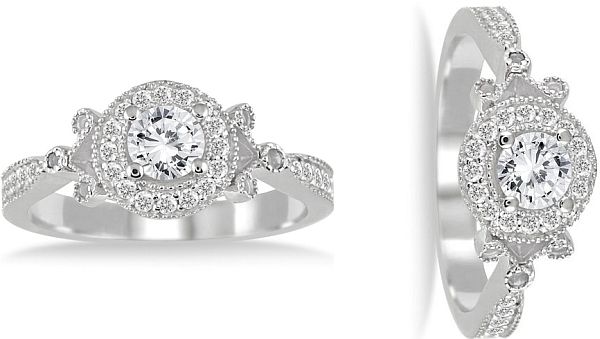 You can impress your fiancée presenting this 10 carat White Gold 4/5ct TDW Diamond Antique Engagement Ring on the very special day. Customers usually prefer to buy round diamonds for most of the occasions. The 10 carat gold is very white in color as it contains high alloy and low yellow gold substances. A prong cut diamond stone is placed in the middle weighing only half carat. It is surrounded by twenty eight prong side cut diamonds. These side diamonds weigh only 1/3 carat. The base metal is a 10 carat white gold. It is 9 mm wide, 9 mm long and 5 mm high in dimension and the band wide is 2 mm.
Vintage Antique Style Engagement Wedding Ring Set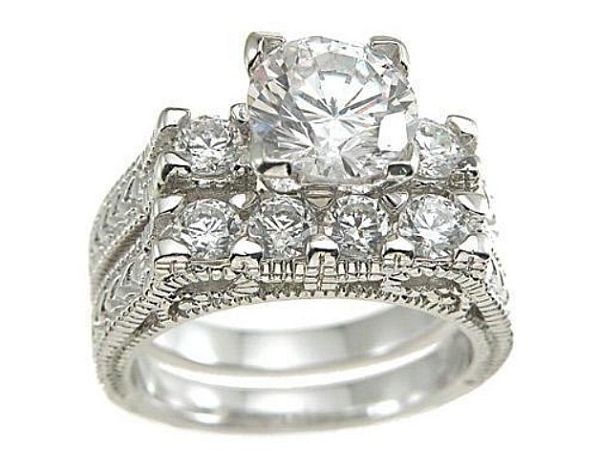 Vintage antique style engagement wedding ring can be an extremely precious present to your partner. This ring is exclusive and is manufactured from glossily refined rhodium silver. The prong set 2 carat round CZ diamond is placed in the middle of the ring and makes the design stunning and elegant. The whole ring is designed with two .25 carat round, prong-set CZ diamonds which give an open scrollwork decoration. It features four .25 carat round CZ diamonds which give an attractive flat top design. It will be a very glamorous gift with in the affordable price.
SD04 – Vintage diamond & blue sapphire cluster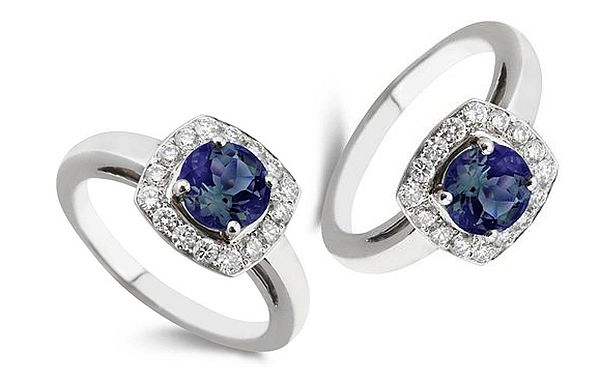 Your fiancée will just love to get this SD04 – vintage diamond & blue sapphire cluster ring on the engagement date. This ring features a central round prong cut a deep blue sapphire. It weighs only 1 carat and 6.5 mm in dimension. It is extensively platinum mounted and bordered by the round cut diamonds. They weigh only .40 carat. It is available in the L finger size. It is bit expensive costing around £1,750.00. But you will not mind to gift the ring as it is too gorgeous in appearance.
14K White gold antique style diamond engagement ring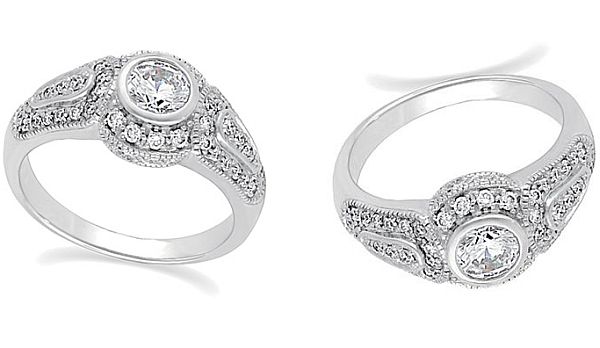 You can surprise your girl by presenting a 14 carat White Gold antique style diamond ring on engagement. It is extremely cool and elegant in appearance. The base metal is the 14 carat white gold. It features a diamond in the center surrounded by the fifty five prongs and round cut stones. The whole ring weighs around 4.99 grams as well as the diamond is .85 carat in weight. The 14 carat White Gold antique style diamond ring costs around $3,030.30 which is not very cheap.
Aquamarine engagement ring with pierced motif


A circular aquamarine jewel arises from diamond leaves in this antique style engagement ring. The 18 carat white gold is used as the base metal and the ring is given a pierced scroll and leaf design which provides cheerfulness to the finger. The scroll and leaf stones are highlighted with round full cut diamonds. The diamond weighs hardly .16 carat and the gemstone measures 5.93mm*5.48 mm*4 mm in dimension. The price of the ring is approximately $1119.00.
Victorian style engagement ring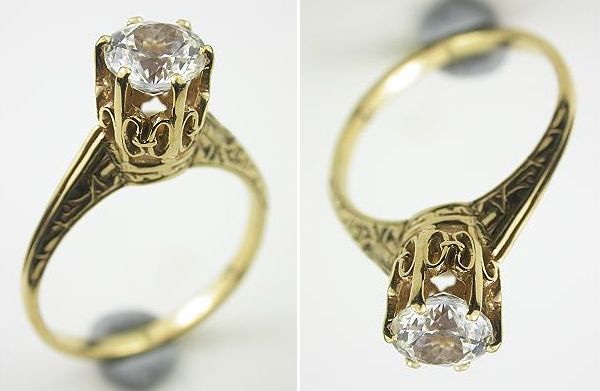 The name itself sounds its glamour and heritage. Your partner will just fly in the sky if you make her wear the gorgeous Victorian engagement ring on engagement. The fascinating band of this Victorian style engagement ring is imprinted along the shoulders and shaft of the 14 carat white gold base. This ring features a round cut white sapphire at its middle of the ring weighing only 2.8 grams. It is unique in designing.
Antique style aquamarine filigree engagement ring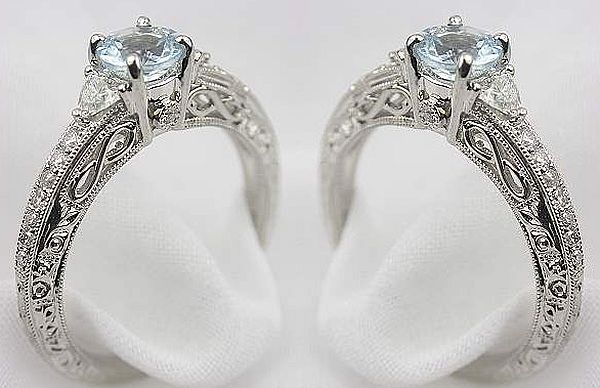 In one word, this antique style aquamarine filigree engagement ring is just 'gorgeous' . Thirty-four round full cut diamonds are present in a Filigree style on the 18 carat white gold band. This 0.16-carat diamonds borders a round cut aquamarine with a greenish blue shade. It can be a surprising precious gift pricing only $1399.00.
Multicolor rainbow sapphire & pearl antique style ring 925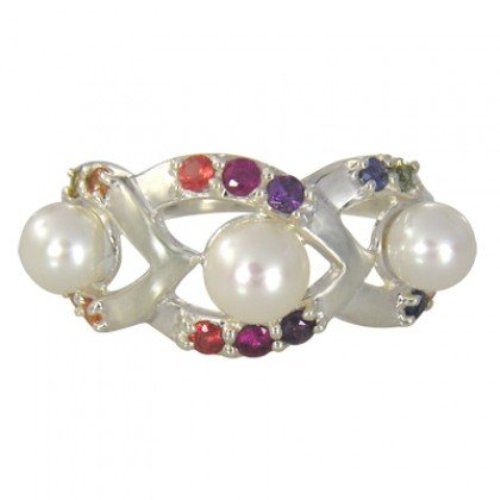 This antique ring features 14 round cut sapphires weighing only 0.5 carat. Sapphires are set in a pave style and the 3 white pearls are placed in 925 authentic silver. It is not expensive and it can be a nice present to your loved one on the engagement day.