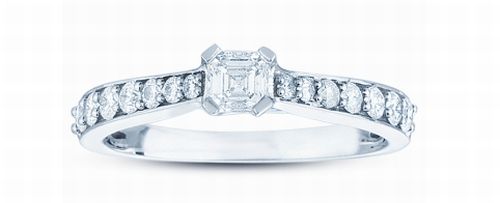 Asscher cut diamond engagement rings are the latest craze in the world of fashion jewellery. This season these Asscher cut diamonds are finding great popularity as engagement and wedding rings with their unique square shape and cropped corners. The following list of Asscher rings is sure to take your breath away with their stunning and chic looks and designs.You might want to pick one for your beloved.
14k White Gold 3/4ct TDW Asscher-cut Diamond Engagement Ring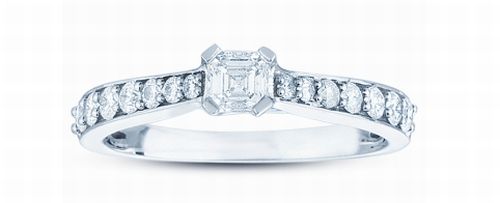 This dazzling piece of jewellery comes with a single piece Asscher cut 1/3 carat, H-I, I1 diamond in the center. The side stones are round cut diamonds, 18 in number of 2/5 carat with color code of H-I while clarity code ranging from I 1 to 12. The diamond setting in the center is of "Prong" type while on the sides is of "Channel" type. The base metal used for the ring is stunning 14k white gold to accentuate the diamonds further. The dimension of the ring is 15 mm wide by 4 mm length and 6 mm height. The band is of 2 mm thickness. The total diamond weight in the ring is 3/4 carat. The ring comes in sizes ranging from 4.5 to 14.
Platinum Asscher Cut Classic Engagement Ring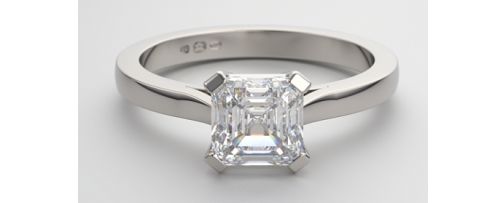 This classical engagement ring brings together the elegance of Asscher diamond and opulence of platinum. Asscher diamond is hand set on split shank with 4 claw platinum setting. The diamonds used in this magnificent ring varies from 0.45 carats to 3.50 carats and are set on a chic platinum band. The base code of the ring is Platinum 950. The width of the ring varies from top width of 1.40 mm to bottom width of 2.10 mm.
Channel Set Asscher Cut Diamond Engagement Ring in Platinum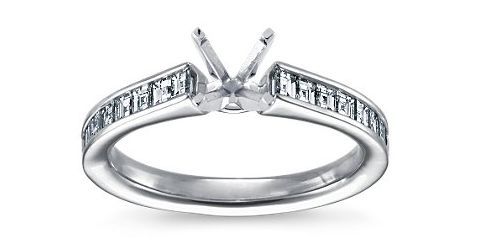 This stunning diamond ring is made of 16 diamond pieces of minimum 0.59 carat weight with the color code "H" and clarity code of "VS2". The kind of setting used here is "Channel" wherein, these dazzling Asscher cut diamonds are set in the platinum 950 channel leaving a room for them to shine with brilliance as soon as light strikes them. The platinum used here weights about 6.01 grams. The ring comes with an option of "customized diamond shape" as well to make one feel very special on the engagement day. One may choose from a range of diamond shapes spanning from Round (0.15-2.60 k), Princess (0.15-4.30k), Emerald (0.29-0.50k), Asscher (0.15-4.50k), Marquise (0.20-2.25k), Oval (0.20k-5.00k), Radiant (0.15-8.50k), Pear (0.20-2.25k), Heart (0.41-1.50k) to Cushion (0.15-8.50k).
18k Blue Diamond Asscher Cut Ring in White Gold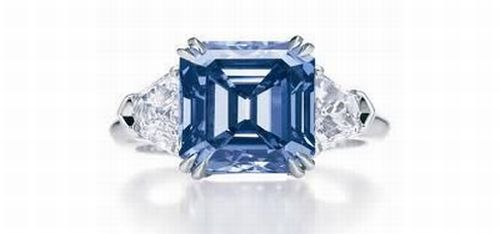 This spectacular "blue diamond Asscher cut" ring is the latest product from the house of
"Rocks Round the World". A diamond solitaire ring is the usual choice for weddings and engagement but this blue diamond ring when worn in the finger is sure to make heads turn with excitement with its blue color. The Asscher blue diamond is of 1 carat with color code blue and H, clarity SI and setting type "Prong". The choice of the base gold is either 18k white or yellow gold.
1.30CT Asscher DIAMOND ACCENT ENGAGEMENT RING 14k GOLD HALLMARK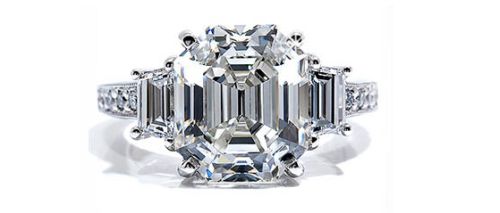 Another option to choose from is this exquisite Asscher diamond engagement ring by Chance diamonds. The center Asscher cut 1 carat natural diamond of color code H-I and clarity S12 placed beautifully to provide accented brilliance is flanked by side diamonds of 0.02 carats. The shank of the ring can be customized as per the individual's choice with either yellow, white, pink gold or even platinum. An enviable possession indeed!
Asscher Cut Cluster 1.00ct FVS1 GIA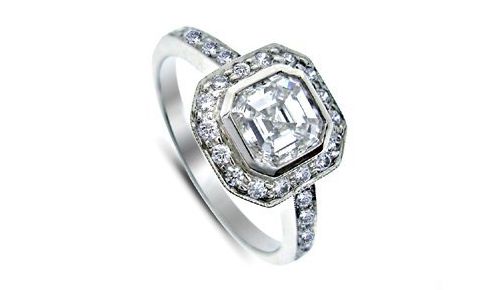 This exorbitantly finished engagement ring speaks volumes of the flawless workmanship. Highly chic in appearance this magnificent ring comes with 1.00ct F VS1 Asscher cut diamond surrounded by dazzling cut grain diamonds extending down to the sides. The base metal is 0.22ct platinum. If royalty is what one is looking for this season then this ring from the makers "Hatton Jewels" is the one to flaunt. The ring comes with a certification of authenticity from GIA for the center stone.
Diamond Ring Asscher Cut 18ct Gold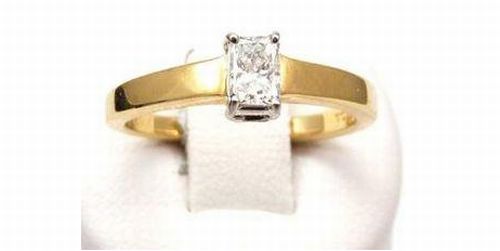 An outstanding culmination of the brilliance of diamond and the glitter of gold this ring is made from an Asscher cut 0.38 carat solitaire in the center set in 18 k yellow gold. The ring speaks for itself with a naive and elegant design and is the most apt choice for people who love style and simplicity.
18ct Gold Asscher Cut 3 Stone 0.5ct Diamond Ring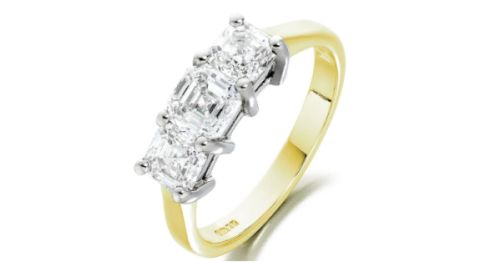 This impressive diamond ring with three Asscher cut diamonds of color code G and clarity VS2 set on an equally exquisite 18k gold base makes a perfect ensemble for the "the day". The combined brilliance of the three 0.5 carat diamonds in the center bring an element of extravaganza into the ring and make it a preferred choice for people who love to leave a style statement behind.
Asscher Cut With Tapered Baguette Cut Step Down Shoulders 0.95ct I VS1 IGI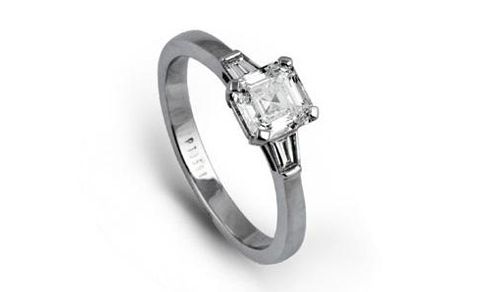 Extraordinary" is the only word to describe this entry. Brilliantly crafted Asscher cut 0.95 carat ring with tapered baguette cut 0.21 carat diamond shoulders set on platinum is bound to stir excitement. This elegant piece of ring measures 5.66mmX5.51mmX3.29mm can definitely be the sole occupant or additionally be clubbed with a platinum wedding band.
Emerald & Asscher Cut Diamond 3 Stone 1.78ct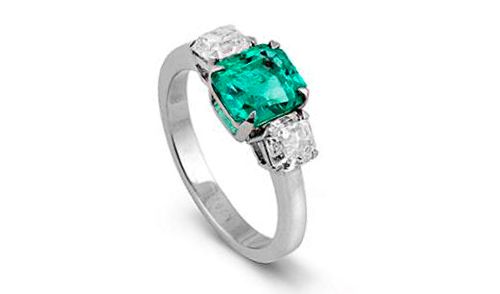 If "Emerald" is what one craves for then no one can beat this sensational piece of jewellery! An elegant three stone ring with octagon cut emerald flanked by equally breath taking brilliant Asscher cut diamonds set on white 18 k gold base this is indeed a divine possession.. The total weight of the diamonds is 1.11 carats, while that of the emerald is 1.78 carat.