Do you really think, wedding decoration is not your cup of tea? Well, after reading the article, you will certainly be wrong because here we have this beautiful wedding decoration idea that you can't say no to. We will tell you how to make handcrafted sculptures as wedding décor as they are very easy to make and looks vibrant and beautiful. These handcrafted sculptures will give an artistically subtle touch to the wedding ceremony and in no time you will be able make beautiful sculptures out of cans of different circumferences and thus, making the wedding a memorable event.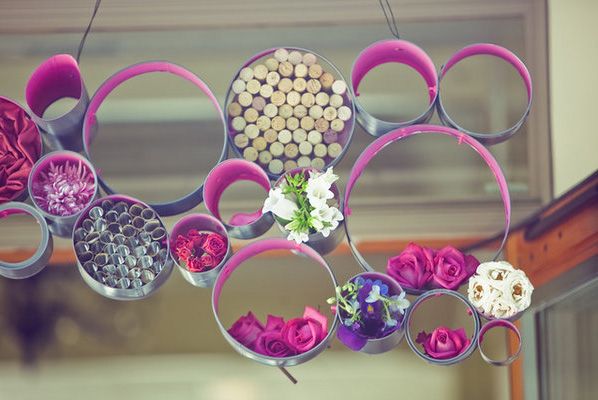 The things you need
Cans with different circumferences and heights.
Some nuts, a can opener, drill and drill bit and cans of different circumferences.
A wrench and a flat head screwdriver.
Craft acrylic paint and spray paint.
Procedure
The first thing you will have to do is to arrange cans in a beautiful order. You can give them a desired shape but before that, cut the bottom of the can with a can opener.
Now, just consider any of the can you have arranged in a row or in a shape shown in the picture, drill the whole in the middle the same can and keep doing the same with every other can marking the whole in the adjacent position.
Then you have to screw the two cans together with a nut and bolt. Don't tight up the bolt as later, you may require to take these cans apart. Now, you have to repeat the same thing with every other can as you were doing with last two cans. You can even secure the attachments by joining two bolts.
Take wrench and screwdriver. No tight up all the screws and give this wedding décor a nice finishing by spraying paint outside the structure. Now let the spray dry.
To make the sculpture more vibrant, you can paint the white in color inside the cans. Give them a personalized touch by putting beautiful flowers of different colors or any event related items inside the cans.