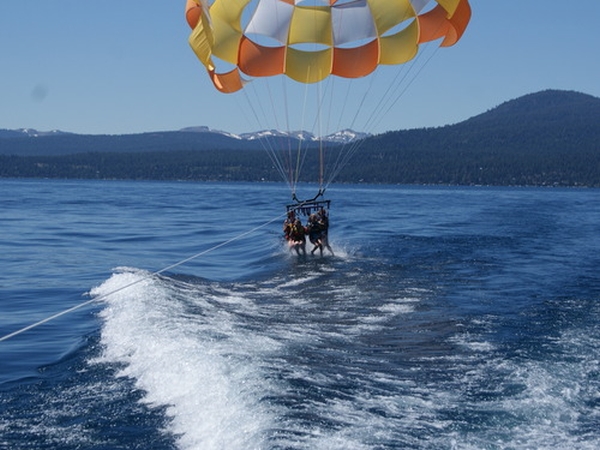 Lake Tahoe may seem more like the destination one would chose for a honeymoon, but the alpine jewel is also a great place for a small and intimate wedding. The air in the region is filled with the scent of pine trees with dreamy blue water and beautiful beaches providing you with plenty of gorgeous locations at the lake. Affordable hotels and restaurants also make it a budget friendly wedding and reception area and couple can choose from a range of fun and adventurous activities that can make your "I Dos" most unique and special.
Getting married while parasailing across Lake Tahoe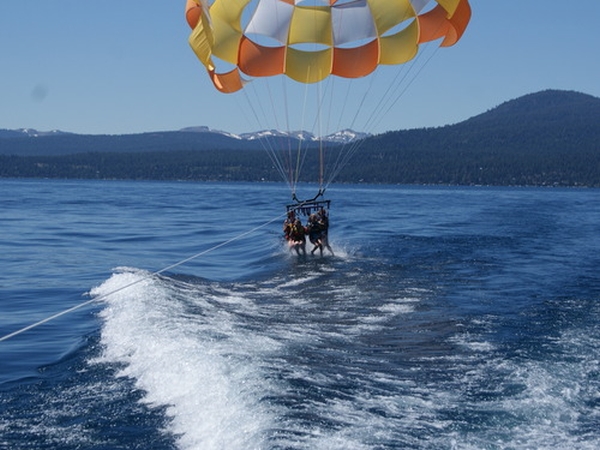 If you're looking for something a little more thrilling than a chapel full of wedding guests, then getting married while hanging in mid air with the love of your life and a minister may be one heck of a way to kick your married life into high gear. You can arrange to have all your guests present on the shore or abroad a boat and the two of your take soar a hundred feet up in the air when it's time to say your vows. It might be bit difficult for the minister to hear whether anyone objects to the union from that high up in the sky but if anyone wants to stop an aerial wedding, they can always wave a red handkerchief, cant they?
Underwater Scuba Diving Wedding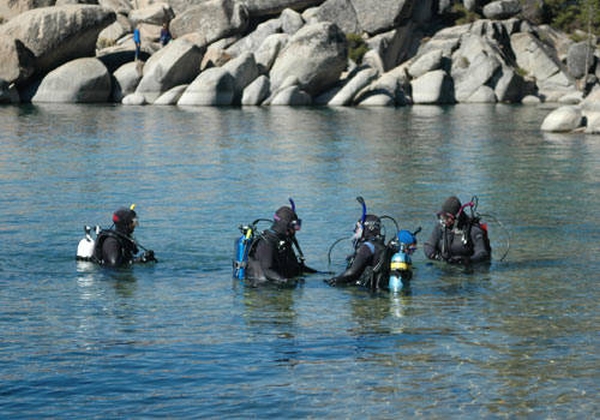 If you're not a total sucker for tradition and a wedding gown isn't central to your dream wedding, then a scuba diving wedding underwater at the lake might be a fantastic and adventurous alternative to the chapel wedding. The Sand Harbor provides plenty of awesome scuba diving friendly spots where you, your beloved, the minister and a handful of your closest pals can dive in and experience a wedding unlike many they might have attended.
Hot Air Balloon Wedding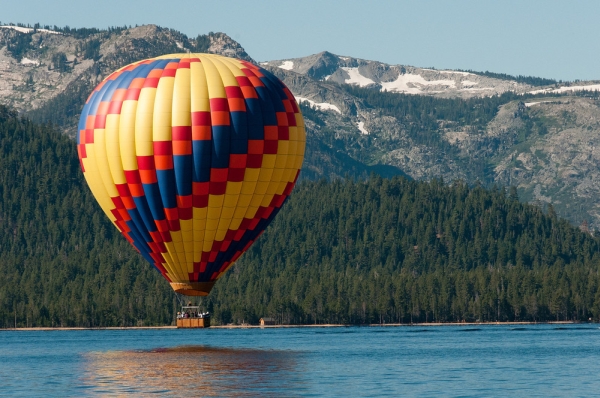 The views around Lake Tahoe are romantic and breathtaking on their own and using them as a backdrop while you and your fiancé get married on a hot air balloon suspended between the heavens and earth can be a truly memorable experience. The South Shore of the lake is one of the dreamiest spots to get hitched in early in the morning or as the sun is setting where you can say your vows though almost all spots around the lake would appear to be just as spectacular.
Saying I do aboard an Aerial Tram at the Heavenly Ski Resort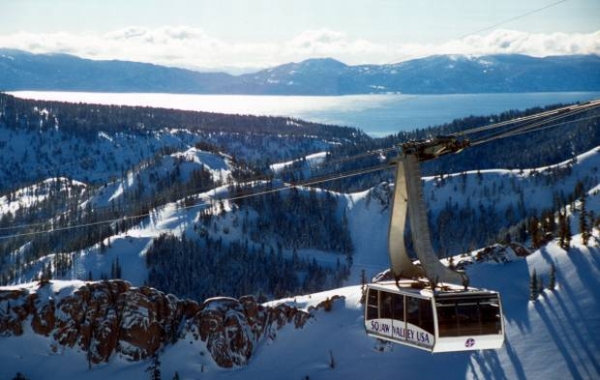 If you want a really white wedding, then you might be interested in booking an aerial tram at the Heavenly Ski Resort in the snowy season. The spectacular view all around will ensure that you don't need to spend anything extra on decorations and both the bride and the groom can wear their traditional dresses as long as they remember to wear their thermal innerwear, parkas and snow boots! The tram takes you up almost 8000 feet above the lake though you can have the ceremony along the route and have the reception at the Top of the Tram restaurant when you reach the end of the ride.
Wedding on a Horse and Sleigh Ride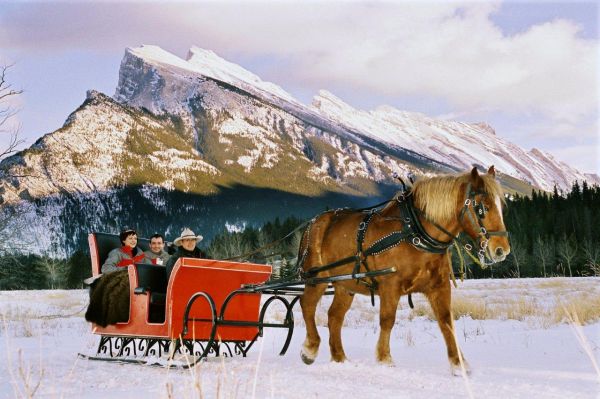 Getting married while enjoying a sleigh ride through the meadows and fields of Lake Tahoe during the snowy season could be a splendid way to throw a Christmas or winter wedding. You can choose to have your carriage pulled by a rare American-Russian Baskhir Curlies or a Blond Belgium horses. You can choose to travel along a preferred route that will take you through the historic Friday's Station, the Pony Express trail, along Lakeside Beach, by the Edgewood Golf Course and down Lake Parkway and park at a preferred spot to get married or have the sleigh carry you to LewMarNels for your reception.
Getting married while skiing or snowshoeing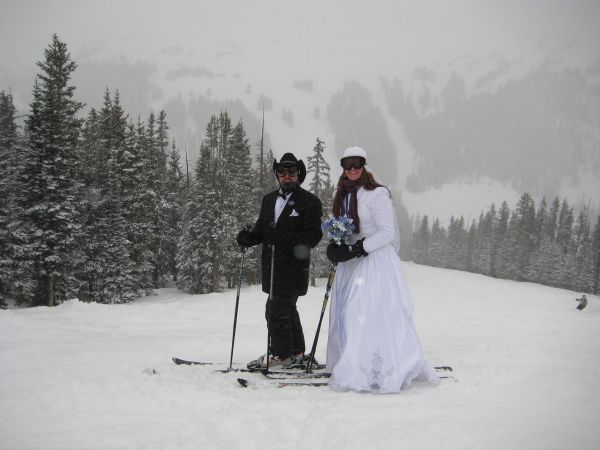 This kind of a wedding may be more suited to folks who are expert skiers and snowshoers though amateurs with an adventurous spirit. Couples can scout for their own unique location among the woods or the slopes and their entire wedding party can join them on skis or snowshoes for a very unique wedding indeed.
Wedding aboard the Woodwind II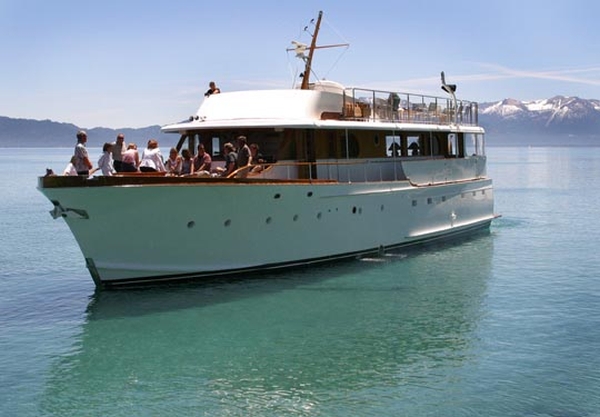 The Woodwind II is a romantic sailing catamaran that is very popular among couples who want to get married on the water. The boat is big enough to accommodate even medium sized wedding parties and you can chose to have up to 50 guests on board. The Woodwind II is owned by Captain Steve Dunham and is Tahoe's largest sailboat.
Marrying while riding a snowmobile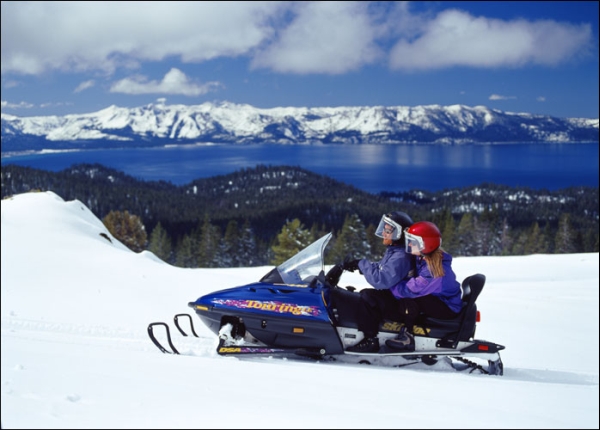 Snowmobiles are fun for everyone and this makes a snowmobile wedding a great and most unique wedding idea. You can take a trip up to a peak overlooking the lake, experience the unique wilderness high up in the mountains or take in the breathtaking scenery of Lake Tahoe when you tie the knot. The higher mountain regions are covered in snow pretty much from late spring to early summers.
Getting married at High Camp at Squaw Valley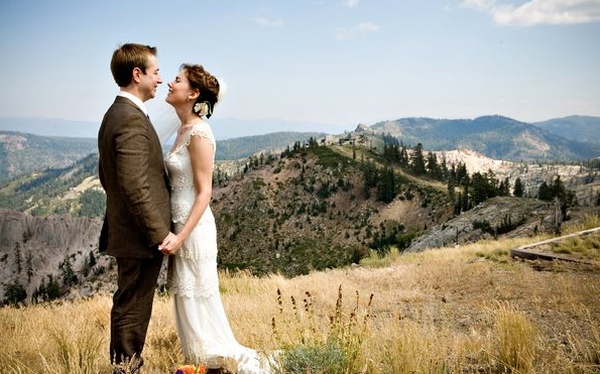 Located 2,000 feet above the surface of the lake, the High Camp at Squaw Valley in Lake Tahoe is a prime spot for a wedding. The camp offers many adventurous activities like snow tubing, swimming and ice skating and you can chose to take a ride up the cable car and make a grand entrance at your ceremony. After the ceremony, you can your wedding guests can relax around water and throw a relaxed reception at Alexander's Café with homely meals for everyone to enjoy.
Getting married aboard a helicopter above Lake Tahoe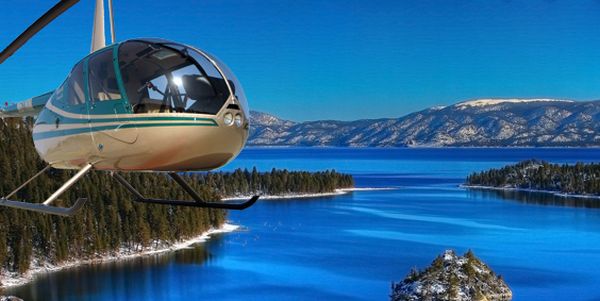 If you don't like the slow pace of a hot air balloon, you can always choose the quicker option of getting married on board a helicopter right in the air above any of your favorite location at Lake Tahoe. Most helicopter services around the region offer rides to parties of up to five passengers which means that your adventurous mid-air wedding ceremony can comprise of just you, your partner, the minister and a best man and a bridesmaid. Depending in your budget and ceremony, you can hire a Bell 206 LongRanger or a Robinson R44 Raven II helicopter though active noise reduction headgear might spoil your hair dos slightly.