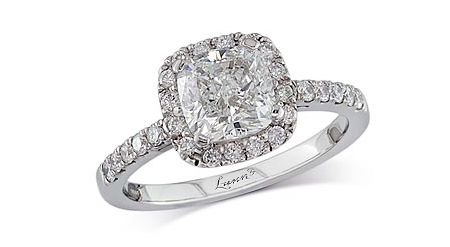 Cushion cut diamond engagement rings have a very classic appeal, which makes it very popular among the ladies. A mixture of mine cut and oval cut diamond, the cushion-cut diamond has 58 facets and resembles a pillow, hence the name 'cushion- cut'. Cushion cut diamond rings are elegant, classy and stylish, making it the perfect choice for an engagement ring. Here we list some of the most stunning cushion cut diamond rings that are just perfect for your engagement.
Cluster & colored diamond ring, 1.72ct centre – Cushion cut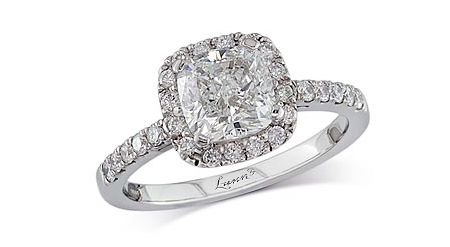 This Cluster and colored diamond ring is something you will fall in love with. With its beautiful and unique design and classic cushion cut diamond center, it is the perfect engagement ring for you. The total diamond weight of the ring is 2.07ct. This platinum and diamond ring is the best way to tell your fiance how much you love her. Along with the beautiful cushion cut diamond center, the diamond set cluster surrounding the center cushion cut diamond add to the beauty of this ring.
Cushion Cut Engagement Ring With Micro Set Shoulders 1.50ct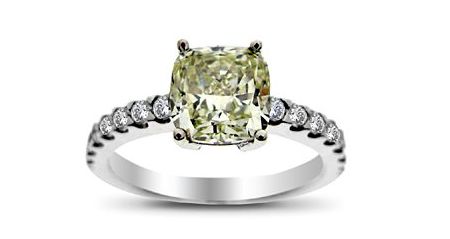 This is a classic cushion cut ring with a modern touch. The diamond in the center weights 1.50ct. The center cushion cut diamond is set in a mount which is made of handmade platinum while the shoulders are beautifully designed with diamonds. If your fiance loves to keep it stylish and follow the latest trend, you should definitely get her one of this very modern and very unique cushion cut diamond ring. From the mount to the shoulders and finally the diamond at the center, all the features of this ring are uniquely designed.
Ladies 18ct white gold 2.20ct blue cushion cut diamond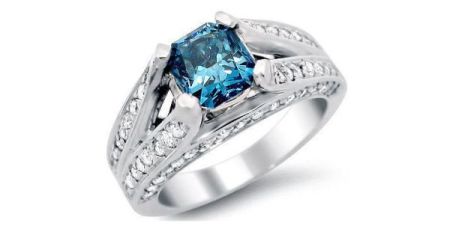 The next in the line is a ring which is made to order in England. The blue diamond in the center is 1.00ct while the diamond clarity is S/1-1. The diamonds at the side are 1.20ct. a uniquely designed ring with a stunningly beautiful blue cushion cut diamond center, this ring is perfect for those who like to be different and unique as this ring is unusually and very stylish.
Classic Platinum Cushion Cut Wedfit Style Diamond Ring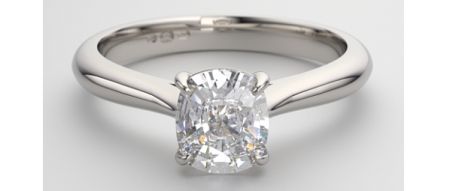 The Classic Platinum Cushion Cut Wedfit Style diamond Ring, as the name suggest is very classic and other than that it is very simple yet very beautiful. The beautiful cushion cut diamond in the center is set in a platinum mount. The diamond is .50 ct.; if your fiance does not like too much of designing and detailing, this ring is the perfect for her. a beautiful cushion cut diamond in a well designed platinum mount, that is all there is to give this ring the stylish look it has.
18k Pink Gold Cushion Cut Amethyst & Diamond Ring Size 5.75 Ct.Tw 18.75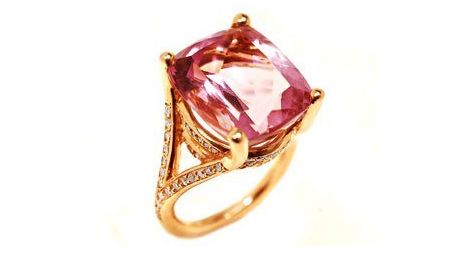 The next ring that will be discussed here is quite different from the rest. This pink and gold cushion cut ring is hand made. A beautiful cushion cut diamond is set in a mount made of pink gold. This one is sure to get you stand out from the crowd and be surrounded with people who would like to know where did you get this beautiful ring from.
Moissanite 18 Carat White Gold 100pt Equivalent Cushion Cut Ring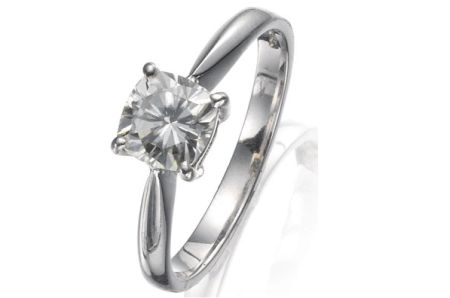 The center of this ring is a beautiful moissanite gem which is equivalent to size of 100 carat diamond. The mount is made of white gold. This is one gift your fiance will never ever forget or would never ever part with. Brought to you straight from U.K, this ring is well designed, beautiful, unique and simple. It is the perfect engagement ring to give your fiance.
Sterling Silver 925 Cushion Cut Cz Engagement Ring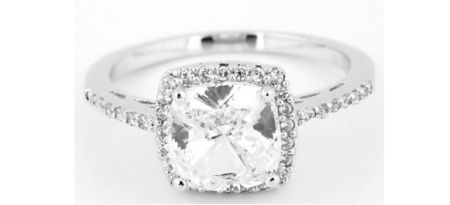 This sterling silver cushion cut engagement ring can be the best option for those who would not like to compromise on style and yet don't want to spend much. The ring resembles a real diamond but the price of the ring is lesser than that of a diamond. Gift this ring to your 'someone special' to tell her how special she is for you. The start of a beautiful journey with an equally beautiful ring, this is the perfect engagement ring for you.
Three stone diamond ring, 1.02ct centre – Cushion cut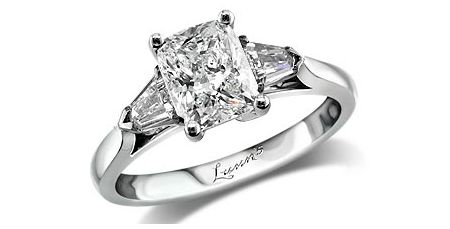 The next ring is the unique three stone diamond ring. A beautiful cushion cut diamond is set in the center while there is one kite cut diamond present on the shoulders of the ring giving it a very different look. The diamond weight of this ring is 1.62ct. the mount is made of platinum. From the three diamonds to the mount, everything about the ring is well crafted. If you were looking for an exquisite engagement ring for your fiance, your search ends here.
Old Cut Cushion Diamond Ring 1.54ct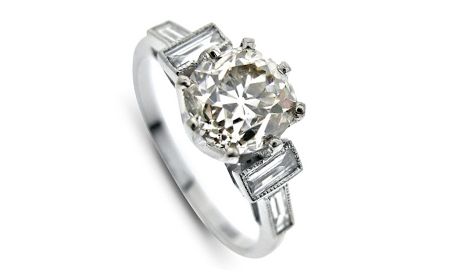 A cushion cut diamond set in a mount of white gold, this ring has a very antique and classic look. The diamond in the center is 1.54ct. For those of you who like the classic designs of yesteryear, this ring is your best bet. There is nothing about this ring which will not appeal you. Your fiance is bound to fall in love with you all over again once you ask her the big question and place this ring on her finger.
Past Present Future 5 Ct. Cushion Cut Engagement Ring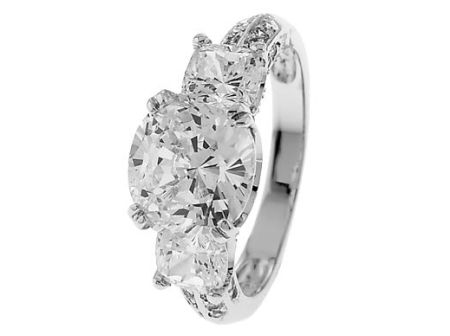 The last ring in the list is again an exquisite Sterling Silver ring. If you do not have enough to invest in a real diamond but you sure want to gift her something which she will love, this ring will do the job for you. This beautiful ring is all you need to make the moment special for her and for yourself as well.