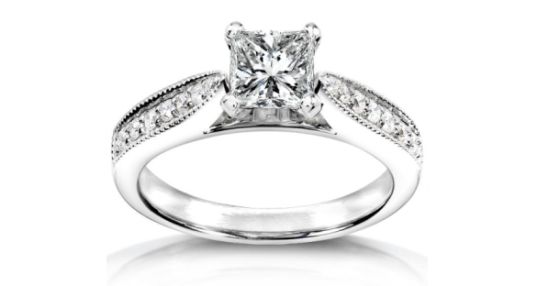 Engagement rings are the most pious and vivid proofs of two individual's commitment to each other. It is one of those inevitable things that bind the married couples forever. Wedding and engagement are probably one of the most memorable and important events in every person's life. So, a stunning engagement ring should be the first criteria to make the engagement grand and memorable. Gift your beloved any of these gorgeous engagement rings and enjoy the brilliant shine in her eyes.
14k White Gold 7/8ct TDW Diamond Engagement Ring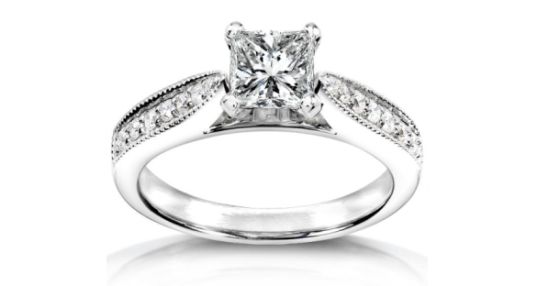 Words can't explain the real beauty of this exquisite diamond engagement ring. What can be a better gift for your life partner than this splendid priceless diamond studded white gold engagement ring. Gift your wife this amazing ring and see her spontaneously utter the words 'I Do'. The elegant ring is crafted on 14K white gold which has a brilliant polished finish to refine the looks. A huge starling princess-cut diamond sits atop the ring, which is carefully secured in pongs. The large diamond is accompanied by 14 smaller versions on the sides of the ring, which are arranged in a pave setting. All the diamonds are of premium quality which have a color variation of H-I.
Moissanite 18 Carat White Gold Solitaire Engagement Ring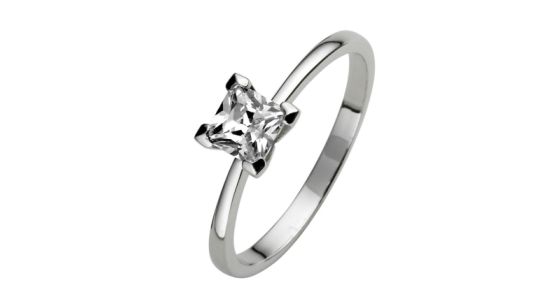 Solitaire rings are popularly associated with engagements and weddings. Solitaire rings are timeless and never go out of style. So, if you want to gift something sober and tasteful to your wife, then it has to be this Moissanite studded solitaire ring. Moissanite is an artificially created gem that is 2.4times brighter than authentic diamond. The ring is studded with a round cut ½ carat Moissanite stone, which is locked in prong settings. The 18K carat white gold ring is finished with lustrous Rhodium plating, which is making the ring appear more smart and elegant.
Platinum 100pt Princess Cut Solitaire Engagement Ring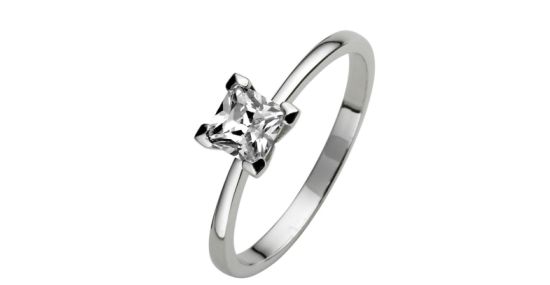 The combination of a solitaire ring and a princess-cut diamond is very unique. This smart and elegant platinum solitaire ring can be a perfect gift for your precious love. The ring is elegantly designed which is based on a simple yet gorgeous platinum band and a 1 carat princess-cut sterling diamond. The dazzling diamond is nearly colorless (color: H-I) and has an amazing clarity which ranges in between I1-I2. The smooth and comfortable band of the ring is another positive point, which adds on to the 'wow factor' of the ring. Secured in tough prongs, the ring offers a sturdy protection to the diamond, which makes the ring a prefect for even every day use. Last but not the least; the ring comes in a decorative gift box, which makes it a perfect gift for engagements and anniversaries.
His And Her 3pcs Matching Set Wedding Ring Engagement Ring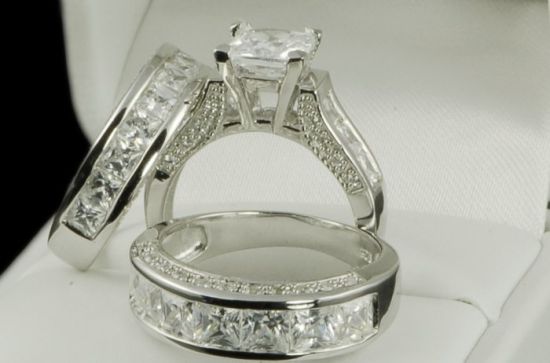 What can be a better engagement gift than this 3-pieces cubic zirconia studded ring set? Affordable and extremely fashionable, this 3-piece engagement ring set is a perfect gift for both the bride and the groom. Two rings are crafted for ladies, while a single engagement band for men comes in handy with this combo. The two ladies rings including the one fitted with a large princess-cut cubic zirconia is a very elegant ring. 6 smaller princess-cut zirconia stones (3 on each side) are fitted on both the sides of the ring, which is making the ring appear more attractive and glitzy. The other ring for ladies is a simple band, which is studded with 9 2.75-mm cubic zirconia stones fitted in a paved setting.
The ring for gents is also a band quite similar in looks with the band for ladies. Except that the men's ring is studded with 6 4.0-mm cubic zirconia stones. The sides of the all the rings are crafted in a beaded pattern, which is adding on to the shine-factor of the rings. The three rhodium finish platinum plated sterling silver rings are enclosed in an elegant Velveteen wedding ring jewelry box for security.
14k Gold 1 1/2ct TDW Black and White Diamond Engagement Ring

White diamonds are a sign of elegance and class, but black diamond is one such thing which has a different status of its own. Very unique and uncommon, black diamonds automatically enhance the charm of any ring. A huge 1 carat round-cut black diamond is fixed on the top of the ring using double prongs. While the tops of 2.25 mm band of the engagement ring are designed in the form of leaves and are bedecked with ½ carat diamonds on both the sides. The larger diamond is affixed on a round plate which is held together by decorative attachment and the smaller ones on the band are secured in paved setting. This glitzy and shiny 14K white gold ring studded with 1 ½ carats white and black diamonds is a very special gift for a beautiful bride.
14k Pink Gold 1/2ct TDW Diamond Engagement Ring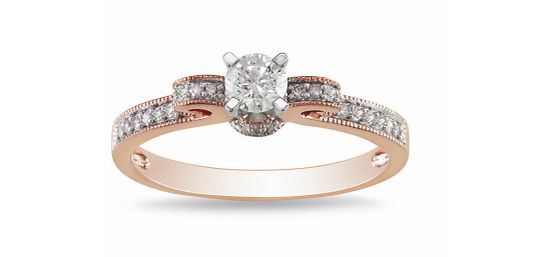 This beautiful engagement ring can be a perfect present for any bride to be. All the stones are of premium quality and are fixed on a 14 K highly polished pink gold band. The beautifully crafted pink gold ring is affixed with 30 smaller diamonds and 1 larger round cut diamond on top. The larger diamond is fixed on an elegantly carved out curled band; while, the smaller replicas are studded on the band. The prong setting on the top and the beaded settings on the band of ring ensures a reliable protection for the diamonds.
14k White Gold 1ct TDW Diamond Engagement Ring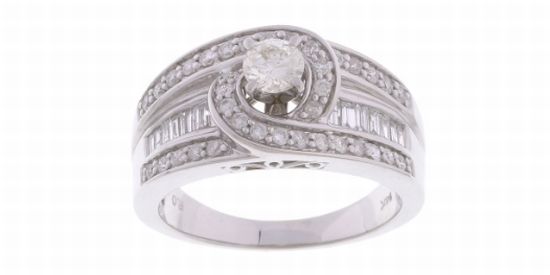 "Love at first sight" is the perfect statement to describe this splendid 14 K white gold diamond ring. Elegantly studded with round and baguette-cut diamonds all over, this multi-layered engagement ring can be just the right thing to adorn your bride with. Arranged in 3 separate columns, the columns at the sides unite together and form a ring like pattern around the larger 1/3 carat diamond. The middle column is affixed with numerous baguettes cut diamonds; while, the other two columns are studded with smaller round cut diamonds.
14k Gold 1ct TDW Yellow and White Diamond Engagement Ring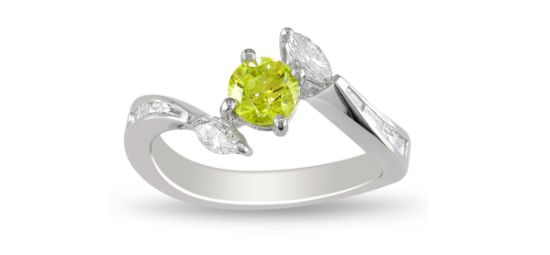 The contemporary design of this diamond studded 14K white gold ring gives it an edge over other commonly seen engagement rings. A 3/5 carat round cut yellow diamond is studded at the center which is immediately followed by two marquise-cut 1/4 carat white diamonds on the sides. Apart from that, this charming and vibrant engagement ring is also bedecked with 8 1/5 carat tapered baguette diamonds on the bands of the ring.
Ridged Edge Black Plated Tungsten Carbide Ring with Celtic Knot Laser Design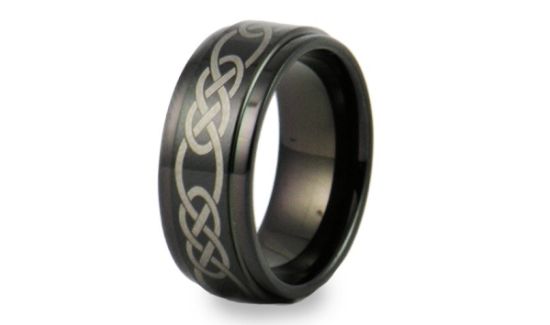 A bit different than traditional solitaire engagement rings, this laser designed tungsten carbide ring can be a stylish substitute to an otherwise monotonous wedding ring. The cobalt-free ring has a smooth finish, which makes it an appropriate accessory for changing with occasions.
Concave Gold Inlay Celtic Tungsten Carbide Ring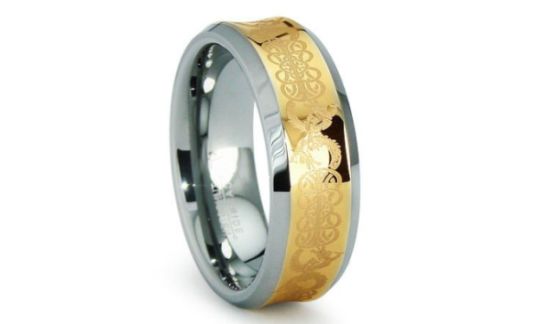 This gorgeous tungsten carbide engagement ring is suitable for both men and women. Engraved with laser created Celtic design, the ring is wrapped with a gold inlay. The 100% scratch proof surface and the guaranteed lifetime durability of the ring make it a perfect fit for everyday use.