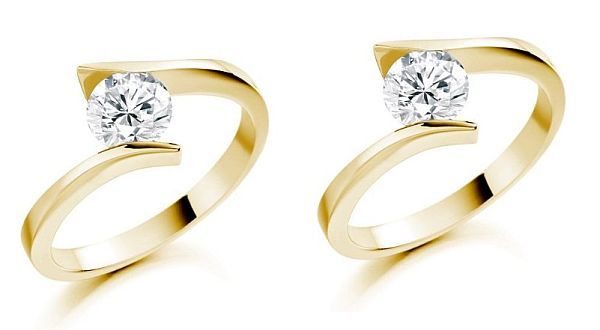 Gold is a symbol of the warmth and love of your marriage with that special one you love the most. Golden color in your engagement ring itself describes why it is the most popular choice for an engagement ring and moreover this lovely piece of metal will be the most lasting symbol of your love and commitment towards your partner. So it's important you choose the ring that is timeless and rich in quality. Here we are with some of the best golden rings styles reflecting your style and taste. Read on:
Cubic Zirconia Wedding Ring Set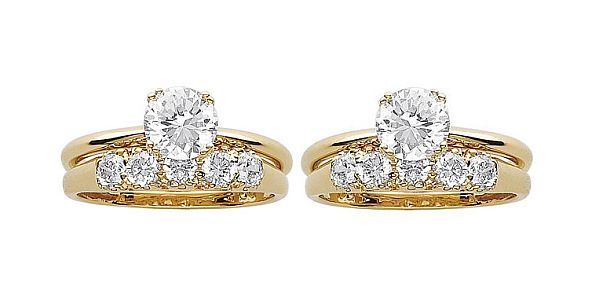 This is a beautiful engagement ring with a classical style shape and a solitaire ring showcasing 5 gems brilliant-cut that gives a royal touch to the ring. 3 carats of glistening cubic zirconias are amazing. The bands of engagement ring have a polished finish and the bands have a split-prong setting in two different slides setting a perfect combination between a classical and a contemporary style. There are five 3.25 mm cubic zirconias that are beautifully encrusted on the ring making it a special choice for lovely ladies.
14K Yellow Gold Diamond 3 Stone Ring Gold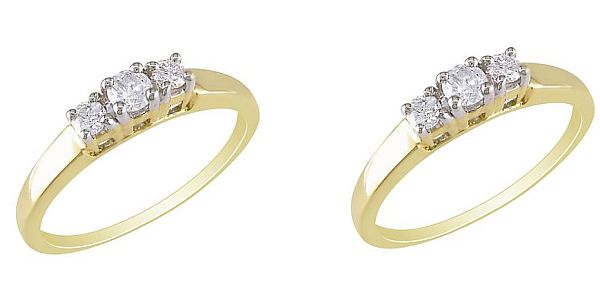 Gold engagement ring is really special engagement rings with features like 14 kt Yellow Gold and carat of total weight of 0.27Ct. The main attraction of this tree stone engagement ring is its sleek golden finish on the band and tree white diamond stones encrusted on the top of ring. Not very much stylish but is perfect to be gifted as an engagement ring because of its elegant design. This timeless piece of jewelry will always be with your love but a little care is all what it need. Try to avoid household cleaning and use jewelry cleaners to clean the ring.
Diamond Ring, 14k Gold Certified Diamond Solitaire Engagement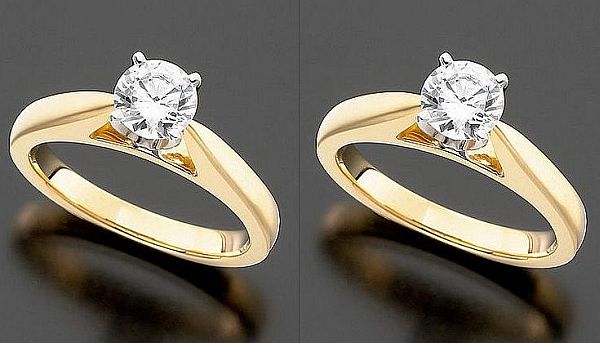 Two words simply describe this engagement ring and they are "simply perfect". This engagement ring is a very simple piece and will exhibit your love and care for that special one. She is going to love this engagement ring of 14k gold band that has a solitaire diamond piece of 1/3 ct. t.w. This plain gold style of the band looks pretty good and diamond on the top of the ring reflect the style. This engagement ring is priced at $1,399.00.
14k Gold Two-Tone 1/2-ct. T.W. Diamond Engagement Ring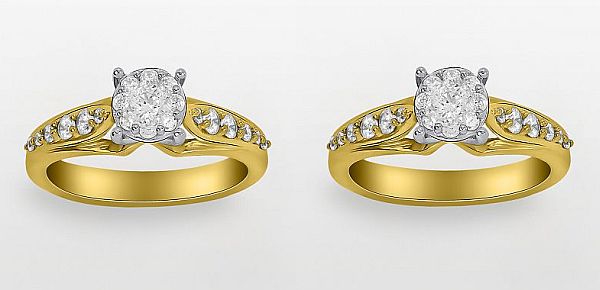 Exceptionally beautiful engagement ring that features a 14k yellow and white gold and two adorable diamond stones of 1/2-ct. T.W. on the top of the ring. These round cut diamonds are so fantastically cut that provides extra sparkle to the ring and has a 1/2-carat total weight. Cool finishing; amazing design and quality are the three things that make this engagement ring so special. This engagement ring is a true epitome of style and elegance and is priced at $3,949.00. Your lady is going to embrace the gift for her lifetime.
Engagement Ring, Diamond Circle (5/8 ct. t.w.) and 14k Gold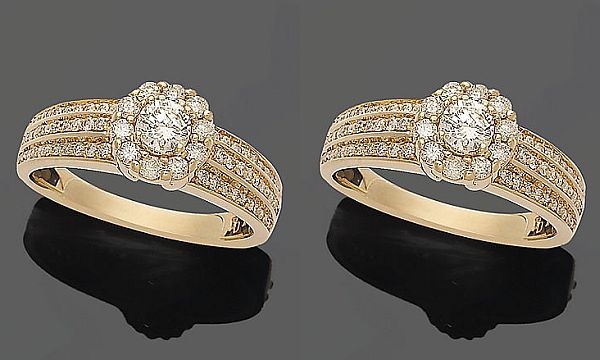 Celebrate your life's very special moment with this sparkling engagement ring that features a 14k white gold with princess-cut diamond. The diamonds are beautifully accessorized on ring and make thee separate ring layers of diamond till the half of the band circle. If excellent finishing and sophisticated design is all what you need in an engagement ring then it is the best choice. The price if this engagement ring is $1,999.00.
¾ Carat diamond 14kk yellow gold engagement ring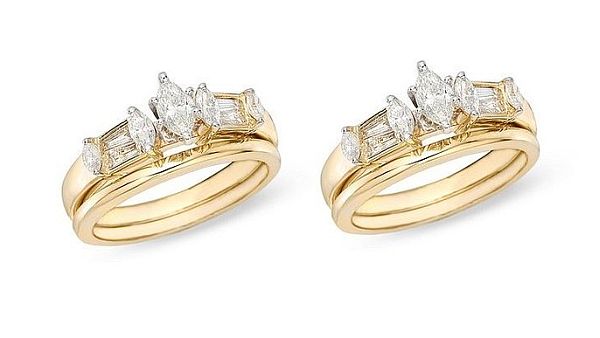 Vintage style in a ring brings a sparkling revival of our rich culture and style. This engagement ring features 14k yellow gold with ¾ carat diamond on the top of the ring. The best thing about this piece is that you will get a wedding band along with the engagement ring so you can express your deep love and commitment promising to spend your whole lifetime with the lucky one. An elegant yellow gold finishing and a set of glittering diamonds make this engagement ring a perfect choice for the proposal. You can buy this engagement ring for $1,250.00.
½ carat diamond 10K yellow gold engagement ring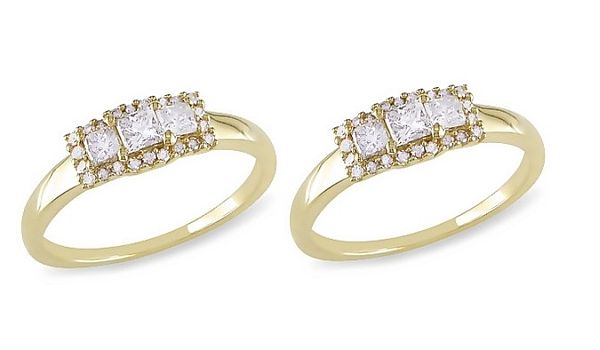 What can be more special for a lovely lady than this beautiful yellow gold back engagement ring that features a 10k yellow gold band having the best finishing and a ½ carat diamonds on the ring? This engagement ring is best for those who don't like silver and white gold on the ring. The diamonds are having princess cuts and are elegantly angular that makes this engagement ring look so special that your girl is always going to keep it by her heart. Round cut sparkles around the diamond sets in classic yellow gold gives utterly timeless allure.
0.42 Carat H/VS1 Round Brilliant Certified Diamond Solitaire Engagement Ring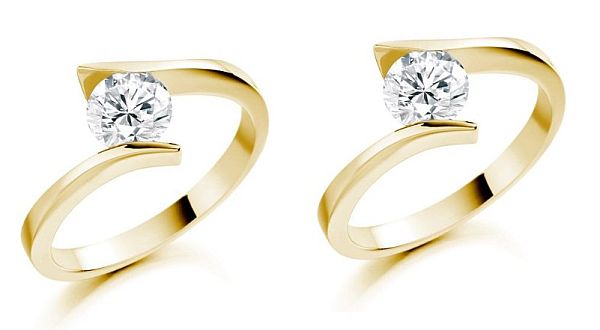 Take the first vow with your beloved with this beautiful engagement ring that exhibits style and quality both. This engagement ring exudes amazing brilliance in the design and features a 0.42 carat of round solitaire with 18k yellow Gold. The main attraction of this engagement ring is its design that represents a sleek gold band design holding the diamond on the two ends of the golden band. You can buy this engagement ring from the Amazon store for $1278.00.
18k yellow gold 0.50 carat pk 5 stone diamond engagement ring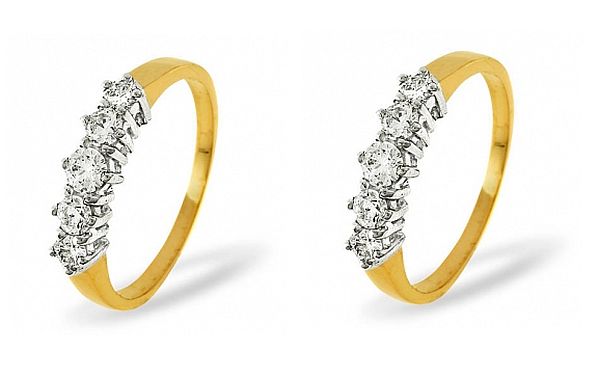 The special lady occupies a special place in your heart and if you are planning to propose the lucky one through an equally beautiful engagement ring than you should consider this one as the ring is a perfect blend of classical style and with the contemporary design. The engagement ring embodies 0.5 carat of 5 stone diamonds that glisten with the 18k yellow gold band. In all, the delicate shimmer of gold and the charming vibrancy in diamonds makes this engagement ring the perfect choice for all those who are seeking style with quality. The diamond color is white and you can buy it for $ 882.00.