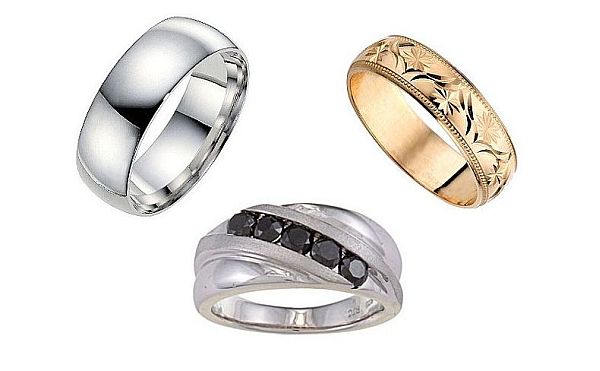 Since time immemorial, engagement rings have been an embodiment of love and commitment. No wedding or engagement is deemed complete without the solitaires occupying their place of pride on the bride and groom's fingers. With all the significance attached to this ring, it is difficult to make the right selection for your partner, especially, for men. Here we present an array of best options to choose from, ranging from various designs and metals. So that you can be well informed before making the right choice.
Men's Palladium Wedding Ring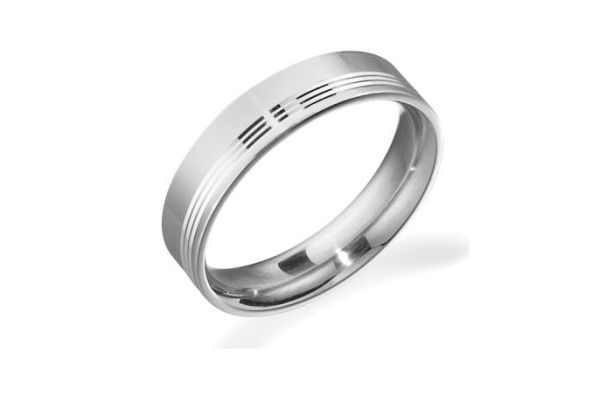 A recent trend is the palladium ornaments. Palladium as a metal is light and affordable. It is also modern and a very good alternative to the traditional gold, silver and diamond rings. This palladium ring comes with a triple etched design which enhances the aesthetic appearance. It is available for just $711. If you are looking for a sleek design for your partner, then this ring is perfect.
9ct White Gold Mens Satin Finish 6mm Wedding Ring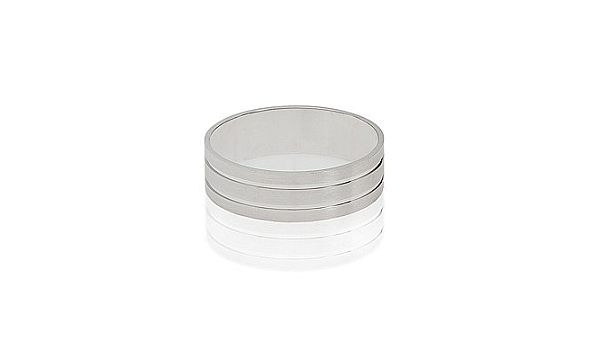 White gold is again a popular trend these days. It has a simple appearance and yet adds a level of sophistication. The beautiful white gold ring weighs approximately 2.4 grams. The width of the ring is 0.6 cm and the only available sizes are P-V. This ring would cost you $221.382.
Men's Simple Polished Wedding Ring – 5.1gr Platinum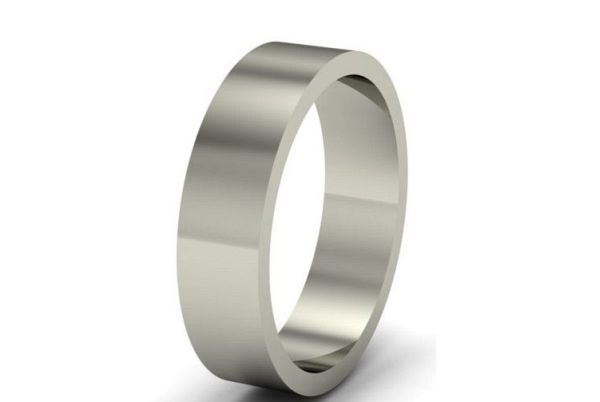 Platinum rings are very fashionable and very beautiful. It is also a modern alternative to the traditional ones. This simple, clean, polished wedding ring for men is made using 5.1 grams of platinum. Due to its polished finish, it has looks very elegant. The available ring sizes are from R to Z. The thickness of the ring is 3mm. You don't have to worry about the quality of the platinum as it is branded by Hallmark platinum gold. The ring is priced at $ 763 and comes in a beautiful wooden box.
Sterling Silver 1 1/2ct TDW Men's Five Stone Black Diamond Ring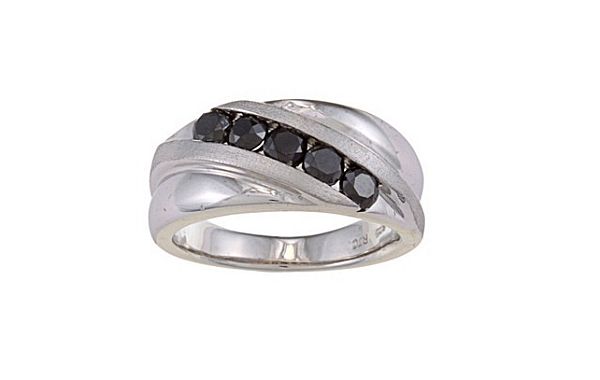 This modern and fashionable ring makes an ultimate impression on the style and fashion statement of the groom. The ring is made of sterling silver, decorated with five lustrous black diamonds in the center. The ring has an extra satin polished exterior. This 3mm band ring, weighing only 10 grams, comes in a 5-stone style. This has a channel setting with each round cut diamond weighing 1.5 carats. The black stone offers a hearty tang to the ring and makes it a classic jewellery. These rare stones are shiny and their beauty in contrast to the silver is unparalleled. So get that regal and contemporary feeling in your wedding with this stunning piece. The cost of this ring is just $344.
.
Cobalt men's 7mm satin wedding ring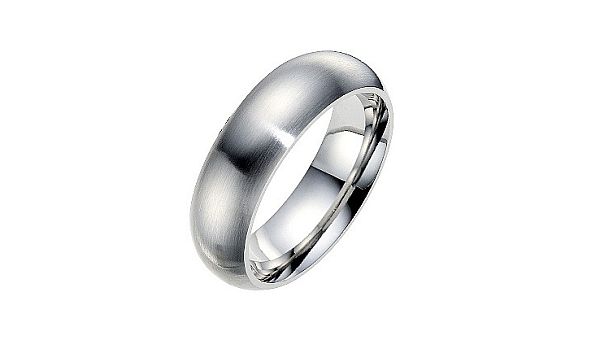 The wedding ring holds it's own significance for every couple and it is very important that the piece has a lasting life and impact for the people in the relationship. For this purpose, nothing suits better than this durable, classy and timeless cobalt ring. Cobalt rings are widely chosen by couples in modern days for their classy looks. The ring is shiny and polished giving it a platinum like look. This also adds to the aesthetic appearance of the product and makes it look expensive. It is more durable than its contemporaries in this field (gold and platinum). The ring can be re-polished from time to time to get that new look. It is made of good material and is scratch proof; it does not lose the luster. So, if you want that timeless and expensive look without having to compromise on your pocket, then these cobalt rings are truly the best pick. They are available at $103.
William Cheshire – Courtier Silver Mens Wedding Ring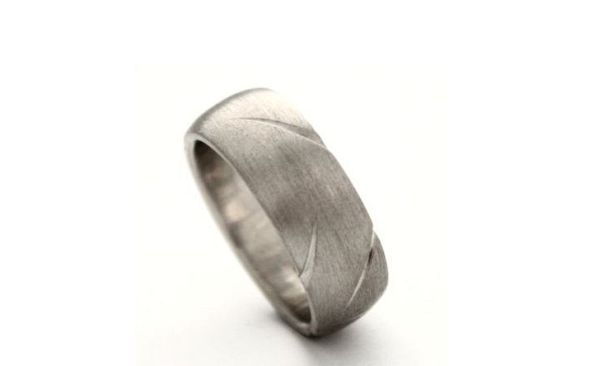 If you prefer silver then we have the perfect ring for you. This wedding ring for men is by William Cheshire. This ring is a classic 925 Sterling Silver with matte finish. The width is 6.5 mm and thickness is 2 mm. This design is taken from William Cheshire collection. You don't have to worry about the size fitting as the product can be customized as per your preferences within a mere 2 weeks. You can purchase this ring for $442.
9ct Gold Mens Satin Finish 5mm Wedding Ring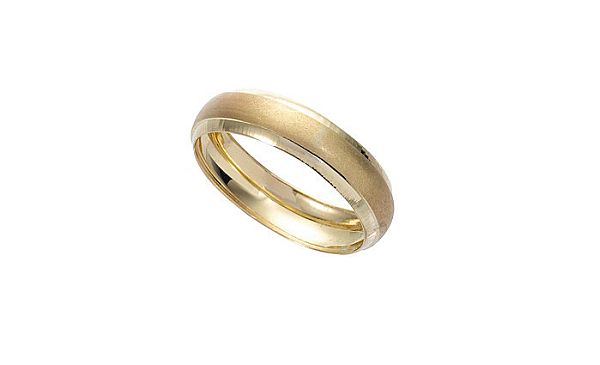 The next item on the list is the 9 carats yellow gold ring with a satin finish. The weight of this ring is 0.9 grams. The width of this ring is 0.5 cm and is available in sizes from P-V. The price of the ring is $142. So, now you can choose a traditional, yet a very fashionable ring for your man.
Men's 9ct two-colour gold wedding ring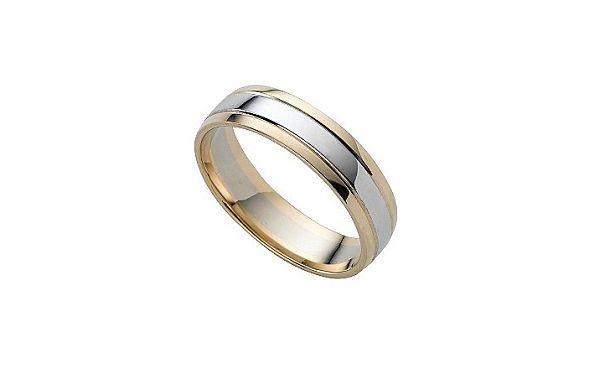 Another fashionable gold ring is the dual toned carat wedding gold ring. The ring is a combination of yellow and white gold which gives it a very unique look. The width of the ring is 6 mm. Available sizes are from J-Z. The price is just $428.
Men's 9ct white gold extra heavyweight 7mm wedding ring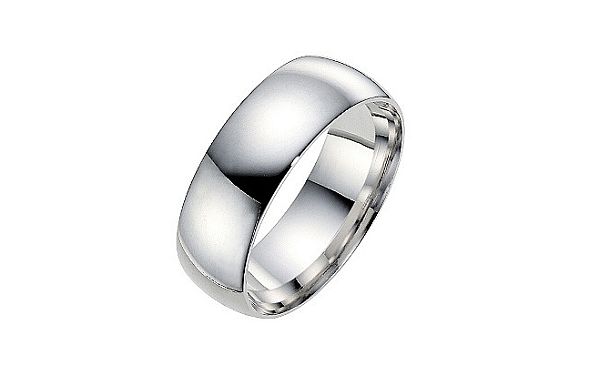 This piece of ring is another example of the great wedding rings. The design is simple yet stylish. 9 Carat White Gold is the prime material which is used in this ring. The ring is available in sizes varying from Z+6 to F. The ring is priced at $40.
9ct Yellow Gold Men's Patterned Wedding Ring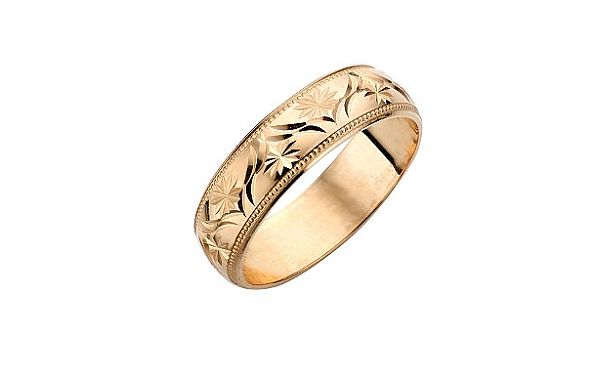 If sleek and modern is too much for you then you can opt for this traditional gold ring for your man. The gold ring design is encrusted and it has a distinctive pattern. The material used is a yellow gold which is of 9 carats. The width of the ring is 0.6 cm and normal available sizes are from J to Z+. The price of the ring is $425. You can also choose to engrave letters or words on to the ring, to add a personal touch.