Weddings are a special moment for all those who are present. To ensure that it is even more memorable, move away from the traditional rituals and celebrations and do something that is completely on the wild side and very unique. So whether you want a ceremony that is simple or lavish, there are plenty of crazy ideas that will suit you.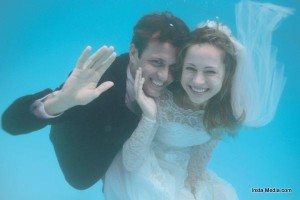 Underwater wedding:
Under the sea, all is quiet and blue, you ceremony will only be interrupted by schools of fish passing you by. This is the perfect place where you can have your wedding. This wedding idea is unique and one that you will remember for life. Make sure that you take some scuba lessons and can hold your breath for a long time. If you don't live near a beach, you can always book a tank at your local aquarium centre.
Rappelling Wedding:
Rappelling down a mountain or a favorite monument is not only a past time but also a wilder way to get married. This wedding is perfect for fitness freaks and for those who love hiking. You can read out your vows while you are being lowered down, if your wedding is a Christian one, then hopefully the pastor will be happy to rappel along with you.
Hot air Balloon Ceremony:
Floating across a bright blue sky is a very romantic and dreamy way to get married; this is also a good way to pop the question. Exchange wedding vows and rings while you are in the air. If the wedding ceremony is a Hindu one, you can exit your wedding venue or enter your reception venue in a hot air balloon.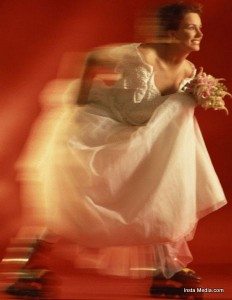 Roller skate weddings:
If you loved roller skates when you were a kid, then why not whiz your way down the aisle on pair. If you want a bit more craziness, host your wedding in a skating rink-but make sure that you and your soon top be spouse have taken lessons. Make a grand entrance or exit at the wedding ceremony and reception venues. Take the pheras while on roller skates.
Glacier/ mountain top wedding:
Another way to get married while surrounded by nature is to exchange vows on top of a mountain or glacier. This wedding is perfect for adventurous people; you will have to use a helicopter to get your guests this unusual venue-make sure you have the right shoes on and plan out your pheras when the wind is good.