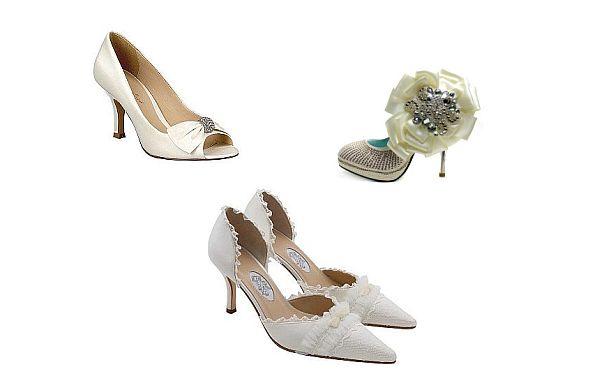 Every bride has a long to-do list to take care of before the wedding. After you have selected the dress, comes the next important task of choosing the perfect pair of bridal shoes to complement the chosen outfit and make you feel like a princess on the big day. This is especially true if you will be wearing a shorter dress or one that is transparent near the bottom, because your shoes will be more visible. Even if people will not be seeing your shoes clearly, your wedding day is still one solid chance for you to flaunt your pretty pair of bridal shoes. Remember to give top priority to comfort, because you will be on your feet most of the time. The pair you select should also suite your overall style and make you feel beautiful from inside. To help you take the stress off your shoe shopping, here is a list of popular pairs of bridal shoes for you to choose from easily.
Aubergine Her Best Kept Secret Rosebud Bridal Shoes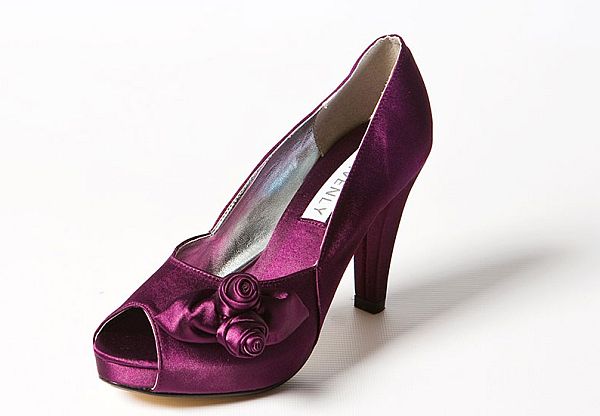 Her Best Kept Secret's Aubergine Rosebud bridal shoes are perfect for a bride who chooses a colored wedding dress. The design is gorgeous, with a large supporting block style heel, concealed stable platform and an intricate rosebud pattern on the front of the shoes. This pair of satin shoes features a 9.5cm high heel and is a budget friendly choice not just for the bride, but also for bridesmaids and mother of the bride. Price of this colorful pair of bridal shoes is $104.
White Ankle Strap Pointed Toe Applique Satin Bridal Shoes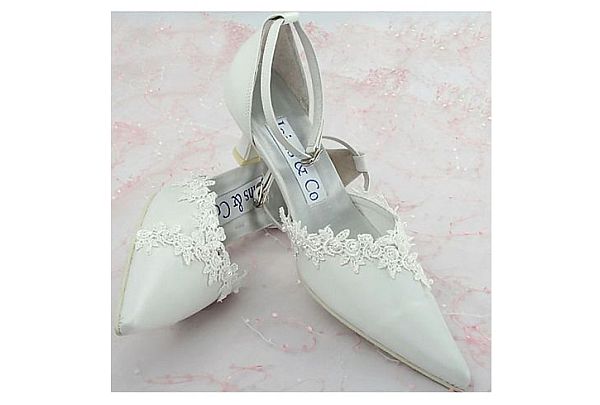 This lovely pair of white bridal shoes features a 5cm high heel with a delicate pointed toe and a flattering low cut ankle strap design. The pair also flaunts an applique on the vamp of the shoes. Made of pure white satin, this pair of bridal shoes comes with a closed back for extra support and a slender strap that goes around the front of the ankle to give a beautiful look. Price of this classic pair of bridal shoes is $109.
Ivory Rainbow Couture Allora Bridal Shoes

Rainbow Club has come up with this elegant pair of Allora bridal shoes as part of their exclusive Rainbow Couture Collection. This pair of bridal shoes' design is a blend of the contemporary catwalk designs and vintage styling. The pair is made from the finest Italian ivory silk and features a 11.5cm high heel, soft pleats and sparkling Swarovski stones to give it a glamorous look. This elegant pair is recommended for brides, bridesmaids and mother of the bride as well. Price of this luxurious pair of bridal shoes is $199.
White Filippa Scott Katie Bridal Shoes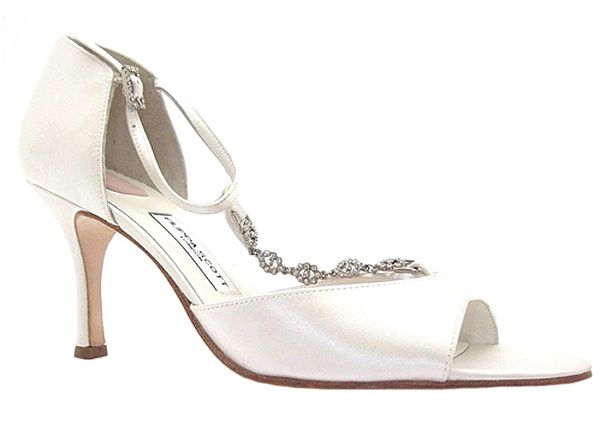 This stunning pair of bridal shoes named Katie has been created by Filippa Scott, a leading bridal shoe designer from UK. This stylish pair of shoes features a fashionable t-shape strap adorned in glittering crystals. The Katie pair of pure white bridal shoes is made of soft satin upper with genuine leather lining and flaunts a 9cm high heel. This stunning pair of shoes is ideal for both brides and bridesmaids. Price of this sophisticated pair of bridal shoes is $111.
White Leatherette Rhinestone Feather Decoration Bridal Shoes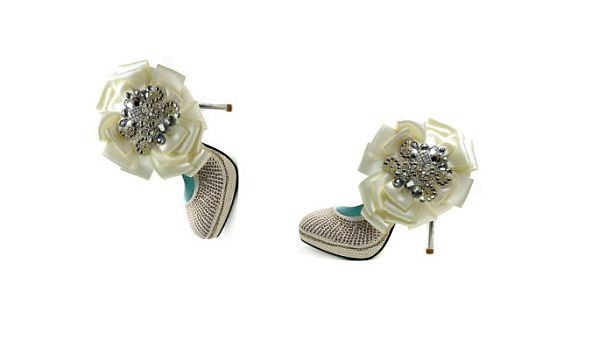 This white pair of designer bridal shoes is designed with exquisite craftsmanship. The pair is designed in stylish imitation leather and features a fine 9cm high heel made of solid transparent plastic and embellished with crystals. This pair of bridal shoes is hand sewn with sequins using a durable fishing line. The entire shoe is adorned with high quality rhinestones, beads and feathers and comes with non-slip soles. Price of this bling pair of bridal shoes is $101.
Ivory Benjamin Adams Dita Bridal Shoes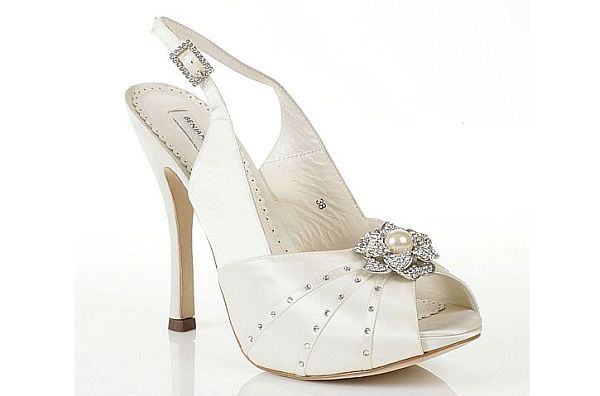 Paradox London has handcrafted this stunning pair of Dita bridal shoes as part of the Benjamin Adams Collection. The Dita pair of bridal shoes are inspired by vintage styling and made of finest Duchess silk fabric. This pair of shoes features an 11cm high heel and a pretty brooch with a prominent pearl in the center flanked by sparkling Swarovski crystals and shining diamantes across three bars on either side. The pair also features soft cushioned insoles and kid leather linings for superior comfort. Price of this striking pair of bridal shoes is $150.
Ivory Brianna Leigh Jaynie Bridal Shoes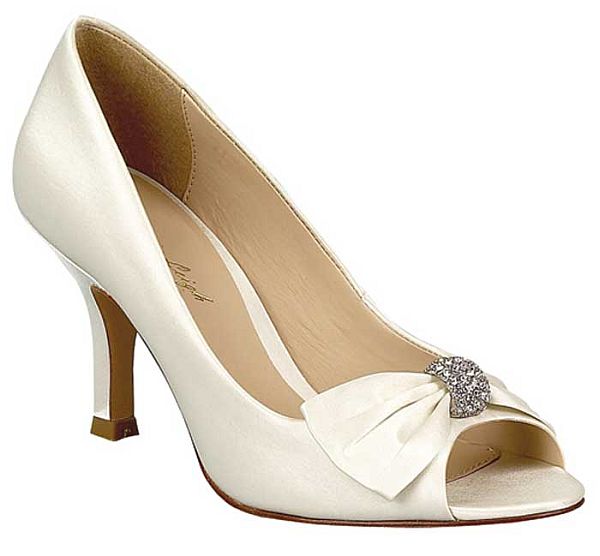 This dainty pair of Jaynie bridal shoes is designed by Briana Leigh, inspired by the Hollywood glamor era in the 1950s. The pair flaunts a 7cm high heel, soft padding concentrated on the ball of the foot, neutral synthetic lining and a buffed leather sole for extra comfort. This ivory pair of bridal shoes features a delicate single sided bow adorned with a crystal embellished brooch that exudes pure style. Price of this chic pair of bridal shoes is $130.
Ivory Diane Hassall Marinette Bridal Shoes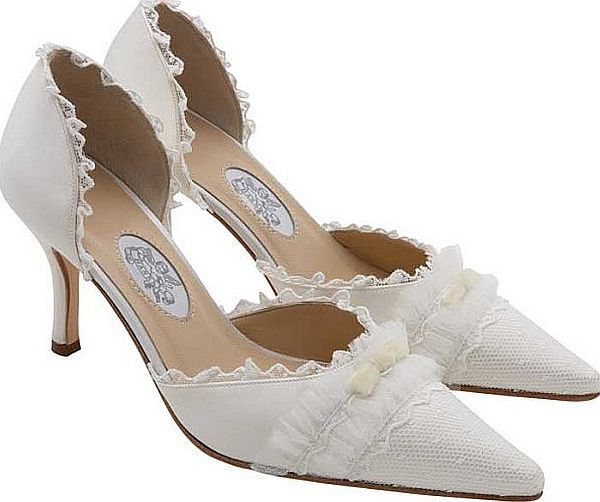 Diane Hassall, a leading bridal shoe designer from UK has come up with this stylish pair of Marinette bridal shoes. The Marinette shoe is an open waisted court shoe adorned with delicate embroidered tulle, two rows of fine frilly lace edging with silk pleats and a cute velvet bow. This ivory pair features an 8.5cm high heel and reflects pure vintage glamor. Price of this elegant pair of bridal shoes is $159.
White Jen & Kim Coloriffics I Do Bridal Shoes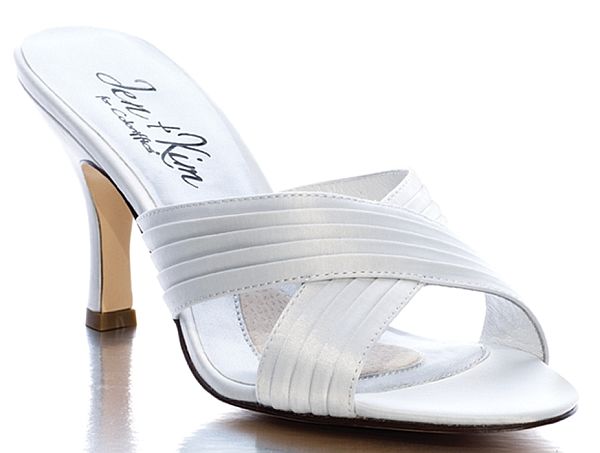 Jen & Kim have come up with this comfortable pair of I Do bridal shoes as part of their Coloriffics Collection. The I Do pair of bridal shoes is inspired by the young Hollywood and is made of white matte finish satin with thick pleated straps that run crisscross on the front of the shoes. The pair features an 8.3cm high heel, pure leather linings, soft suede cushions and non-slip soles for ultimate comfort and style. Price of this gorgeous pair of bridal shoes is $123.
Ivory Lace Perfect Flo Vintage Bridal Shoes

Perfect Vintage Collections has come up with this eye catching pair of Flo bridal shoes inspired by vintage styling. The Flo pair of shoes is made of ivory lace and features an exquisite floral design with a bunch of pretty pearls in the center. This pair of bridal shoes has an 8.3cm high heel encrusted with jewels, synthetic lining and soft padding concentrating on the ball of the foot for added comfort and support. Price of this sensational pair of bridal shoes is $127.