No matter how much the romantic at heart would like to deny, divorce rates around the globe are rising at a fast pace. Why is it so, we don't have a real clue, but statistics show that couples are filing for divorce more frequently than ever before. While the trend is a cause concern, some have decided to turn it around and use it as inspiration for novel creations. Giselle Ganne, a French jeweler has launched a line of exquisite divorce rings for women to commemorate the end of their marriage. The rings are worn by divorcees in place of their wedding bands and feature a dark theme.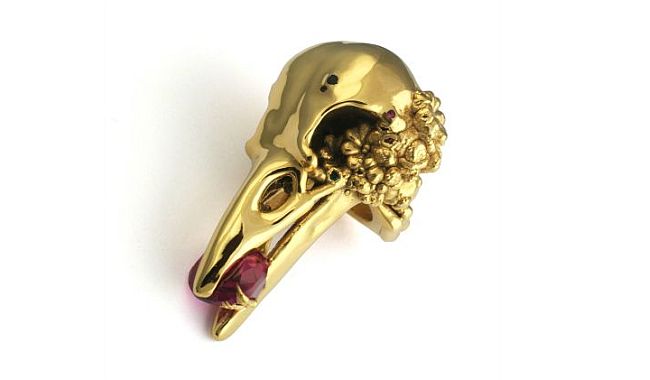 Since not all divorces end in painful separation with some women finding the experience liberating, the rings will no doubt help with the healing process. The designs incorporate elements like a bird's skull, pink gems and a wedding bouquet as well as other symbols of the death of relationships. Not all may appreciate the irony behind Ganne's endeavor but we choose to look at it as being something that doesn't necessarily have to be associated with pain.
The rings will also symbolize liberation from a stage in a divorcee's life that wasn't much in the way of happiness. With these pieces of jewelry, it's hoped that women will look at themselves as stepping away from the confines of unhappy relationships and beginning a new journey as strong and independent women. According to reports, 42 percent of all marriages end in divorce in the United Kingdom while France witnessed a percentage of 38.
Ganne's creations are handmade to order and can be crafted from rhodium-plated sterling silver to 18 karat gold vermeil. The contemporary pieces, with their Victorian-inspired mourning designs are sure to go down well with younger divorcees having a taste for the dark side. The rings are priced from 850 pounds.
Via: Gistexpress/Weddingnews