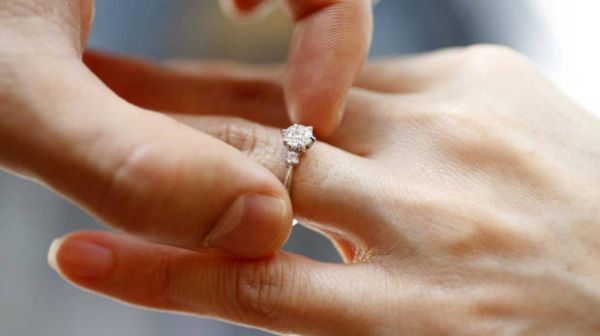 If you have already exchanged your wedding ring and finally discovered that you are not going the right way, your mind will always prompt you to break up immediately. But is this as easy as it seems? Absolutely not, because it is one of greatest hurdles some people dare to cross. If you are standing in the same cross road of your life and are clueless on how to break up after engagement, then we are always there at your service. Read through these handy tips and save yourself from committing the greatest blunder of your life.
Talk to yourself
When you have decided to end your relationship after an engagement, the first person whom you should convince whether the decision you are taking is right or wrong is "you". In case if you find all this confusing, let us tell you, once the word is out of your mouth, there will never be any chance of reverting it back. So, whatever might trigger behind such a decision, decide if that is quite an authentic cause for seeking a breakup or not. Also consider the fact that there will be no regret on your part after this.
Inform your would be about your decision
You are going to take a decision that is sure to bring about quite a lot of emotional and social churn. So you cannot be the sole decision maker and breaker of the relationship. Therefore, you need to inform your spouse about the decision without simply walking out of it. It is your duty to give proper explanations that support the logicality of your decision
Maintain decorum while quitting
It is utmost essential that you maintain a proper code of conduct when you decide to dissolve your relationship after the engagement. It is never a good practice to let your partner know about this bombastic decision over phone or mail. Moreover, when you have made up your mind about this breakup after engagement, you can never stop contacting with him or her altogether. It is mandatory that you meet him or her personally and talk over it politely.
Select the proper time to inform
Once you have made up your mind not to go any further with the relationship, together with letting your spouse to be know about your decision, it is equally important to consider the right time to say so. We definitely agree that you should never delay in informing him or her about the news but that does not mean you will turn up on his or her birthday to say it all. To be more specific, exempt the holidays and specially significant days to let him or her know about your decision. A normal weekday is perfect for the same.
Plan what will you say
Do not look dumb folded as you decide to meet your fiance/fiancee to let him or her know about your decision. Majority of the people loose words when they face such circumstances and you may not be an exception at all. So, our tip on this is that you should jot down a few rough points on what you intend to say during such a conversation. Recapitulate the points over and over again, so that you do not have to search for stuffs when you talk to him or her on this.
Give your spouse-to-be time
Since news will come to your spouse-to-be as a sudden shock, so either he or she might be infuriated or totally silent. But do not consider this as his or her final reaction. There might be a lot of things your fiance/fiancee will still want to know, discuss a few more details and sit with you on this again on a later date. Since he or she has the equal say in this relationship as you, so you must give him/her time to think and finally get in terms with your decision.
Inform your wedding invitees
As you are a matured being we hope that you have enough knowledge that breaking up after dating is not similar to that of a breakup after an engagement. Now, there are others involved in the process too, who had been a part of your merriment and have kept their fingers crossed for your nuptial. So, it is vital to inform them as well that you have decided to call it quits.You don't want your fiance/fiancee to be in an embarrassing situation, so initiate the informing procedure.
Be mentally prepared about its immediate aftermath
You are already aware that deciding for a breakup after your engagement is never a child's play. It will surely bring about a lot of quarrels, screams, misunderstandings and disagreements. It is not only your fiance/fiancee who will create the mess, but your family and your in-laws to be will also be a part of all this. You need to understand that it is quite natural as you are literally on the verge of shattering dreams of many. Therefore, be prepared to face the immediate consequences boldly.
Remain firm on your decision
Once you have ultimately decided that you will end the marriage, we expect that you are convinced with the reason yourself. So, we advise you to remain firm on your decision. There might be quite a lot of emotional drama and threats as well. But, never give in. Rather, try to explain to everybody, most importantly, your would-be spouse that forcing you for the marriage will only lead to a bad martial relationship. This will destroy his or her life too along with that of yours. So, it is always better to call it quits.
Return all the wedding gifts
You have finally decided to end this relationship forever. Thus, it is your duty as well to return back each and every gift that you have received from your fiance/fiancee and the family and friend of your in laws to be. Make a list of all those stuffs and return them to their respective owners. When the relationship will not be there at all, why will you ever think of retaining back the gifts?