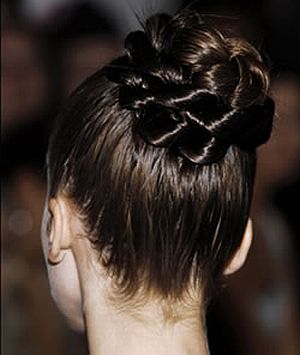 With a dupatta on head mostly high buns looks good. This bun helps you to hold you dupatta on comfortably head. There are many types of bun style your hair. Braid chignon is one you can think of on your marriage.
You can make this braid chignon by:
Make a clean braid low at nape of the neck.
Make a centre parting out of the hair, smooth it down to tame fly-aways and make a low braid that hangs down your back.
Then simply twist your braid up into a classic chignon and you are ready.
You can accessorize it with your chic hairpins or ribbons braided in between.
To add more sensual touch to this braid chignon, you may make multiple braids and then twist them into a chignon.
Keep the hair very neat on top and smoothen the small hair around the neck with a bit of holding spray.
You can also braid your hair loose and tease some tendrils out to fall around your cheeks.