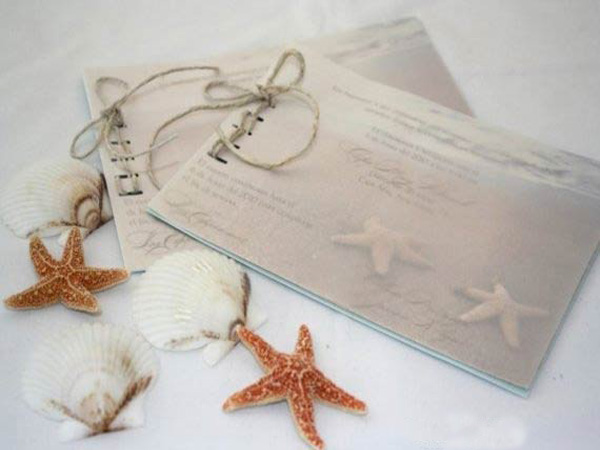 Beach wedding themed ideas consist of some really great ideas for those who want to exchange wedding wows near the sea. It is the most gorgeous place to have a wedding and the weather is always perfect. You could whatever you wish too and not worry about in care in the world. Peaceful places are desired for a lot of people on their wedding day and the beach wedding is one of them. You can have many options open for you when choosing how to plan out your wedding decorations which you require. The invitations are the first thing and having some of the neatest and beautiful invitations is what is provided below.
Invitation card in the form of a booklet: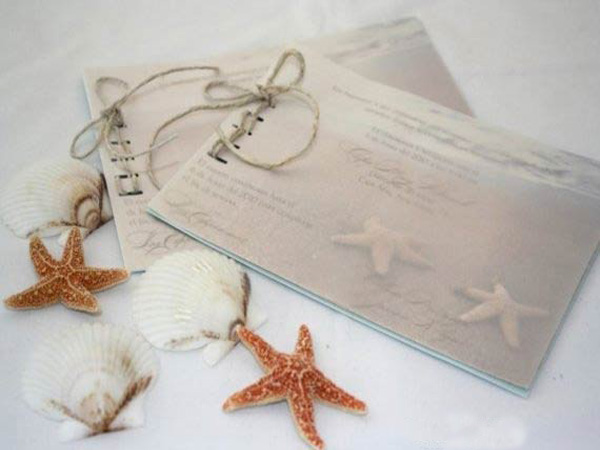 This is a great booklet kind of invitation and it is simple to handle and send to the guest. You could plan out the entire occasion of all the days and then have them either spiral bound or have them tied by a lovely ribbon or as the picture shows by a jute string. It looks simple but pleasing to the eyes. Placed in a box with sum shells and star fishes made of plastic or rubber, it could be a gorgeous beach wedding theme invitation. It has pleasant colors, you could personalize them. You could even have your picture on the box cover and on the booklet. Make sure it is not mistaken to be like some pamphlet or magazine booklet. Have your initials on the box.
White sophisticated picture frame and invitation combination: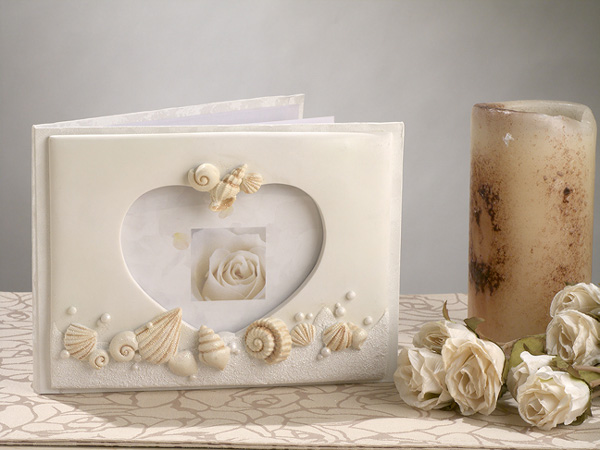 White is a stunning color and it provides so much elegance it is doubtful that you would not like this invitation card. It is thick and solid so you could have it standing too. It has a picture frame option in the front and you could place the wedding program after that. Your guests would get an invite to your wedding and have a very calm looking picture frame. It is just perfect for them. You could also have the option of putting a picture of your fiancé and you in it. The exterior is decorated with beautiful shells. It has a heart shape frame. If you want you could pair it up with a couple of other things so it could become a wedding favor along with an invitation
Green touch to the paper cuttings as invitations: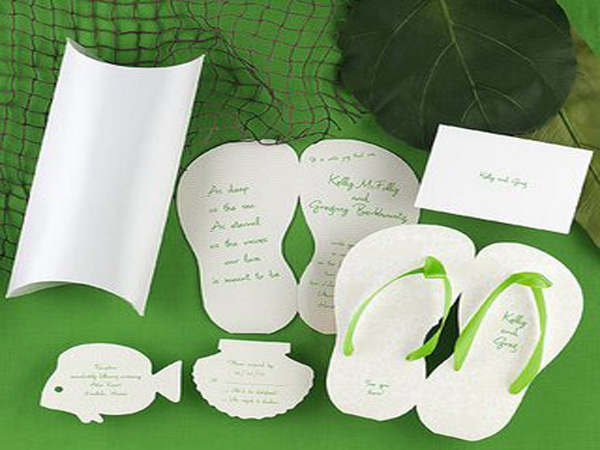 Going green, is always an option for all those eco-friendly to-be weds. This color is so pleasing and eye catching. You could have the wedding invitation in the shape of slippers in a box and have some sand inside the box too along with some cutouts of fishes and shells. This would be perfect to tell your guests how you are planning on having a beach themed wedding. You could have the entire programme written out by someone who specializes in calligraphy. It would be a great idea and it is earth friendly.
Mauve handmade paper invitation with shells and stones as adornments: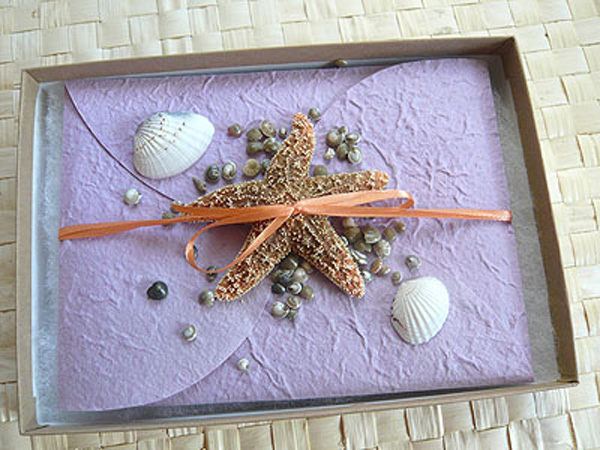 It is not at all hard to express the whole beach wedding them, but it is the way it is presented that allows your guests to be interested. This lovely mauve color handmade folded invitation card in a box is quiet effortless to have as an invitation card. It comes with embellishments like sea shells and starfish. It is closed by the help of a ribbon and it is placed in a box. It looks quiet well-designed and it is wonderful to have as a wedding invitation. The little shells and the stones can be kept as decoration thereafter.
The old fashioned bottled invitation: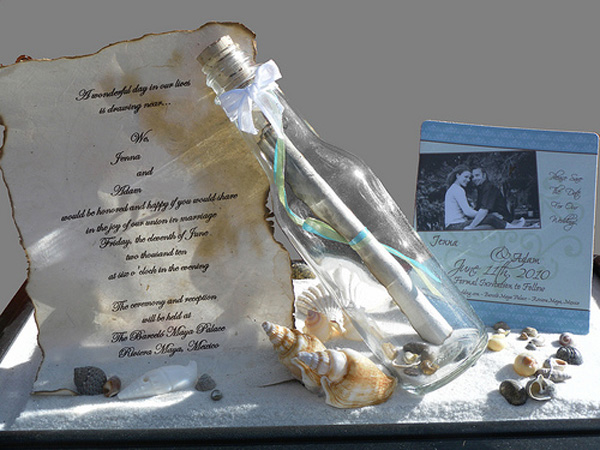 As you know treasure hinting and communication always started from islands and beaches. Why not bring that old touch back into your wedding. You can have your invitation sent to your guests in the bottles like in the olden days. You could have the paper also look like a map. You could personalize it in your own way. Have the paper look like a very old ragged treasure map. You could have a scroll placed in the body to have it look nicer. Put some really light shells and sand in it if you like. Tie it up with a personalized ribbon.
Unique beach wedding theme invitation: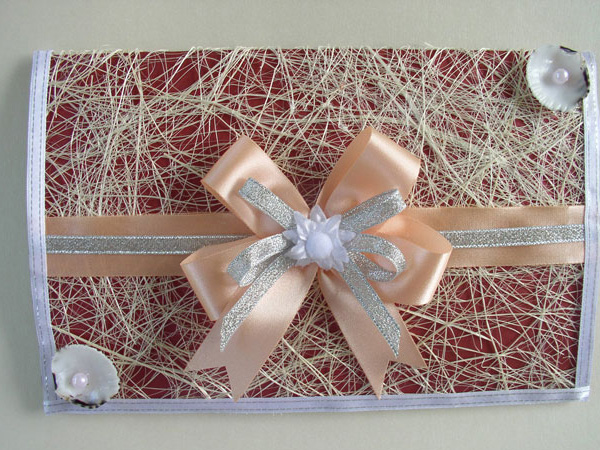 This attractive beach themed wedding invitation is really gorgeous to look at. Your guests would be intrigued by the thought of wanting to know what is in it. It is in the form of a wallet. You could personalize it in order to make it as a useful product for the guests you would call. Surely someone would love to carry this around. It has a bow ribbon in the center and a shell with a pearl in the center at diagonal corners. The border is in a blueish purple hue. The ribbon is in a peach color and it also a thinner silver ribbon along with it, with a flower in the center. The decoration also includes jute straws scattered here and there, which give it a unique look.
The bottled invitation: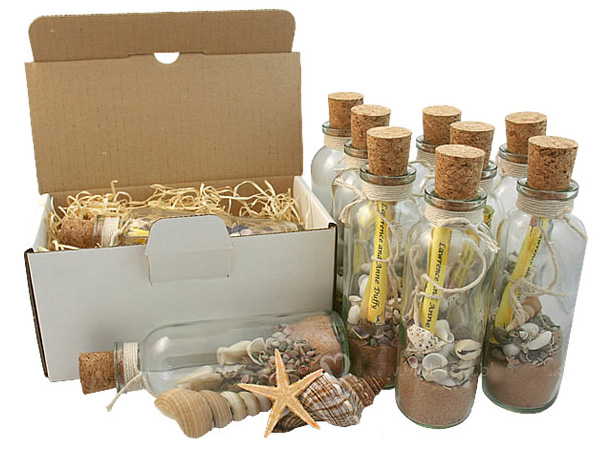 The bottles are always and captivating part for invitations, normally the guests love to keep them as memoirs and as show pieced in the house. You could send in a little ship with your initials too. These bottles have corks on them and can be easily opened. The inside would have a good amount of sand and shells and beach stones on order to give that beach touch to them. Your invitation will be placed amongst it all. You and your guests would surely love the idea and they are bound to keep it for show. This never goes out of fashion.
Simple invitation card that spells beach wedding: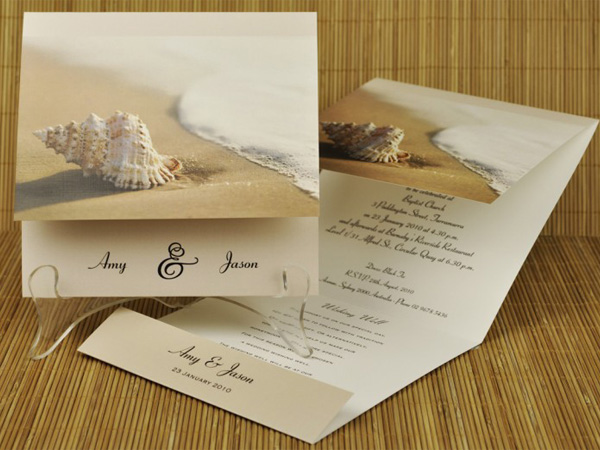 The easiest thing to have for your wedding invitation is a beach invitation which opens up to the information of your wedding. What could be uncomplicated to have and to provide to your guests? This is for those who do not want to spend much or want to give the idea that the wedding is going to be really simple. It may be more straightforward and may not appeal to you or your guests. But sometimes the simplest of invitations could have more meaning to them.
Beach wedding invitation with a golden knotted string and starfish: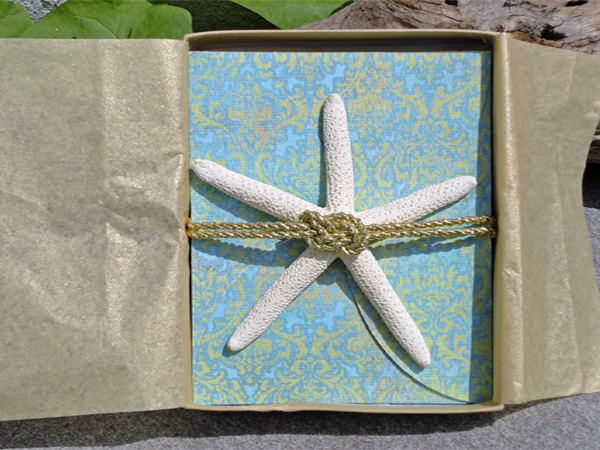 The wedding invitation could have a nice blend of colors and be on handmade paper. Giving it a coral appearance and then having a solid starfish as an embellishment is a good idea. It is tied with a golden string and the knot is a solid figure of eight knot. The envelope has the invitations placed on them and it will not even open during travel and sending of the invitations. It is plain and simple and will have beach wedding written all over it.
Fish bowl with sea items to give it a different touch: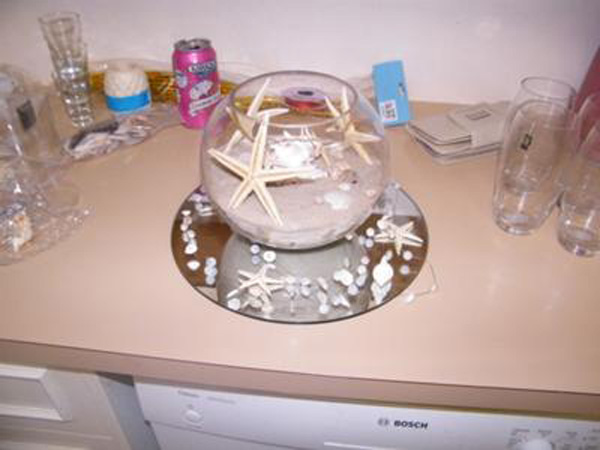 Who says an invitation needs to be always on paper or in bottles or in a scroll for that matter. Doing something different and creative would be more of fun. You could try out the fish bowl with sand, beach stones, shells and starfishes. The invitation could be placed in that. You could have initials engraved on the bowl. Or you could have like the invitation engraved on the bowl. Your guests would fall flat when they get invited in such a unique way. They can do as they wish with the bowl then.