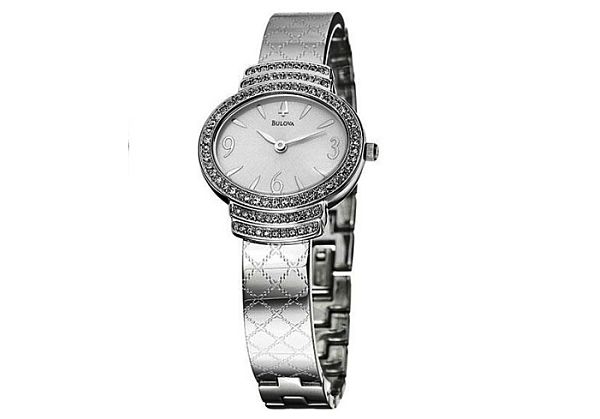 Christmas and holiday season of the Winter solstice are the most awaited days in the entire year. During these days, air is filled with the melodies of Christmas carols,all eyes brighten up to see decorations around and every heart relishes the warmth and affection on receiving precious gifts. Though, gift collection for a woman constitutes a wide range of products, selecting a present for your wife can be a bit tricky task. The present should not only be nice, it should also reveal the efforts made in the selection, so as to achieve more than a "thank you" from her. Read through the article below to find your best option out of the 10 most admired and innovative gifts for a wife.

1. Women's Watch 96L002
BRAND : Bulova
PRICE : USD 149.99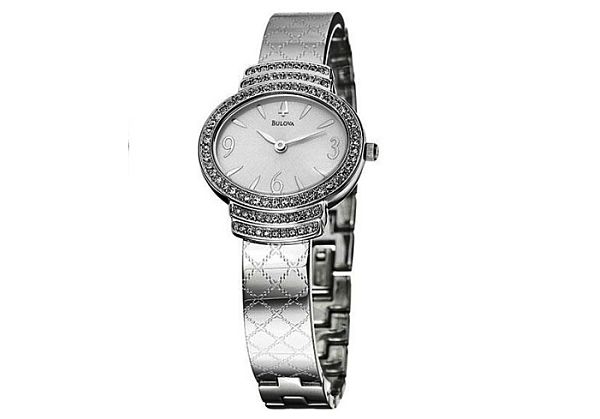 This elegant watch is a timeless piece. It poses a unique memorabilia and depicts love and beauty for your partner. The watch has an engraved stainless steel band with diamond pattern. The white dial is surrounded by Swarovski crystals. This bracelet bangle type silver-tone watch has Arabic numeral hour indicators in the four directions among the other stick hour markers. This presents a stylish and versatile make to the watch. A Bulova logo marks the 12 hour position.
USP
This magnificent watch from one of the best watch companies is covered with a scratch resistant material and is also water resistant up to 100 feet.
PROS
This item is pretty enough to grace a woman on her wedding day.
Not only in looks, the watch also excels in technology.
2. Mess-Free Vanity Organizers
PRICE : USD 59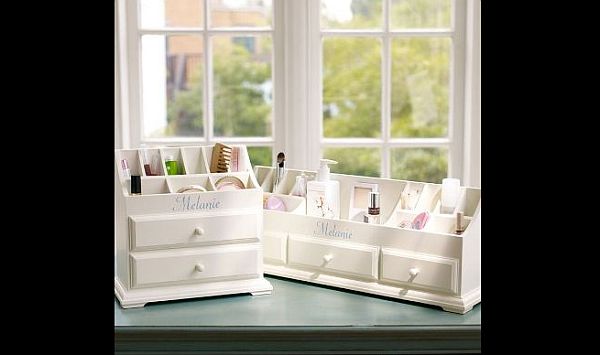 Women like to be organized, especially when it comes to one of their most valued items like cosmetics. This makeup organizer is one of the best ever,having multiple sections to make easy storage and accessibility even when in a hurry. The open-ended cubbies keep all your basic essentials straight and in view. These are divided with varied capacities so as to accommodate all sizes of items, be it the slender makeup brushes or nail paint bottles. Drawers are also provided to keep loose items like jewelry in an arranged manner.
USP
The organizer is well detailed with pedestal bases and round knobs to suit the needs of a woman while keeping her makeup and accessories.
PROS
An ideal organizer to keep all your daily requirements handy.
An optional personalization is also available with it.
3. Caudalie Spa
PRICE : USD 69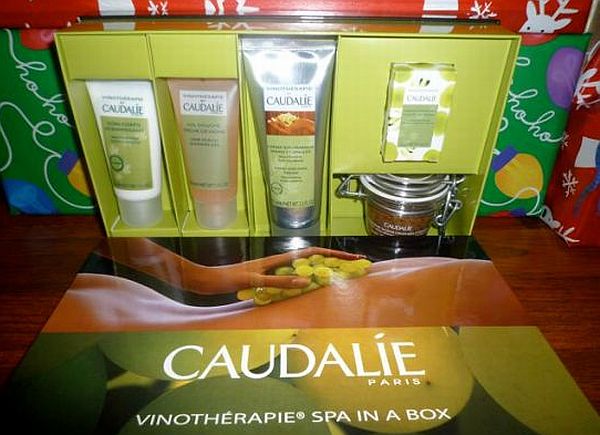 This luxurious body care collection polishes and nourishes your skin and gives you a relaxed fortnight. The set is a complete collection of five items, providing you a pampering spa escape and reviving your skin at the same time. Its soap-free Shower Gel is gentle and delicately cleanses your body. Beauty Elixir fills pores, smoothens and radiates your skin to a perfect complexion. The scrub is rich and made of crushed grape seeds, brown sugar, Gironde honey and 6 organic essential oils. Foot Beauty Cream makes your feet alive by giving an oil-free finish with a touch of powder. The Vine Body Butter is a complete delight.
USP
This spa package feels heavenly and makes a great gift for someone you care about.
PROS
All items are well scented and provide a luxurious bath experience.
The package is also worth every penny spent.
4. Love songs CD
PRICE : USD 16.18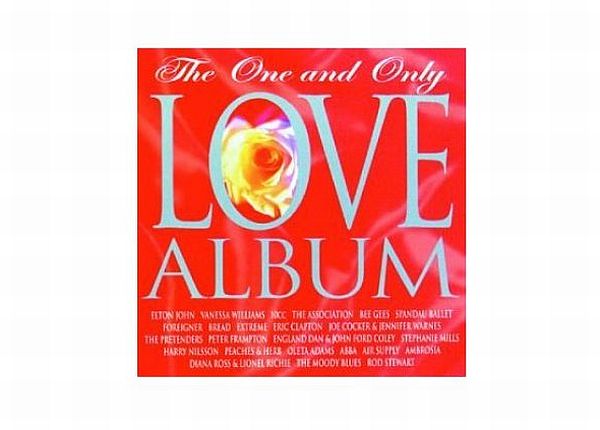 If you want to immerse yourself in a true Christmas celebration with your partner, nothing can serve better than some light piece of romantic music. This two-disc set of love songs contain the 70s AM hits, the musical love equations of the 80s and some love ballads. It is a collection of some great pop/rock songs which are mostly familiar like – "I'm Not in Love," "How Can You Mend a Broken Heart," "I Want to Make It with You," "More Than Words," and "Wonderful Tonight".
USP
The package contains an excellent song selection with their full versions to make your evening more pleasant.
PROS
These are ageless tunes which one can listen everyday.
5. Victor & Rolf Flower bomb Perfume
BRAND : Victor & Rolf
PRICE : USD 100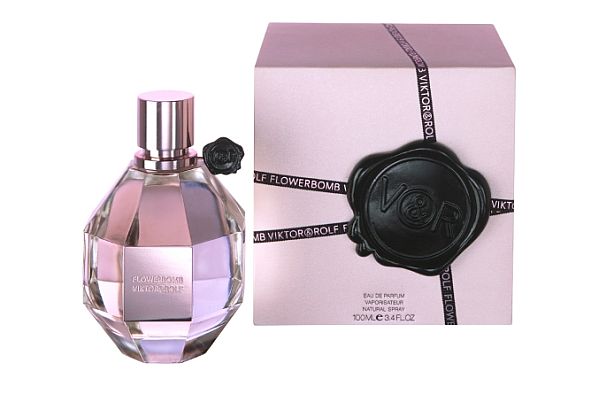 Flowerbomb, launched in 2005, is a profusion of flowers. Formed by combining various floral aromas, this addictive fragrance has the power to make everything seem positive. The bottle is also elegantly designed so as to mark a symbol of dream. It has a multi-faceted diamond cut which leaves its unending trail in your mind. Providing an awesome aura to your personality, this flowerbomb spray is made of Centifolia rose, osmanthus and Sambac jasmine with a tinge of patchouli.
USP
This perfume is intoxicating with beautiful floral fragrance that marks feminism.
PROS
It's fragrance lasts longer than other perfumes.
6. Tadashi Shoji Rosette Pleat Dress, Women's
BRAND : Tadashi Shoji
PRICE : USD 370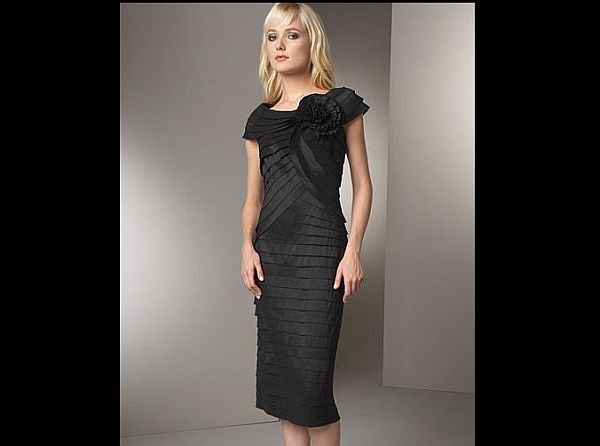 Nothing can impress a woman more than a beautiful striking dress. It is the surest way to bring happiness to her face and receive a warm hug from her. This Rosette Pleat dress by Tadashi Shoji is designed with pleats all over. Colored completely in black, the dress is simply elegant and can make heads turn. The cap sleeves with bateau neckline provide a flattering appeal while the lovely rosette rests perfectly just below the left shoulder.
USP
This dress gives an enchanting elegance to your personality.
PROS
It is very comfortable.
Rich texture of this dress generates an expensive look.
7. Michael Kors Jet Set Chain Small Metallic Handbag
BRAND : Michael Kors
PRICE : USD 198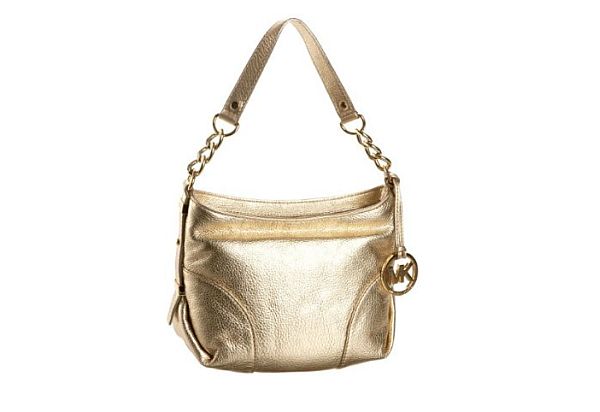 Michael Kors Jet Set shoulder bag is totally a fab item. It has a shiny polished exterior, colored in pale gold and presents a smart style. Made of leather with logoed lining and a zipper to close, this shoulder drop poses a nice gift for your wife on this Christmas. The bag measures 7.5″ high x 10″ wide x 3.5″ deep and 8 inches drop from the shoulder.
USP
This with creates impression of an expensive gold jewelry
PROS
This bag will surely be your go-to bag for years to come.
8. Ross Simons African ruby and two-tone gold diamond drop earrings
BRAND : Ross Simons
PRICE : USD 906.5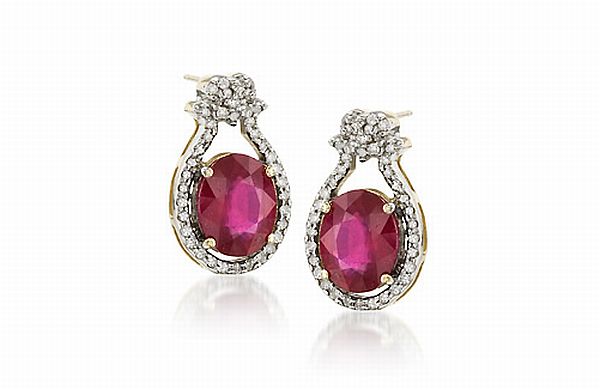 If your woman is fond of stones, then these earrings should be your pick of the day. The 5K oval shaped African ruby clutched with 41 diamonds of 0.5K will make her gleam. The design is neat and stylish. The thin lining of 14K yellow gold on the edges adds to the rich look posed by this jewellery. These beautiful earrings are surrounded by 82 diamonds, backed by clutch/post and have a polished finish.
USP
The design is a blend of modern shape and traditional accents
PROS
The company guarantees 100% secure checkout, free shipping with a 100% money back guarantee.
9. Budd Leather Croco Grain Jewelry Boxes Small Croco Calf Treasure Chest in Brown
PRICE : USD 175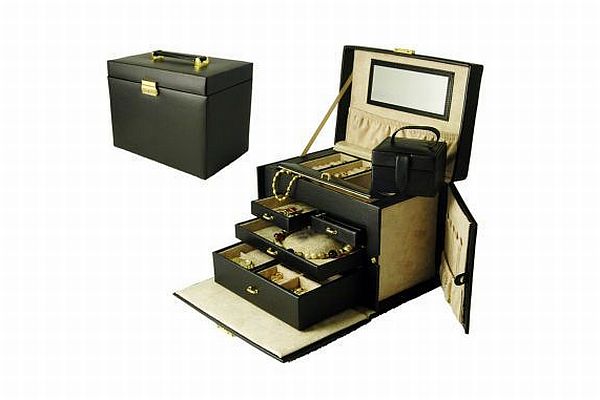 This nice jewellery box, constructed of brown exterior is not less than a treasure chest for a woman. Storing all the valuable items within the precious box will also find admiration by everyone around you. Its well carved drawers can accommodate your lady's different loose items of jewellery. It also provides needed protection for delicate ornaments so that they can last for years with the same sparkle. A roll out ring bar and drop in necklace tray proves just right for their kind of items.
USP
This budd leather brown jewellery box is also packed with a removable box which is extremely useful for travelling purposes.
PROS
It can be closed securely with a key lock.
It is constructed with superior crocodile printed calfskin leather exterior.
10. Customized Ipad Case
PRICE : USD 49.95
Show off your signature style by presenting your wife a customized Ipad case. Not only does it show your effort and compassion put in this item, it also provides a reflection of yourself to her. It is a sleek hard plastic case providing luxury and protection to her gadget. The case is covered with an easy-to-grip fabric which can be personalized with prints, designs and endless colors.
USP
This durable custom Ipad case provides an optimal access to all sensors.
PROS
This case is first of its kind with a guaranteed satisfaction to turn your gadget into a true work of art.