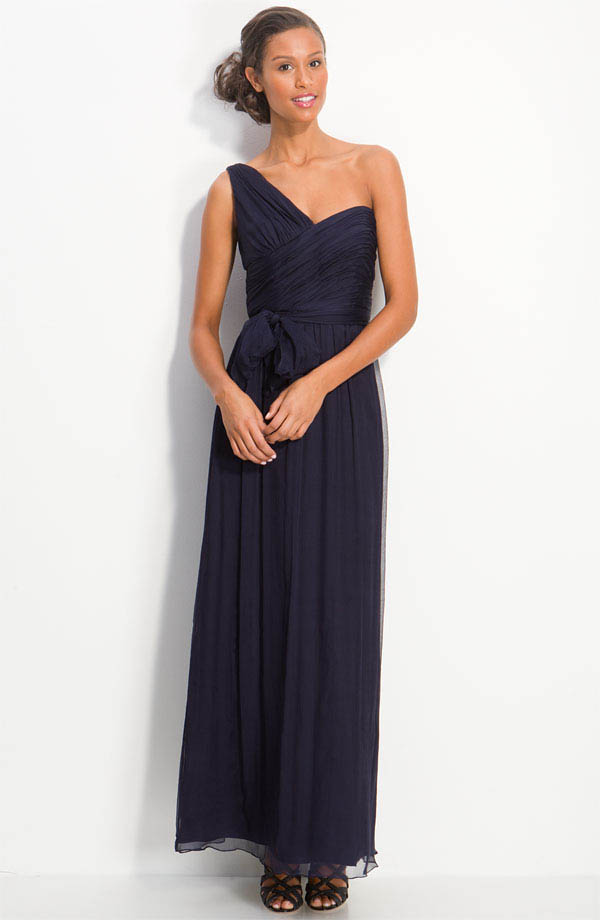 Weddings are a bride and groom's special day, a moment to celebrate their love in front of near and dear ones. While the main focus is laid on the couple, there are those who share in the spotlight. We're talking the bridesmaids who play an important role in the occasion, ensuring that the bride is never left wanting and is able to enjoy herself to the fullest without having to worry about the little things. Here we've turned the spotlight solely on these little helpers by focusing on the many different dresses there are to wear. Out of all the styles, we've picked one shoulder dresses designed to show off curves and turn bridesmaids into elegant ladies.
Amsale ruched one shoulder chiffon gown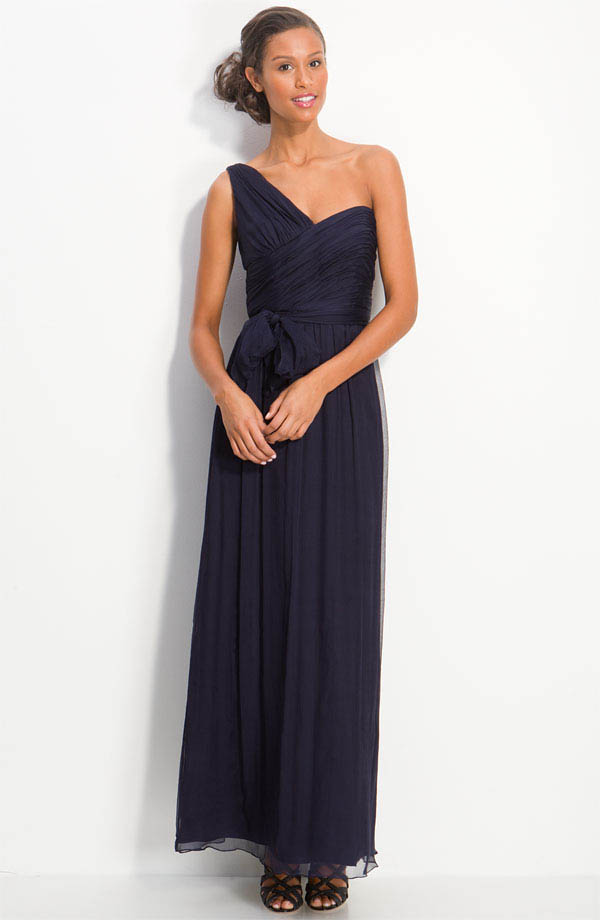 First on the list is the Amsale ruched chiffon dress, an elegant and whimsical piece. The one shoulder bodice is enhanced by the wrap-around style which is tied at the waist with a soft sash. The skirt flows freely down, brought to life by the ruched technique, and is reminiscent of the Grecian dresses of old. Perfect for a spring or summer wedding.
Price: $310.00
Buy here: The Amsale ruched chiffon gown is available in stores and at Nordstrom.
JS Collections one shoulder dress

JS Collections offers a stunning one shoulder number that's sexy and spirited. Women who like to show off their bodies would look perfect in this dress with its figure hugging ruched bodice. The ruffle detail on the neckline adds to the saucy outfit while the short length ensures that you'll set heads turning. Available in a lovely shade of red, this one shoulder dress is sure to flatter curvy figures.
Price: $59.50
Buy here: This extremely affordable outfit is available on Dillards.
Anadia one shoulder gown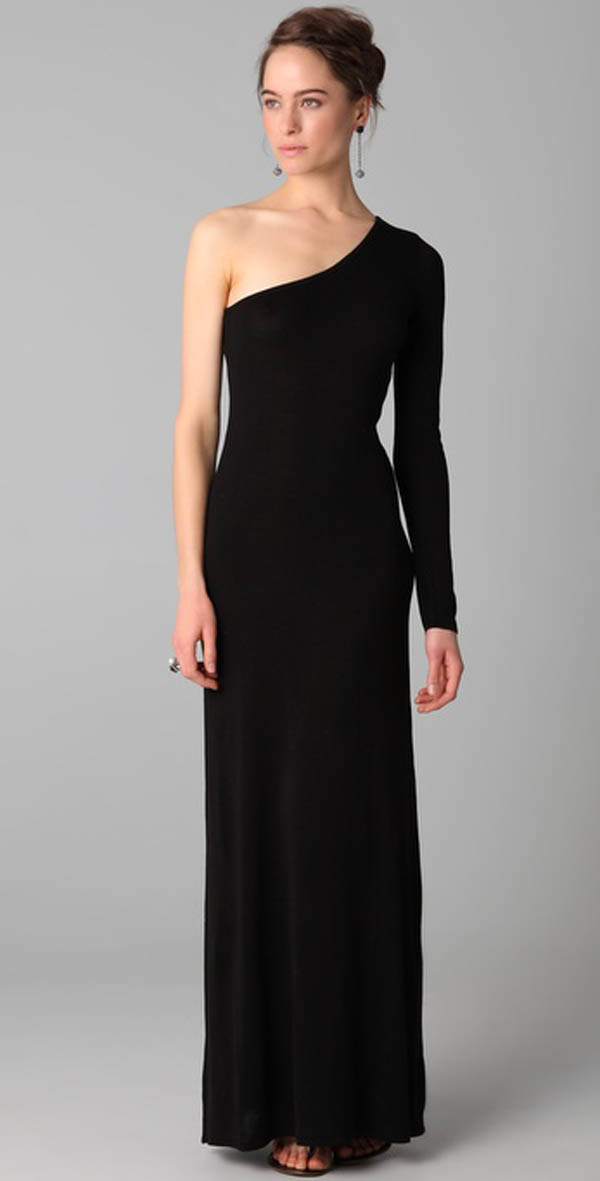 If elegance and simplicity are what you're looking for, then the Anadia one shoulder dress is for you. This stunning number is available in black and azalea but looks especially good in the darker shade. The knitted dress features an asymmetrical neckline with a full sleeve on one side. Fitted from the neck all the way down to the hips, it subtly shows off your curves without going over the top. Perfect for a classy wedding ceremony.
Price: $248.00
Buy here: The Anadia one shoulder gown can be purchased at Shopbop.
Lucienne one shoulder dress in silk chiffon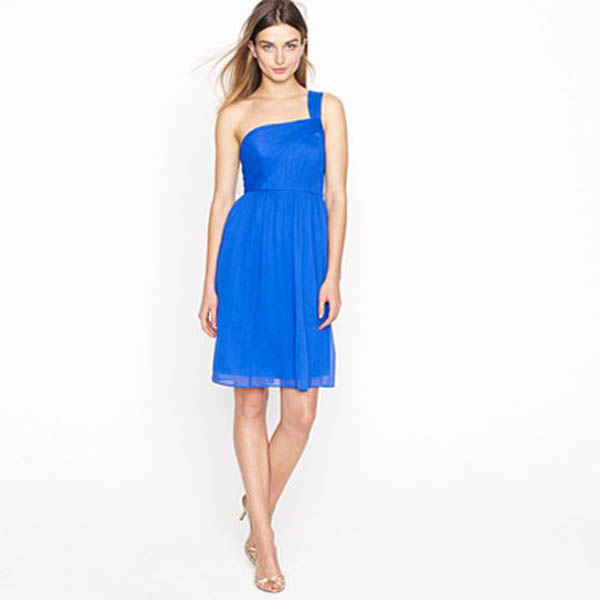 This silk chiffon number is another whimsical outfit with its flouncy straight skirt that will make any woman feel young again. Careful pleating along the loose bodice ensures comfort while the one shoulder strap sweeps up dramatically. The knee-length number is fully lined and features a side zip for easy wearability. Also perfect for a sunny day.
Price: $235.00
Buy here: The Lucienne one shoulder silk chiffon number can be bought online at Jcrew.
Suzi Chin for Maggy Boutique stretch satin sheath dress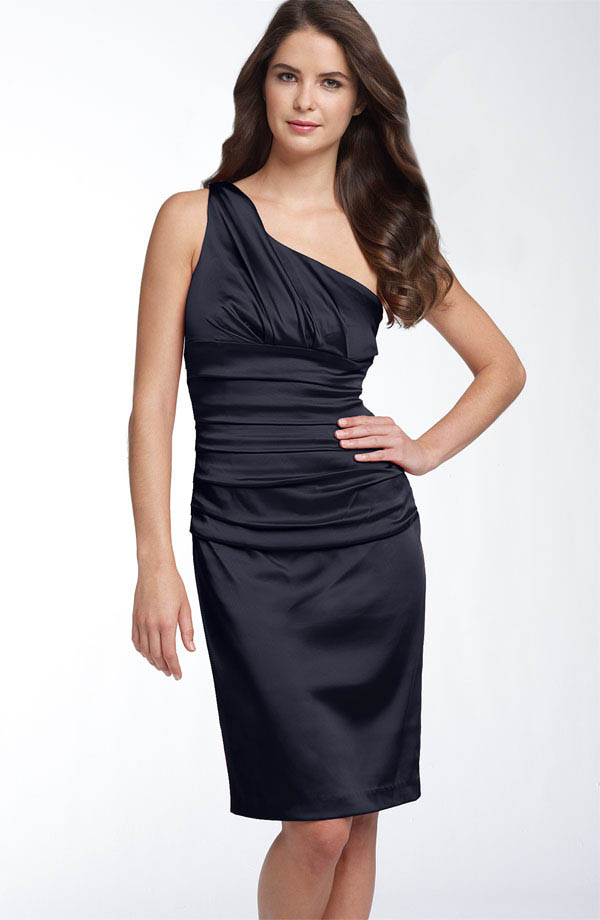 If you're looking for something that borders on couture, then the Suzi Chin sheath dress is the one for you. Elegant and very classy, it features a pleated bust with a fitting bodice that hugs your curves. Ruched side seams add extra style to the overall look. The knee length outfit is fitting but not uncomfortably so, ensuring that you feel at ease throughout the day. It is available in ocean color (a deep grey) and is fitted with a hook-and-eye closure.
Price: $158.00
Buy here: This gorgeous piece is also available at Nordstrom.
Short one shoulder organdy bridesmaid dresses by After Six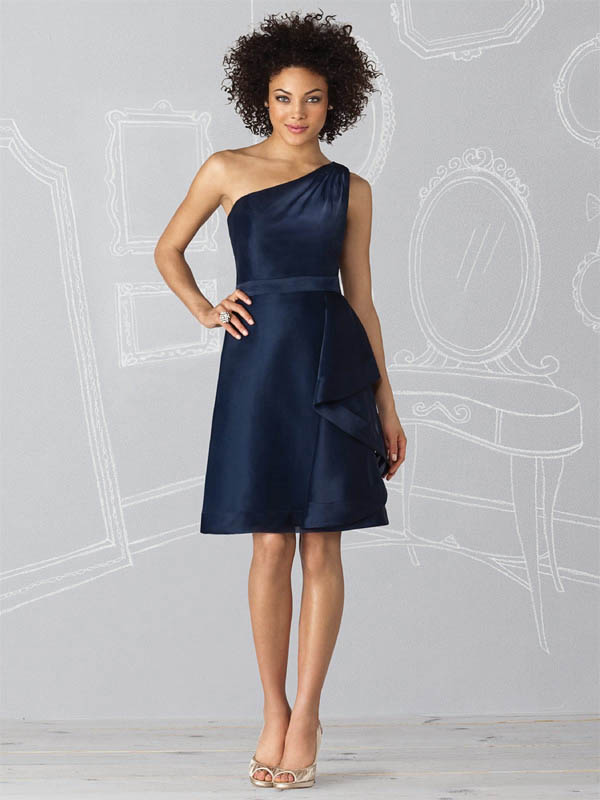 After Six has designed a bridesmaid piece that's fashionable and youthful: the short one shoulder number made out of organdy. The cocktail-length dress features a bit of gathering at the shoulder with the rest of the dress falling in an A-line cut. A matching belt at the natural waist adds embellishment while the cascade ruffles on one side give it a trendy and contemporary look. The best part is that you can wear it to any other occasion.
Price: $204.00
Buy here: After Six's stunning creation can be purchased at Edressme.
Mackenzie one shoulder dress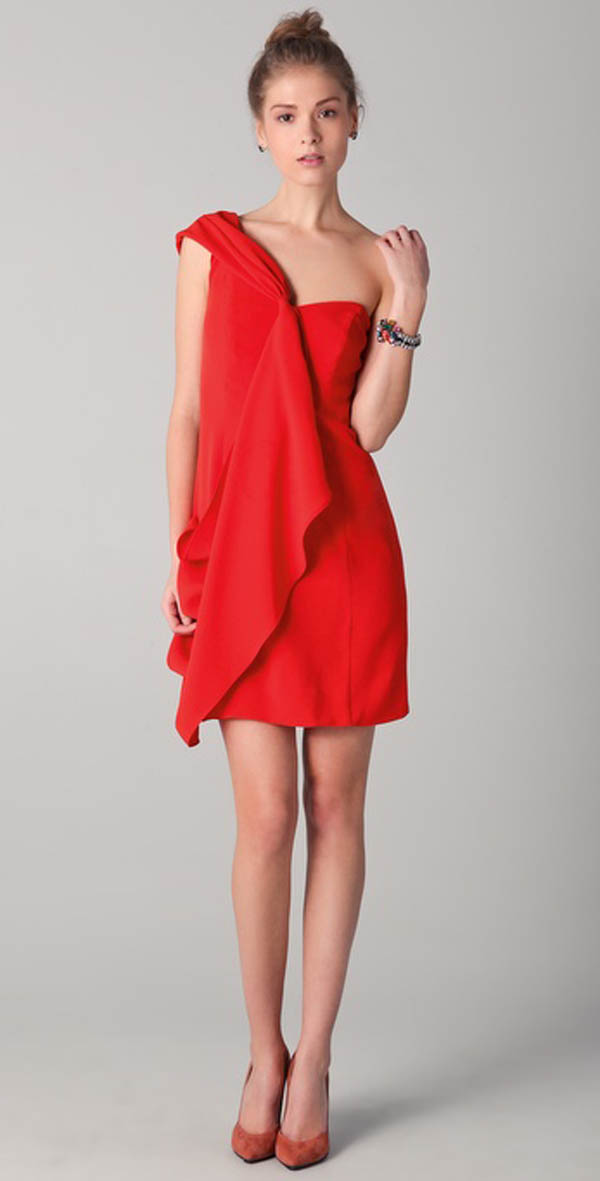 This next number is extremely feminine and is guaranteed to make you look stunning. Featuring a sweetheart neckline with one side of it fitted with a draped sash overlay on the front, the Mackenzie one shoulder dress falls flatteringly to just above the knees. It also has a boned bodice and a pleated cap sleeve for that dramatic effect. Younger bridesmaids will no doubt love this creation.
Price: $395.00
Buy here: The Mackenzie one shoulder outfit is available for purchase at Shopbop.
BCBGMAXAZRIA one shoulder dress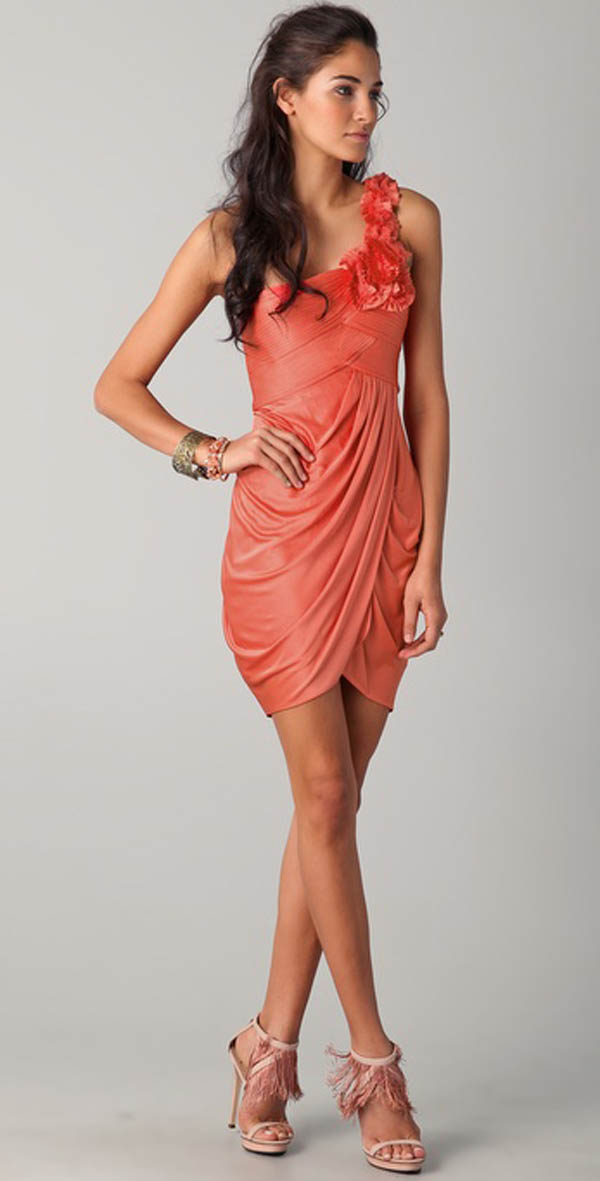 This slinky jersey number is a saucy outfit that'll make any wearer look sexy and feminine. The boned bodice features pleats and a wrap skirt gathered at the front that sweeps upwards towards the waist. The embellishment at the shoulder adds more to the already dressy outfit while the above-knee length ensures that you look youthful and feminine.
Price: $258
Buy here: The one shoulder dress can be viewed at Polyvore and bought online at Shopbop.
Anett one shoulder cocktail dress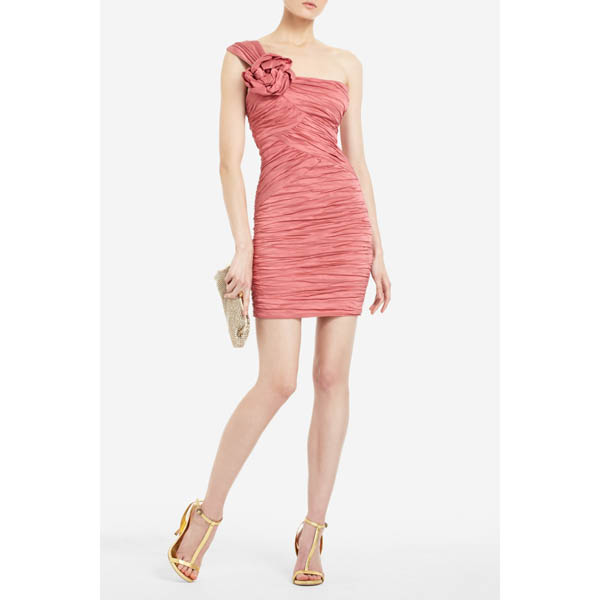 This number is truly stunning with its embellishment and all-over pleating. Perfect for cocktail parties, the Anett one shoulder dress is available in a beautiful coral color. It features an asymmetrical neckline and has a classic fit, ideal for those looking for a figure hugging outfit. The right shoulder sports a strap and floral accent, lending the dress a girly and trendy look. It is lined with polyester and spandex and has a hook-and-eye closure.
Price: $368.00
Buy here: The exotic dress is available at Bcbg.
Maggy London one shoulder dress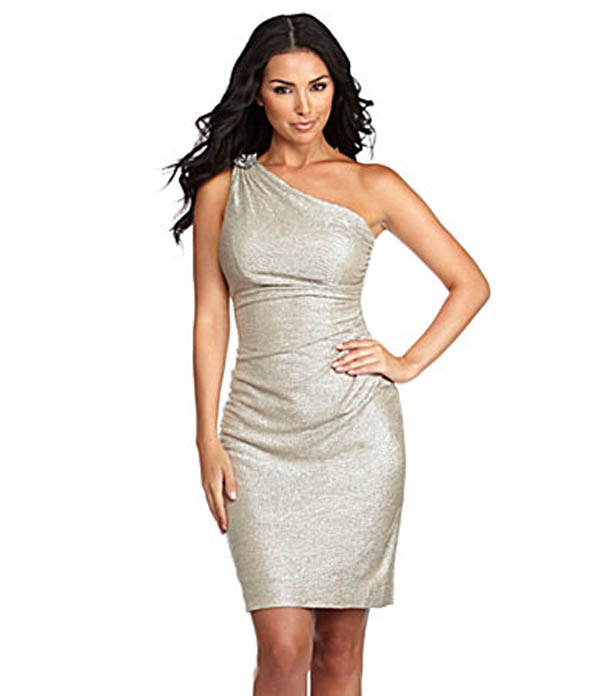 Last on the list we have a one shoulder dress by Maggy London, a subtly lustrous number. Dressy yet understated seems to be the underlying theme with its stylishly beaded shoulder and ruched fitted silhouette. Made of polyester, it comes in a silver or beige hue. While figure hugging, it is comfortable so you can wear it with ease.
Price: $148.00
Buy here: The elegant and affordable outfit can be purchased at Dillards.