Weddings are a beautiful, joyous and memorable occasions for all. But sometimes, it can cause tension and anxiety too which leads to misunderstandings. However hard you try, some or the other problem will be created by a family member or an outsider that leads to tension and stress among loved ones which destroys the happiness in weddings. Just when we think that the problems are never ending, we fail to realize that for every problem there is a solution too. Family fights during the wedding can be carefully and tactfully handled if you want to.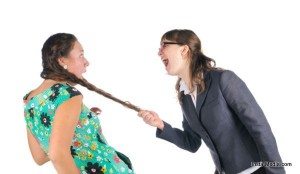 Tips to avoid family fights during your wedding:-
Keeping the troublemakers apart- In each and every family, there are members who don't get along and are always at battle with each other. During important occasions like wedding, it's wise to keep these people engaged in work and not let them face each other. This avoids the tension and stress among them.
Be firm- Sometimes you get into a position where you are stuck between two not knowing whose side to take. In such situations, avoid being judgmental or taking sides.  Just keep in mind that it is your wedding and no situation should come that will hamper your wedding.  Be firm and strict with your decisions and try not to get too emotional towards each.
Money matters- Money matters can be very delicate and can form a tricky situation. Money can also lead to a lot of fight between the families. It's wise to keep the money matters in your hand and handle it all by yourself or give it to your parents or life partner to do it.
Avoid inviting troublemakers- Its better not to invite troublemakers to your wedding, rather than getting yourself in a messy situation by inviting them. They can spoil the entire mood and environment of your wedding.
Be Diplomatic- Diplomacy is the biggest weapon in a wedding. Though being firm helps, sometimes diplomacy is the biggest weapon that can handle even the trickiest matter. In a diplomatic manner try to keep everyone in high spirits and make them enjoy the wedding. Make them believe that they are important for the wedding. This may make themselves behave well and avoid causing trouble.
Every family member has the right to give their opinion and suggestions, but you should not allow them to spoil your day. Follow these simple steps and you can keep trouble apart and enjoy your wedding at the fullest.