It's a big special day for you and all the eyes are going to be set on you. It's important to concentrate on your looks much before the wedding, rather than worrying about it just the day before. For most brides to be, the biggest concern is the glowing skin and looking perfect on the wedding day. To get long term glowing skin, it should be clean and healthy.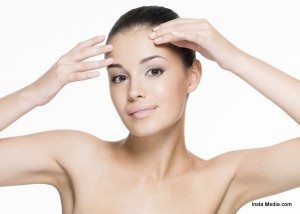 Tips that will help to get glowing skin before the wedding:-
Eating watermelon- To get glowing skin, you should keep your skin hydrated and consume fruits with lot of water content. Watermelon is a great source of hydration to skin. Also you can have lettuce, grapes and oranges.
Facials- From the early 20's the skin starts getting exposed to dust, oil and germs. This leads to acne and can lead to scars and discoloration to the skin. You should go for deep cleansing facials every month to keep the skin glowing and clean.
Exfoliate skin- After the age of 25, the skin starts ageing. It's important to keep the skin exfoliated to improve the texture of the skin.
Supplements- Taking muti-vitamins are essential to your skin. Co-Q10 increases metabolic efficiency that improves the health of the skin. Omega-3 fatty acids are also great for the heart, eyes and skin.
Moisture- Moisturizing the skin keeps the skin soft and supple. Applying a moisturizer twice of the day will hydrate the skin and keep it glowing every day.
Clean make up brushes- Every time you apply makeup, the germs and oil present on the skin gets entrapped in the brushes making them unclean and a great danger to the skin. Using unclean make up brushes can cause acne which can further lead to scars. It's important to clean the makeup brush after every use. You either rinse them with soap water or shampoo and air dry it with the bristles facing down.
Home Made Face Packs-Natural remedies are an age old therapy for the skin. Several people resort to natural ways for healing and getting glowing skin. Mixture of lime and honey acts as a natural bleach and skin lightening agent. Paste of mint leaves keeps the skin clear of acne. Multaani Mitti and rose water keeps the skin glowing and clean. Sandalwood gives the skin a radiant and glowing skin.
Sleep-Apart from all the other skin treatments, the natural way is to take good rest and give the skin also rest. It is important to sleep well to get glowing skin. It is necessary to sleep at least 8 hrs a day to get fresh and radiant looking skin.